Spy pigeons: Subcontinent's version of "biological" warfare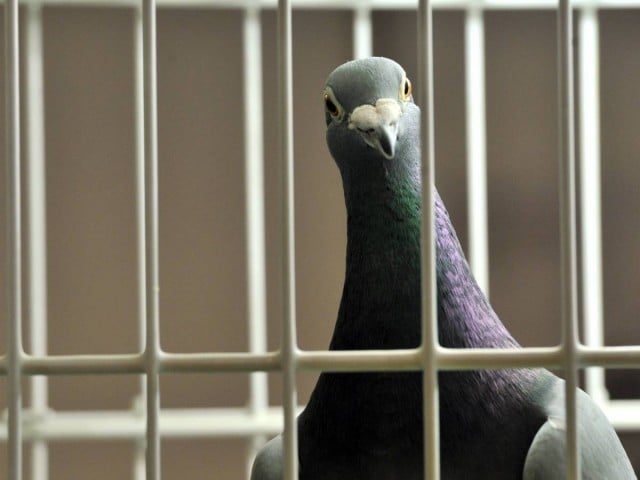 According to a report in The Times of India, Indian authorities have captured a "spy bird". The bird is believed to be a Pakistani spy and is reportedly being held in "police custody". 
Pigeons from all over Pakistan are expected to begin protests against Pakistan's silence on this illegal detention of an innocent member of their community.
A spokes-pigeon for the community says they are chalking out a plan of action for protests if the foreign office does not ensure release of the captured pigeon within 48 hours. It threatened countrywide wing-jam and boycott of insect killing at first. In the second phase,
"We may resort to mass excretions on public vehicles and buildings", it said.
When the cops holding the pigeon in custody were approached for a comment, they said this is no ordinary pigeon. Interrogations have revealed that it works for Pakistan's Intelligence agency: Inter Services Intelligence (ISI) and its name is Captain Kabootar (pigeon).
Indian authorities have been looking for this spy for some time now, and its capture will lead to further arrests inside India. Several pigeons were already under suspicion and surveillance.
I received an anonymous tip from an anonymous source who swears that he was told by an anonymous person that ISI has an internal wing called PCBB: Pakistan Covert Birds Bureau and that this bureau is responsible for cross-border spy pigeon activities.
According to the anonymous source of my anonymous source, PCBB was established by the ISI in 1999, after Pakistan captured two Indian spies – namely Colonel Daddu and Major Supp, a spy frog and a spy snake, sent to Pakistan by India. The capture of the Indian spies was intentionally kept secret by Pakistani authorities since they were aware of how absurd, farcical, nonsensical, and ludicrous it may sound to the world. Apparently, under Mr Narendra Modi's leadership, sounding sane is now India's last priority, especially when it comes to statements regarding Pakistan.
According to yet another anonymous source, Indian authorities are not actually interested in interrogating or punishing Captain Kabootar, instead they want to use it in a prisoner's exchange to free Colonel Daddu and Major Supp, and the exchange could take place any time soon.
The only problem, according to anonymous source number five, is that ISI locked the colonel and major in the same cell, and unfortunately Major Supp ate his superior Colonel Daddu a few years ago.
The situation has turned into a bilateral conundrum.
Disclaimer: This post being satire is for entertainment purposes only.