Misbahul Haq deserves to play at home, one last time for one last goodbye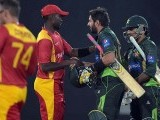 Six years ago, Muttiah Muralidharan bowled his last over against Khurram Manzoor in Lahore, after which Pakistan saw the deadliest international cricket draught ever in its history. But yesterday, that barren spell was broken, when a fearless Anwar Ali bowled the first over of the T20 match between Pakistan and Zimbabwe – marking the end of a dark era.
The Gaddafi Stadium in Lahore was jam-packed and lit brightly for all to see the return of international cricket to Pakistan.
Just like Pakistan's National Day Parade came back with a bang after seven years, to celebrate our military forces, yesterday's match was also a historic event for Pakistanis everywhere. Sweet reality was witnessed in Gaddafi Stadium; it was pooled with Pakistani followers well before the match even started, thus the love for cricket was evident. The abundant numbers of fans were hysterically cheering throughout the match.
Many fans also took to Twitter to show their excitement:
#urainge #cricketcomeshome. pic.twitter.com/Y3J7kf9OLd

— Ali Zafar (@AliZafarsays) May 22, 2015
Huge roars as the players come out to warm up #CricketComesHome #PAKvZIM pic.twitter.com/goqMa9tcWj

— Sara Khan (@Main_Pakistani) May 22, 2015
#Lahore here I come. Can't wait to watch the #PakvsZim live in #Gaddafi #CricketComesHome

— frabiya (@Frabiya) May 23, 2015
Bat and ball will be involved at Lahore today, but the day will belong to the cricket fans in Pakistan. #PAKvZIM

— Sambit Bal (@sambitbal) May 22, 2015
Even though it has been years since Pakistan hosted an international match, I was happy to see yesterday that we have not forgotten how to cheer our team on and motivate them towards victory. The match was brilliant – it had thrill, suspense, amazing performances by both the teams and a riveting end which resulted in Pakistan's win, courtesy Shahid Afridi's final boundary.
Things could not have gone any better.
However, even with all the fun and excitement, I strongly felt the absence of one personality. The one person who kept our team united through six difficult years; our leader was not seen on the ground. It would have been greater pleasure to see the one and only Misbahul Haq leading the team to the lush green outfield. Misbah deserved to be there.
Over the past six years, many Pakistani players retired or were side-lined without having a home-ground swan song. These include Abdul Razzaq, Shoaib Akhtar, Mohammad Yusuf, Kamran Akmal, along with Afridi and Misbah. It is a tradition in every game, including cricket, to give retiring players a chance to play their final match on their home ground. In my view, its common courtesy but regrettably, these players who served Pakistan for years and were praised all over the world, weren't given the farewell they deserved. I believe this is the best time to bring those treasured players back and give them a chance to play in their home ground one last time, as well as give us fans the chance to say a proper goodbye.
I have a request for Shaharyar Khan; while his loyalties are much appreciated, as a fan I plead him to give us an unforgettable match and to bring back Razzaq – who served the team in the most difficult circumstances – along with Kamran – who was one of our most successful wicket-keepers. Afridi should be called back for one last ODI and last, but certainly not the least, the man of will, Misbah – who captained our team in all these years of seclusion with his incredible batting skills – should be asked to play one last time in ODI and T20 formats on his home-ground. These players deserve to experience the adrenaline of getting cheered at by their own countrymen, in their own grounds.
I feel that, if allowed, such a match will be the most historical match of the 21st century in Pakistan and there seems to be no excuse for not including them in the home ground one last time – they deserve this farewell.