Can Modi's visit to China give India the power it craves?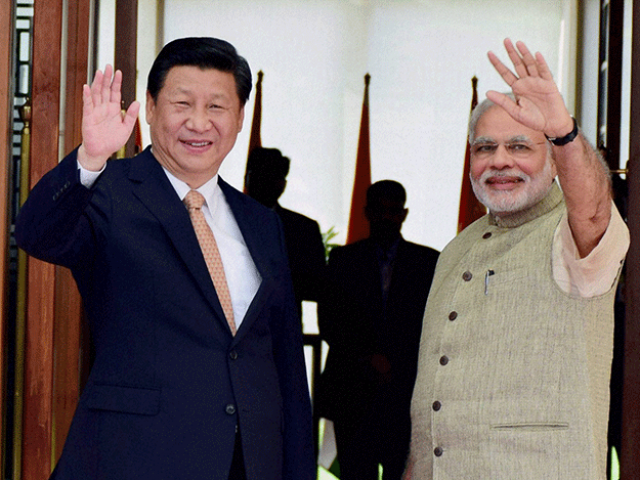 Indian prime minister, Narendra Modi, has been on a slew of foreign visits since his arrival at the helm in a bid to concretise India's relations across the globe. Not only has he laid special emphasis on India's immediate neighbours who lingered in oblivion during the previous tenure, but has also made efforts to project India as China's competitor in the subcontinent.
However, his visits have often been regarded as more about semantics and less about substance.
China and India have been grappling hard to maintain their hegemony over the region, albeit China has outmanoeuvred India on almost every occasion. As part of his much flaunted Silk route, President Xi Jinping has taken almost every country in his immediate neighbourhood under the Chinese orbit. Hence, India has been increasingly apprehensive of growing Chinese influence in the Indian Ocean.
Modi's trip to China also holds special significance as it comes immediately in the aftermath of Jinping's recent visit to China's all-weather ally Pakistan. China has been playing an instrumental role in the road and infrastructural development of Pakistan, not to forget the all-important Gwadar Port. China has also decided to invest $45 billion on a network of roads, railways and pipelines connecting the Kashgar city in Xinjiang to the Gwadar Port, thereby paving the way for the Chinese into Central Asia.
Even though this network is expected to materialise by 2020, it certainly won't be the most infallible of networks as it connects the two most disgruntled regions of Balochistan and Xinjiang in Pakistan and China respectively. Insurgency, since a very long time, has aggravated the already dilapidated situation of the two states.
China's continuous espousal of Srilankan war on Liberation Tigers of Tamil Eelam (LTTE) brought it closer to the former president of Srilanka, Mahindra Rajapaksa, and eventually made it an integral part of the silk route through the Hambantota port. On the contrary, India saw its relations with Srilanka at an all-time low due to its support to UNHRC-sponsored resolution demanding the probe into alleged war crimes which occurred during the war on LTTE. With the arrival of the new president, Maithripala Sirisena, both the countries look forward to tighten their grip over the island nation.
During the past one year, India has stressed upon building relations with the states ostensibly inimical to China. The announcement of a $35 billion investment by the Japanese prime minister, Shinzo Abe during Modi's visit to Japan in September 2014 marks a monumental shift in Indo-Japan relations. India's tough stance on the South China Sea issue has projected India deviating from its usual pursuit of being reticent on vital issues in the international arena.
With the complete drawdown of US forces from Afghanistan imminent, India and China are expected to play a constructive role in maintaining regional peace. For years, China has dealt with the insurgency in the Xinjiang province and the resurgence of Taliban in Afghanistan could percolate into China only to exacerbate the situation further. India has shared cordial relations with Afghanistan historically but under the new president, Ashraf Ghani, Afghanistan seems to be more inclined toward Pakistan and China.
However, Pakistan doesn't seem to have arrived on Modi's itinerary as yet. It was construed as a proactive step by Modi to have invited his counterpart, Nawaz Sharif at his swearing-in ceremony. However, a series of events has transpired since then. India called off the secretary-level talks with Pakistan over its envoy's meeting with Hurriyat leaders. Adding fuel to the fire is the bail granted to Zakiur Rehman Lakhvi, one of the seven Pakistani nationals accused of conspiring and abetting terror attacks in Mumbai in 2008.
With gigantic majority in parliament and almost no political exertion from the opposition, Modi can surely take Indo-Pakistan relations to an unprecedented level provided he doesn't succumb to the fringe elements within his party. Pakistan would be hosting the SAARC summit next year and talks at bilateral level could be put on agenda. Another important factor that happens to act in Modi's favour is that the Bharatiya Janata Party (BJP) is part of the ruling coalition government in Jammu and Kashmir. This allows BJP to have a say, if not a free hand, in a very protracted dispute over Jammu and Kashmir which has marred the relations between Delhi and Islamabad.
A scrutiny of Indo-China tactics in the last decade or so would give us a vivid picture of geopolitical interest coveted by both the nations. At a time when the US is embroiled in the Middle East quagmire and simultaneously fighting a proxy war in Ukraine, India and China have become forces to reckon with in this multi-polar world. To imagine these forces walking hand-in-hand would be too adventurous but they can surely lay foundation for a constructive partnership keeping aside their differences.
However, the gulf between the ideas is also too vast to bridge. The prorogued border conflict that has existed since the 1962 war and Chinese adventurism on the Indian borders keep them on the edge of forging an alliance. The trade between the two countries stands at a staggering $65 billion which is projected to reach $100 billion in the times to come, but the trade deficit of about $40 billion is colossal. It would be interesting to see if Modi is able get the non-tariff barriers expunged.
Paring down the trade deficit should be on the top of Modi's agenda and that is possible only through the removal of impediments in India's greater access to the Chinese market. For years, both the countries have witnessed symbolic gestures indicating an end to the dispute but little has crystallised. With two prominent leaders in power who are here to stay for a considerable period of time, time is also ripe when both the nations should move toward resolving the border dispute once and for all.