Eight enchanting movies to watch with your mom this Mother's Day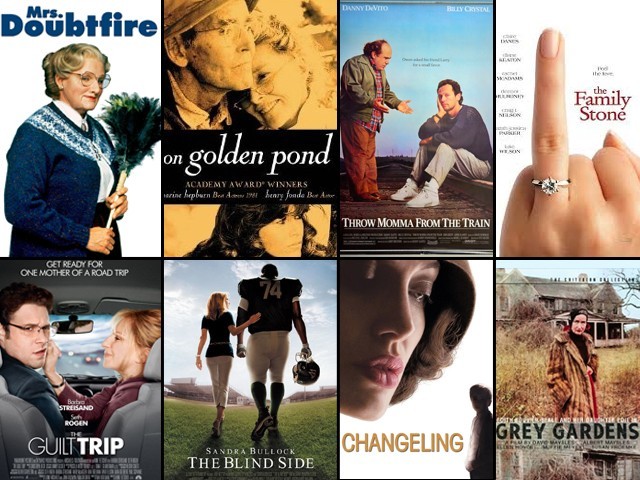 As the saying goes,
"A mother is a person who seeing there are only four pieces of pie for five people, promptly announces she never did care for pie" – Tenneva Jordan
Such sacrifice and affection is the nature of a mother. She always endeavours to give every single thing to her children with heedful apprehension for them, albeit she herself endures a lot suffering.
The unconditional affection and patience of a mother works more unswervingly and warmly with her children. For them, she is a teacher, mentor, friend and a psychotherapist who observes all, absorbs all, feels all as well as heals all. She morphs into whatsoever her children need at whatever time it's needed.
So this Mother's Day, adore your mom and thank her for being in your life. It is that time of the year again, where you make her feel extra-special, when you pamper her with some sort of souvenir and give her an exquisite floral bouquet as an endearing thank you.
Another way to express your love to your mother is to sit down and spend some quality time with her. Watching some movies is a good leisure time that can engage you two together in some fun bonding time.
Therefore, I have compiled a list of eight movies featuring illustrious mothers and compelling storylines which I believe your mom will enjoy.
1. Mrs Doubtfire (1993)
A movie that is likely to make you understand the immense feelings of parents for their children, particularly the ordeals of separated parents.
Robin Williams played the role of a divorced man who camouflages himself as a middle-aged nanny to spend time with his children who are living with his ex-wife. Williams presented a great comical performance in an old woman's get-up.
Director Chris Columbus's feature is memorable, amusing and enjoyable, although it is an adaptation of Dustin Hoffman's classic Tootsie.
2. On Golden Pond (1981)
This is a poignant family melodrama about getting older, transience and reunion.
Henry Fonda and Katharine Hepburn as ageing grandparents reunite with their daughter Jane Fonda, who visits them with her new fiancé and his teenage son.
Directed by Mark Rydell, the movie offers authentic performances from the stellar cast. The emotional anecdote carries the movie from the beginning to end.
3. Throw Momma from the Train (1987)
A nice suspense-cum-comedy movie. Director Danny DeVito lifted the central idea from Hitchcock's Strangers On A Train – where the lead characters, played by Billy Crystal and DeVito, plot to murder their wife and mother, respectively, to ease their painful life.
The on-screen chemistry of DeVito and Crystal along with the funny screenplay enables the movie to maintain equilibrium with light slapstick comedy in such a manner that engrosses spectators throughout the film and keeps them on edge.
4. The Family Stone (2005)
A simple yet twisted story of a mother, played by Diane Keaton, who is trying hard to bring back together all her children over Christmas to ultimately inform them about her battle with cancer.
The emotional plot of the film is pretty light but changes into a bit deeper one – packed with good wittiness and crowded with recognisable faces who give you a friendly and pleasant feeling all over.
5. The Guilt Trip (2012)
Chase Seth Rogan and the wonderful Barbara Streisand on a cross-country journey packed with chuckles, misfortunes and idiotic moments that will make you laugh.
A story about an irritating, clingy mother who exists only to make her son's life as complicated and embarrassed as possible. Rogen's straight-faced melancholy interconnects perfectly with Streisand's ignorant absurdity, making the movie pretty enjoyable.
6. The Blind Side (2009)
This movie has the advantage of compelling research and a highly-seasoned performance from Sandra Bullock. It makes you laugh and cry at the same time.
Based on a true and touching story, Michael Oher is a destitute and distressed kid who becomes a football player with the support of his adoptive parents.
The moving tale demonstrates that mothers remain concerned for their children regardless of if they are theirs biologically or are adopted.
7. Changeling (2008)
Skilfully shot with fearless performances, this drama movie is inspired by real events that occurred during 1928 in Los Angeles.
Angelina Jolie plays the role of a heartbroken mother who deals with corrupted officials after her kidnapped son is recovered. Soon, she begins to believe that the boy is an obvious imposter. She refuses to accept this imposter as her son and struggles to find her own son. During her journey, she gets highlighted as an incompetent mother who is having a hard time accepting her son.
It is a spellbinding anecdote, an exasperating and straightforward tear-shedding story as well as a memorable portrayal of brutal prejudice that couldn't resist affecting a nerve in any situation.
This movie comes highly recommended!
8. Grey Gardens (1975)
This Maysles brothers' documentary is about a mother, Mrs Beale, and her middle-aged daughter, Little Edie – the aunt and cousin of Jacqueline Kennedy Onassis. The chronicle of their unconventional life in a shabby and decaying mansion in East Hampton is extremely enthralling.
Offering your mother flowers, dinner, jewellery and cards on a particular day every year cannot, and should not, be an adequate gesture. Hers is an affection of a lifespan and no other relationship can be compared to it. Nothing is sufficient to refund all that she has done for you.
So celebrate each and every other day as Mother's Day to express your endless love to her.
Happy Mother's Day to all the wonderful mothers out there!