Comedy nights in Karachi: On rishta requirements, insecure pakistanis and mailas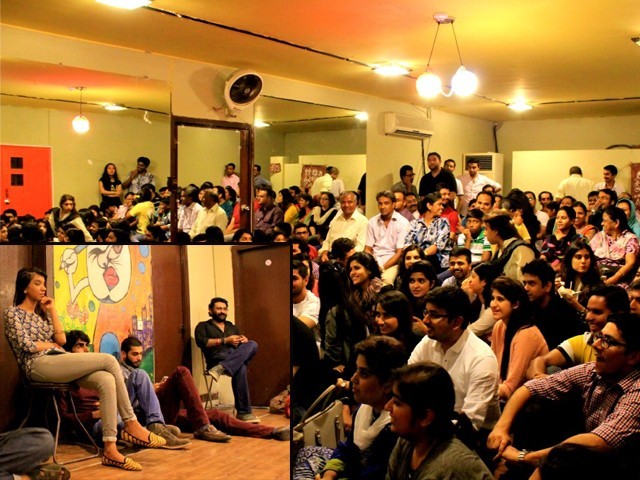 Last Friday, director Nida Butt's little MAD School held its first comedy night and lovers of all things funny united in Karachi and showed up in droves. Now the excessive rush probably had a little sumthin-sumthin to do with ticket price being just Rs100!
Most stand-up comedians were improv artists and were making their stand-up debut the same night.
The line-up consisted of Hassnain Shah, Ehsan Yar, Umar Ahmed, Ali Junejo and Natasha Humera Ejaz, Faiza Saleem, Syed Osama Sami, Zuhaib Shaikh and Akbar Chaudry.
Each comedian had their own unique sense of humour and style and surprisingly all of them were funny in their own way. But some were definitely funnier than the rest.
Hassnain Shah, a stand-up first-timer, recently moved back to Pakistan from the US and had some good jokes about being a Pakistani in the US and how it is like coming back home.
Ehsan Yar had some adult-themed jokes that were controversial but hilarious.
Umar Ahmed spoke about some mailas in Karachi, difficulties explaining Chartered Accountancy to his relatives and the controversial billboard of a telecommunication company.
The duo Ali Junejo and Natasha Humera Ejaz did a completely improv bit on two people meeting for the first time and how the dynamics of their relationship change when the timeline is projected (one week, one month and one year) into the future.
Facebook superstar Faiza Saleem got the crowd in fits with her jokes about the dynamics of her family, romantic relationships and rishtas in our culture.
Syed Osama Sami's jokes were pretty funny on the very rich, the very fair, the skinny or the beautiful.
Zuhaib Shaikh had some funny bits about the fear of one of his body members getting wounded and how Pakistanis aren't as judgmental as we think!
And finally Akbar Chaudry, the improv extraordinaire, concluded the show with his hilarious contribution to the fun and laughter-filled comedy night.
With the success of this comedy night at MAD School, we do hope this becomes a fortnightly affair. Us Karachi-walay are comedy-hungry, and I'm sure we would not miss a single comedy night!
PS: A word of advice to the open-minded comedy-loving parents… please use parental discretion and keep your 8-year-olds at home!