How 'influential' are Time Magazine's 100 Most Influential People?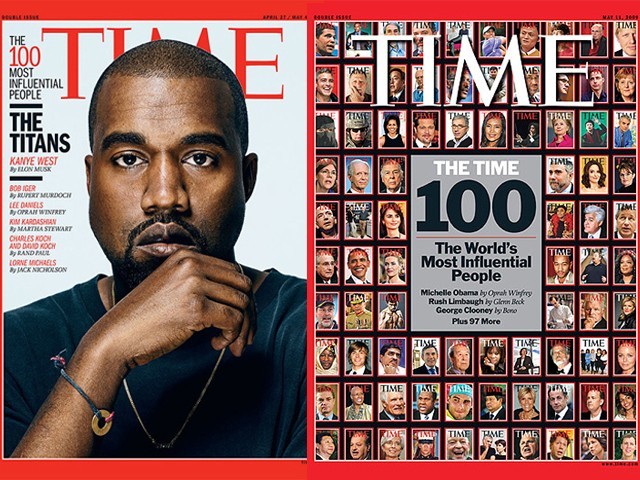 The wait is over and we now have Time Magazine's '100 Most Influential People' list – a list which ranks the most inspiring personalities from all across the globe.
This year's list, however, made me question the 'it' factor that brings them in the league of these highly esteemed people.
This year, the list includes a variety of individuals and gives you the flavour of everything under the sun. The 2015 list has personalities such as Russian President Vladimir Putin, Pakistani activist Malala Yousufzai, rapper Kanye West, Supreme Court Justice Ruth Bader Ginsburg, German Chancellor Angela Merkel, Chinese President Xi Jinping, India's Narendra Modi, and many more.
Thus, I question what makes one an influencer and what is the criteria of becoming a part of this illustrious list of individuals? Is it money, appearances, educational qualifications or is it the oomph factor?
Nah, in my opinion, it's all about how someone has inspired or impressed the common man. To put it in simpler words, it is all about how one is able to grab and gear the entire spotlight for themselves.
While the magazine does receive its fair share of constant panning from the critics, I've got to admit that one does see the chosen people reflecting more on the editor's opinion and judgement than on their own merit as influential individuals.
If you were the editor of a prominent publication, wouldn't you want to jot down the names of the people you completely adulate and want your coveted star there?
This pool of inspiring personalities in Time Magazine is grouped as icons, artists, pioneers, titans and leaders categories. Twenty people from across the world are clustered into each of these five categories paving out the emergence of the top 100 influencers in the respective domains where 'they've made it'.
It is revealed that the categories in which people are plugged-in, their placing is unpredictable. You'll probably assume that Reese Witherspoon would make it to the artist's category, but in actuality, she lands in the pioneer category, rubbing shoulders with the likes of Chai Jing – a journalist recognised for her documentary film on the environment – and Dr Martin Blaser – a scientist. This, in my view is where Time Magazine gives the element of surprise. It's interesting to take a look at a group of striking individuals with revelations of the pioneers, titans, icons, artists and leaders of the year. I appreciate the way the magazine embraces individuality and even the impact made by people.
However, some of their assortments do make you question their decisions. Kim Kardashian is a case in point. How can someone who only encourages triviality be considered with the likes of Putin or Merkel?
Agreed that Time Magazine provides you with an assortment of political figures, legislators, religious leaders, entrepreneurs and celebrities from across the globe who hold their reign in various genres such as music, movies, dance and reality entertainment, moguls from the fields of aviation, technology and so on and so forth, but do they have no set standards to decide who makes it to this list?
The magazine does not hold any certified status and the 'top 100 influencers' disclosed by them is in no way factual, thus it cannot be taken as the final word. However, it cannot be undermined that the notable list does draw the readers' attention towards it and yes, it does become the talk of the town.
Nevertheless, the contemplating aspect for me is whether the perception of the word 'influence' has been modified in Time Magazine. One may not be inclined towards the registered personalities but you have to admit that each individual on the list is eminent and cannot be overlooked. The individuals that have made it to the list of 2015 have definitely left their mark through their words, judgments, actions, strategic thinking, decision making, songs, social media presence and the likes.
You can love them or hate them but you definitely cannot miss them.
I believe what makes the 'most influential' list a reader's delight is the pairing that is done in drawing out profiles. Every honouree of this list has a profile developed by another celebrity. Although the catch here is that in certain cases one would get to see very unlikely pairing which brings out the best of reading material for the follower. I enjoyed reading Mindy Kaling's writing on Witherspoon, while on the other hand, Kanye West from Elon Musk – an engineer and entrepreneur – was a thorough pleasure and the piece from Serena Williams about Bryan Stevenson and his struggle for equal justice was extremely interesting.
Every individual is entitled to their own opinion and what may be right for one, may be wrong for the other. This has to be the premise of this whole ranking system by the magazine as it brings together a blend of people who are celebrated for their renowned contributions to the society at large, or even for being notorious and expressing their thoughts. Open-mindedness is essential when one goes through Time Magazine's list as it celebrates individuality and divergence.
It also sheds light to the fact that all these individuals carry with them an element of exclusivity that is not matched by another, or as any business graduate would say that all of these celebrated individuals have a unique selling proposition.
I believe what gives this magazine the upper hand is the way in which it celebrates these influential individuals for their distinctiveness and unveils various facets of news, discoveries and contributions from across the world and gives one the spice of life.