Karan Johar takes on GoT with 'Kabhi Games, Kabhi Thrones'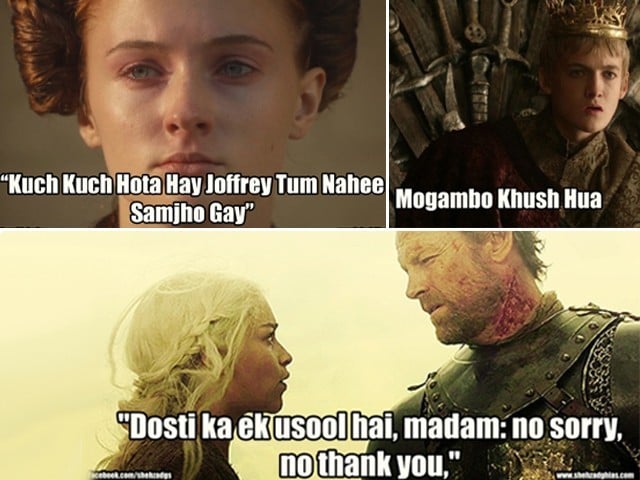 Social media is full of news of Game of Thrones being adapted as an Indian television show. Am I the only one who thinks that the plot lends itself perfectly for a Bollywood movie instead of a TV show?
I would pay good money to see a Karan Johar production titled 'Kabhi Games, Kabhi Thrones'.
The story would begin with Ned Stark and Robert Baratheon riding together on a motorbike merrily singing a song together.
The evil sautayli ma (step-mother) would ask Jon Snow to be banished from the kingdom, and the Stark jayedaad (inheritance).
Snow's storyline would become even more contentious in a Bollywood setting with the word 'bastard' repeated multiple times with the echo sound effect.
Lord Varys losing his manhood would be a much more dramatic sequence.
This famous Salman Khan dialogue from the movie Wanted might just have a completely different context in the Game of Thrones world.
The dialogue would then prompt a bad ass response from Tywin Lannister.
Brevity and Bollywood do not get along too well, the tagline Valar Morghulis will need to change.
As will Hodor's lines, unless they cast Tusshar Kapoor and ask him to equate dumb with retarded.
Stannis might have an easier job proving he is the one true king of Westeros. Whether he later decides to become bread ka badshah aur omelet ka raja Bajaj, humara Bajaj (king of bread and prince of omelet Bajaj), is up for debate.
Poor Sir Jorah Mormont, the embodiment of the word 'friend-zone', he still believes that 'pyar dosti hay' (love is friendship).
Tyrion's trial will not be as simple as demanding a trial by combat.
If anybody deserves a song encapsulating her existential dilemmas in the comforting arms of Naseeruddin Shah, it is Arya Stark.
Especially after all that the Starks have suffered at the hands of the Lannisters.
But hey, at least we have the mother of dragons!
All photos: Shehzad Ghias