"Pakistanis are known for taking shortcuts in life" – True or false?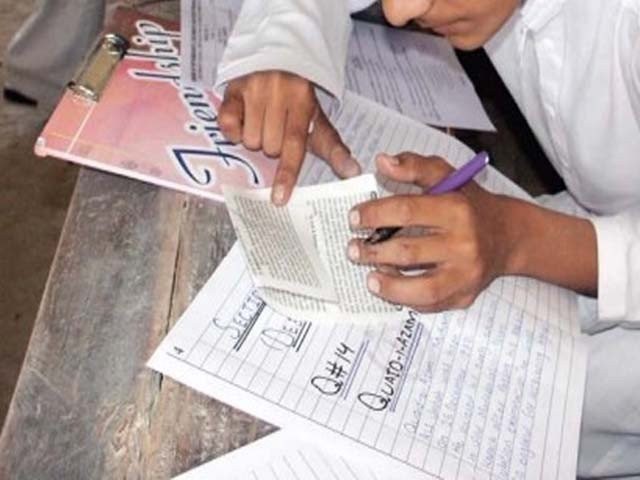 On April 8, 2015, it was reported that blatant acts of cheating were underway during the yearly SSC-I and II examinations in four districts of the upper Sindh. The examinations were being conducted under Secondary Education, Sukkur (BISE) and the Board of Intermediate, Sindh.
It was reported to The Express Tribune that about 210 centres had been placed for the examinations in all the four districts. Out of these 210, 174 had been assigned for male candidates while 36 for female candidates. The report suggested that 27 teams of invigilators confirmed 311 students who had cheated in various examination points while five cases of impersonation were also caught.
This is just one of the many incidents that take place each year in Pakistan. Undoubtedly, no appropriate methods have been established to curb this increasingly deplorable affair. While police protection is given outside each centre, yet hoards of students bribe these policemen and get away with cheating. The bribery doesn't only end with the policemen outside – many students bribe invigilators as well. What's worse is that just a few steps away from these centres, there are photocopy shops that hand out answers, guess-papers and other resourceful materials.
The flip side of this awfully rusted and malicious coin is that there are students who study day in and day out to get grades that would be the foundation of their future. These students either don't have the means to pay off bribes or are plainly ethical. But they eventually suffer because other students, who haven't studied a thing, get away with better grades because of the bribes they have given and the cheating they perform.
The Ministry of Education is entirely responsible for the hordes of cheating instances that we get to hear about yearly. Also, it shows that these 17 to 18-year-old students who sit for these examinations, who also happen to be the future of our country, are completely devoid of ethics. Perhaps, when they say that "Pakistanis are known for taking shortcuts in life" the statement stands true.
However, I'll come back to the Ministry of Education and those higher souls sitting in Islamabad running the system. It is your responsibility to not only ensure a curriculum that is at par with international standards but also to implement measures to curb such situations. When I read the report, I was appalled. For whatever reason, the first thought that came to my mind was my examination centre setup by the British Council for my O' and A' level examinations.
Although there have been cases of cheating there also, yet it is to the minimal. So much so, that the person caught cheating is defamed in a way that nearly everyone finds out about him or her. We could never even think of employing any unfair means to pass our papers. In 2012, the Pakistan Studies and Islamiat O' level papers were leaked. The examinations were cancelled by the British Council and students had to sit through the retake of the exams in the next session.
So the question arises that if British Council examinations are checked and invigilated thoroughly, why can't the same be applied to Pakistan-based examinations? How long is the Ministry of Education going to keep their eyes wide shut and not curb these cheating instances? When will they put an end to down grading students who seek for equivalence after appearing in their O' and A' level exams?
Even if I try to gather a ratio between the intermediate board cheating cases and that of international exams given by British Council, I will probably not be able to. Whatever the reason maybe, one factor needs to be seriously considered: Such harrowing instances where children in their most vulnerable ages are bending towards compromising their ethics and morals could have further dire problems to our society at large in the coming future.
These children are our future, and they are already compromising on their principles and code of conducts. Instead of our society improving, if these issues aren't tackled with in the most appropriate ways, it would not be too far-fetched to think the worse. This issue is bigger than just an education-related problem – this issue questions the very existence of our social fabric. And I, for one, am very concerned about its repercussions.