Run All Night: Another run-of-the-mill Liam Neeson movie?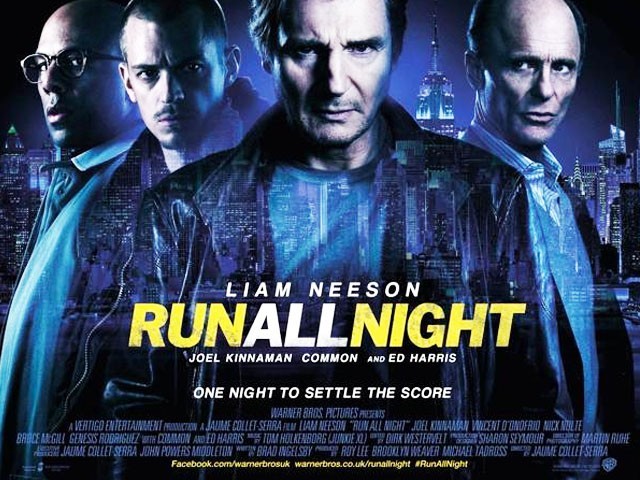 Liam Neeson's name usually brings flashbacks of action thrillers and suspense-filled revenge sagas. His Taken series and his movie Unknown have categorised him into this distinctive genre, and rightfully so, since he is so good at it.
When Ed Harris, another gem of the action-performing fraternity, is teamed up with Neeson for a new film production, it becomes hard not to watch their movie.
Is Run All Night another run-of-the-mill Liam Neeson movie?
What made the director, Jaume Collet-Serra, launch a third venture with Neeson?
Will the movie manage to perform at the box office?
Well, here's what we know so far.
Run All Night is based on a plot that involves Jimmy Conlon (played by Neeson), who is a former infamous gang member who used to work for a mob boss, Shawn Maguire (played by Harris).
The movie focuses on Jimmy's current life, which is a laughing stock for the younger crowd of gangsters. His life is now heavily dependent on drinking. In one of the scenes, Shawn's son, Danny (played by Boyd Holbrook) throws money on Jimmy and tells him to satisfy his drinking needs. This shows how low Jimmy's once-established gangster career has come to.
Mike (played by Joel Kinnaman) is Jimmy's son, who lives a simple life with his wife and kids working as a limo driver. Through the course of the movie, Danny is killed and everyone from the  mob world suspects Mike for his murder and starts pursuing him.
What stands between Mike and the  mob world is an old, rusty and assumed "laughing stock" Jimmy.
Will Jimmy be able to save his son? Is Mike really innocent? What does fate have in store for the two notorious underworld giants, Jimmy and Shawn?
To find out, you have to watch Run All Night.
Performance wise, Neeson was a natural and was in his comfort zone, as always. This is one of his most satisfying performances, in terms of building the suspense of the character. Neeson perfectly portrays Jimmy's dormant gangster skills for years, faltering through subway tunnels, but when it comes to choking a baddie or sharp-shooting, he still is the best in the business.
Harris is a treat to watch. There are times when viewers do not find him as the villain of the movie, but rather an emotional father grieving over his son's unexpected death. Scenes between Harris and Neeson prove to be the highlight of the movie, especially the emotional ones.
Holbrook's performance was engaging as well; he made the audience believe in his ruthlessness. The character of Danny was unusual because he had to portray the shades of his sociopathic side, confused negative energy, and twitchiness, which viewers did not get to see that much on celluloid. But nonetheless, Holbrook did a great job – so thumbs up to him.
While Kinnaman acted well, he was overshadowed by his co-actors.
Run All Night is Serra's most satisfying and entertaining projects. Even though it is an action movie, it is hard to keep away from the usual action tactics in this genre. Some scenes had viewers glued to the screens, such as the awesome climax train sequence, the car chase and the subway station scene.
Run All Night is a decent action fare with some great performances by talented actors. In terms of direction, performance and some action scenes, I would rate it a solid three out of five. It is not your typical run-of-the-mill action saga from the director-actor duo, so I would suggest everyone to watch it once and experience Neeson in all his glory once more.