Just another ridiculous joint session in the Pakistani Parliament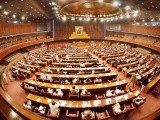 They questioned the legitimacy of Parliament. They objected to the transparency and fairness of the general elections in 2013. They protested and resigned, making their return conditional upon the formation of an inquiry commission to probe into the allegations of rigging during the 2013 elections. And they returned to Parliament after the promulgation of an Ordinance establishing that very commission.
So what was all the fuss about?
Yesterday, during the Parliament's joint session which was called to discuss the pertinent Saudi-Yemen issue and Pakistan's role therein, Pakistan Tehreek-e-Insaf (PTI) legislators returned to the National Assembly after seven whole months.
Once again, despite all its vices, Pakistan People's Party (PPP) proved to be the most, if not the only, democratic party when the opposition leader welcomed PTI and its leader to the house. Muttahida Qaumi Movement (MQM), Jamiat Ulema-e-Islam-Fazl (JUI-F) and one very vocal minister from Pakistan Muslim League-Nawaz (PML-N) were not so welcoming.
Fazlur Rehman has a hate-hate relationship with the PTI and Imran Khan, owing to the latter tapping into his party's vote bank in Khyber-Pakhtunkhwa (K-P). His displeasure with PTI's return to Parliament and consequent elimination of the opportunity to contest for and win by-elections on the seats vacated by PTI was quite obvious.
MQM also has a long standing enmity with PTI which can be attributed to PTI's, and especially Imran's, occasional bold statements against Altaf Hussain and his party. Legislators from MQM raised the issue of pending resignations tendered by PTI members. It is surprising that MQM could not digest a retraction of resignations, considering how it has become a hobby for their beloved leader.
They quoted Article 64 of the Constitution and conveniently overlooked National Assembly's Rules of Procedure whereby the Speaker can refuse to accept a resignation if satisfied that it was not tendered voluntarily. If a member or members are sitting before the Speaker in the National Assembly, the Speaker need not ask such members if they stand by their resignations or not. If the resignations were not accepted when the members were consistently absent from the house, they cannot be accepted now when they are present.
The odd and not so surprising outburst came from the Defence Minister, Khawaja Muhammad Asif. Odd because his party claimed to have worked really hard to bring PTI back to Parliament for the "larger interest of democracy" and not so surprising because Asif's words were pretty much in line with PML-N's "democratic" trends.
They struggled to bring PTI back so that their minister could reciprocate Imran's verbal aggression? Was it a move to bring the enemy on your turf and then hit him where it hurts? I am sure this was not the case, but Mr Minister sure made it seem like that.
Asif questioned why PTI members, and especially Imran, were sitting in the same Parliament they had previously termed as bogus and illegitimate, and accused it of coming into power through rigging. It is again not so surprising that a PML-N senior member has assumed that formation of a judicial commission implies Imran's retraction of rigging allegations.
If PTI has fought for a probe into the rigging allegations, and that probe is under way, why would they accept Parliament as legitimate before the findings of the commission?
Asif's fiery speech, which was anything but parliamentary, has apparently been lauded on social media. It seems to have satisfied the appetite for vengeance that PML-N supporters sought on PTI for having verbally ridiculed them and their leadership for months.
Sitting on treasury benches and being a minister calls for some responsibility. It is not like Imran's onslaught has not been responded to by PML-N on various forums. But to choose to vent out your anger in Parliament, in a joint session with an agenda so important, was extremely immature and irresponsible. PTI, very appropriately, did not reciprocate.
Imran obviously did not expect a warm reception with garlands. He made his return to Parliament conditional upon the formation of a judicial commission; he had on many occasions resolved never to sit in a fake and bogus Parliament. But the recently signed memorandum of understanding (MoU) and the forfeiture of more than one demand therein, foretells PTI's future stance.
The MoU favours PML-N more than it does PTI. It may just be a face saving opportunity for Imran and his party. Having realised the futility of his protests, Imran might just have agreed to wait his turn. Political victory is not only evident in the MoU clauses but also in PML-N blatantly allowing its minister to hit PTI when it's down.
Imran returned to Parliament because he knows what fruits a toothless commission will bear, and also because he does not want to stay out of the assemblies till the next general elections – and maybe, just maybe, because he has been assured that steps will be taken towards electoral reforms, ensuring that the next elections will be free, fair and transparent.
The joint session was, however, more about petty political score settling than deciding the fate of our future foreign policy.
Yesterday's session gave credence to the rumoured assertion that decisions on foreign and defence policies are now being taken elsewhere, while politicians are allowed to play around during their sessions and meetings. As we saw, they did not take any decisions, they only played.