If Angelina Jolie and Deepika Padukone can do it, so can you!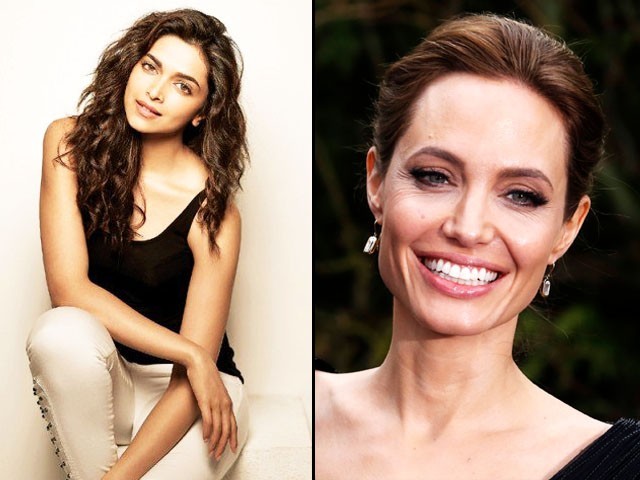 Almost two years ago, American actress, filmmaker and humanitarian, Angelina Jolie, shocked the world when she disclosed that she underwent a double mastectomy due to the risk of breast cancer.
A few months back, Bollywood superstar Deepika Padukone revealed that she had been suffering from depression and had been on medication.
Jolie again stunned the world by revealing that, recently, she had her ovaries removed. Two of her letters published in The New York Times, the recent one on March 24, 2015, was solely aimed at informing and encouraging women, who suffer from cancer, motivating them towards dealing with its physical and psychological effects.
These actresses, sharing their vulnerable side, have helped millions of fans understand that anyone can go through such ailments and that there is no shame in opting for the required treatment, irrespective of how unconventional it may be.
Jolie's letter is a ray of hope for women around the world. She opened her personal life to the world, in the hopes of providing other women the support they need to fight their problems. For many, she is the epitome of beauty, but it was after she removed parts of her body and still stood tall against conventional notions of the perfect female figure, that she became beautiful for me. Jolie sent out a strong message to everyone – a women's femininity is not related to her body.
Breast cancer is the most common form of cancer in women; according to a report, more than 508,000 women died worldwide because of it in 2011. In Pakistan alone, around 40,000 women are diagnosed with breast cancer every year. According to the World Cancer Research Fund International, as many as 1.7 million new cases of breast cancer were diagnosed in 2012 alone, making it the second most common type of cancer in the world. But it can be prevented and a person can lead a normal life with early detection and treatment.
However, many women are often unable to take drastic steps to fight cancer as aggressively as required. And this is usually because women do not want to face the social stigma that such surgeries and treatments are associated with.
In some societies, when a woman loses a part of her body, she is looked down upon. But going through these surgeries did not make Jolie less of a woman; her womanhood is still intact. She continues to be a mother, a wife, a daughter, a friend and a superstar. She is carrying on with her life and has found contentment in the fact that her children will not lose their mother to cancer.
In case of depression, it is believed that depression is twice as common in women as it is in men. Women remain at a high risk of experiencing depression during pregnancy, child-bearing and postpartum period.
Unfortunately, this illness often goes undiagnosed and untreated, particularly in traditional and under developed societies, in which women suffer discrimination and oppression due to their gender. In many villages, young, unmarried women approaching a health specialist for psychological or sexual health problems is still considered taboo. Depression is considered a mental instability and if it is ever disclosed, a woman's chances of marriage are often hindered, if not completely eliminated. In a society where depression is highly stigmatised, what Padukone has disclosed is an eye opening message to the families of young women in the subcontinent.
In her recent interview with NDTV, Padukone went one step forward to explain her battle against depression. She spoke thoroughly about how, despite having everything in life, she felt empty and directionless, and how her doctors' and mother's efforts helped her gradually return to her normal life.
The way she used her vulnerability as her strength is inspiring. But the most important factor is that she realised that there are people around the world, exactly like her, who are willing to seek help but are unable, or afraid, to do so because of stigma attached. Thus, she went public in hopes that others may also draw some help and strength from her.
Jolie and Padukone have opened new doors for public debate on these issues and I am thankful to them. To all those suffering from depression or cancer, you should not forget that you are not to surrender but to fight and win. If these women can do it, so can you.