A new step for American Muslims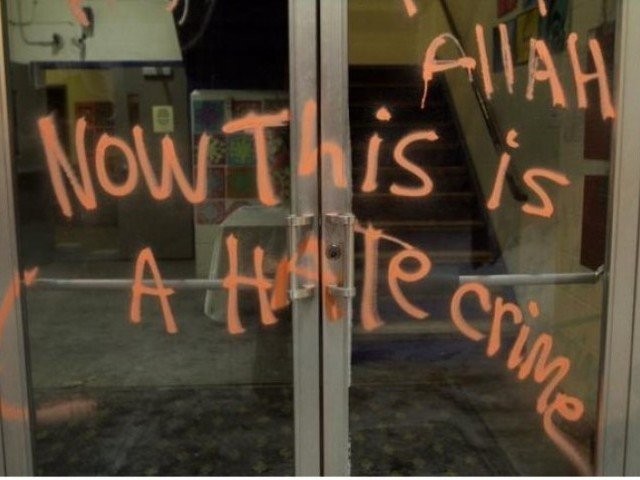 New York mayor, Bill de Blasio, announced on March 4 that two Muslim holidays, Eidul Azha, also known as the Feast of the Sacrifice, and Eidul Fitr, which marks the end of the holy month of Ramazan, will become a school holiday starting in 2016.
It was joyful news and many American Muslims were cheerfully sharing it and trying to find out if they could request the same thing in their state. However, when I checked social news websites, I was very disappointed with the bigotry expressed in the comments sections.
Actually, it is everywhere. Nothing felt right after the Paris attacks, and fears in the American Muslim community have been elevated by the execution-style killings of three young Muslim American students in Chapel Hill, North Carolina, in February.
"For the second time in my life, I feel scared to go out. The first time was when I was attacked at the age of 14 for being a Muslim in America. The second time was since the shooting took place in Chapel Hill," an Afghan-American graduate student who wears the hijab told me.
While authorities still defend the shooting as a "parking dispute," many American Muslims believe in their hearts that it was a hate crime. Talat Halman, an associate professor of religion at Central Michigan University who lived in Chapel Hill for a dozen years and studied with University of North Carolina professors, told me:
"This is a terrible moment in our history and possibly a turning point in relations between Muslim Americans and other American citizens".
As a Muslim American with children living in Chapel Hill, these murders struck Mr Halman very deeply.
"The victims, Deah Barakat, Yusor Abu-Salha and Razan Abu-Salha, were three great, accomplished and generous people of service. There is no question that this murder of three Muslims was a hate crime," Mr Halman said.
Actually, the Chapel Hill shooting wasn't the only attack on American Muslims in February. An Arab American told police he was assaulted on February 12 at a Kroger store in Dearborn, Michigan, by two white men from Taylor who were angered because he was speaking Arabic. The FBI is conducting a separate investigation "as to whether it would raise to the level of a hate crime under federal law."
The El Paso police are investigating a possible hate crime after Muslims had their car tires slashed on February 13.
That same day, we woke up to news that the Quba Islamic Institute in Houston was on fire. Houston fire officials then noted a homeless man had been arrested.
Fifteen-year-old Abdisamad Sheikh-Hussein was killed in a horrific hit-and-run car crash in Kansas City, Missouri, in December. He almost had his legs severed when a man, whom locals said had been harassing the community with anti-Islamic taunts and violent threats, apparently swerved his car and ploughed into the boy.
The Islamic School of Rhode Island was vandalized on February 14. Photos of the school circulating on social media and sent to The Providence Journal show doors covered with the words, "Now this is a hate crime" and "pigs," along with expletives referring to the Prophet Muhammad (pbuh) and to Allah (swt), the Arabic word for God.
In Columbus, Ohio, multiple mosques reported receiving threatening phone calls from the same individual on February 17, putting these communities on edge. On the same day in Revere, Massachusetts, multiple threats of violence against Muslims were posted throughout the town threatening to kill Muslims "within 72 hours".
I am afraid that by the time this article is published more bad news will pile up.
There will be many more problems because of ignorance and lack of dialogue if polarisation continues in this manner. Even though some pluralism-motivated lawmakers have taken action to reach out to their communities equally, it is not enough if communities don't cooperate and communicate. Collectively and individually, Muslims and non-Muslims should find common ground to get together and interact.
"As an educator I use my own personal stories, films and field trips to the mosque to help students overcome the cultural barriers of Islamophobia and learn that Muslims are real people, good people and people just like them," says Mr Halman.
I think it should be the norm, not only for Muslims but non-Muslims as well to be able to survive together.
Just yesterday in an interfaith community event, a Christian military chaplain had asked why moderate Muslims weren't speaking up. I responded:
"We are speaking up. Are you listening?"
Yes, listening is key and a diverse mosaic of peaceful Americans living together in harmony can only be achieved by open dialogue, mutual respect and seeking to understand the other party's point of view first.
The post originally appeared here.