Will the real Afridi please stand up?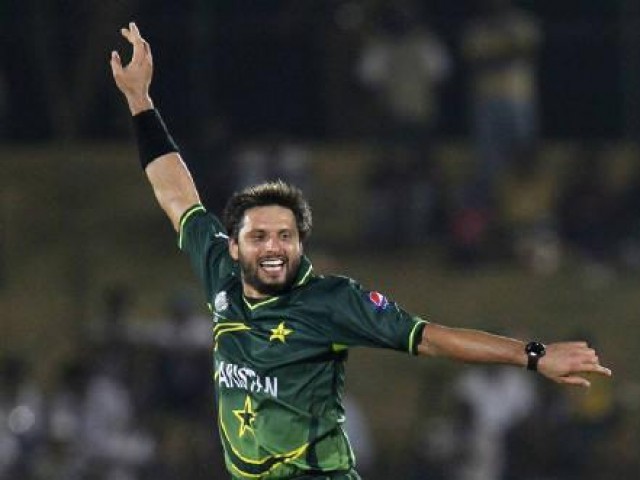 "Of Shahid Afridi, it can safely be said that cricket never has and never will see another like him. To say he is an all-rounder is to say Albert Einstein was a scientist; it tells a criminally bare story." – Cricinfo
Shahid 'Boom Boom' Afridi is a legend, whether people agree to it or not. After close to two decades of belligerent bowling, barbaric batting and iconic off-the-field banter, I say this with great despair that the end of Afridi is upon us.
Since his game changing 102 off 37 balls against Sri Lanka, Afridi has become the apple of everyone's eye. Even earlier, he was the player that people talked about, even when the likes of Wasim Akram and Waqar Younis still dominated the game. This new lad had taken a toll on the people of Pakistan, as well as the cricketing community at large, and continues to do so.
Whenever Afridi comes to bat, the crowd goes wild. Whenever Afridi is out, the stands are deserted. Such is the charisma that Afridi has brought to the field. People are crazy, fanatical and emotional about him.
In the entirety of his career, he might be the least dropped player ever. His aura amongst the playing 11 would strike fear in the opponent's hearts. The Bangladeshis have firsthand experience of this as the wounds of the Asia Cup 2014 are still fresh.
Afridi's resume is quite impressive too. With almost 400 ODIs played, he has scored 8000 runs and is five shy of 400 wickets. But those numbers do not do justice to his heroic performances. One cannot simply put into digits his Imran Khan-esque gallantries in the victorious T20 Word Cup of 2009 or the all-star performance in the 2011 World Cup, while bagging 22 wickets.
But what still resonates with the masses are the twin sixes he scored against India in the 2014 Asia Cup and the bellowing cry of Ramiz Raja's "Afridi you beauty!" that reminded us of the great Javed Miandad back in Sharjah, 1986.
Alongside these, no one can forget the number of world records this man has made. Most sixes by a batsman (350*), youngest player to score a century in ODIs (16 years and 217 days), joint second fastest 50 (18 balls), sixth highest wicket taker of all times in ODI (395 wickets), second best bowling figures in ODI (7 for 12), most wickets by a captain in world cups (22 in 2011), the only Pakistani to score 10,000 runs and take 500 wickets in all forms of the game and, lest we forget, the booming 16-year-old record of the fastest century scored in any format of the game (102 off 37 balls).
The list goes on.
Yet it's not his magical bowling nor his marvellous batting that makes him a favourite; it is the persona that he carries. Every young boy who grew up in the 2000s wanted to adopt the Afridi name. From Karachi to Khyber, he is a favourite. The way his hair is pulled back under his cap, his fielding position at short cover and his remarkable pose, all are copied on the streets of Pakistan as kids continue to idolise him. With a lack of superstars, Afridi has become the role model everyone longs to be. He is the women's heartthrob, the teenagers' mascot and his electrifying energy has unified the nation on various occasions.
He is the hero Pakistan needs.
Being the poster boy for Pakistani cricket since his debut, he was never able to shake off the expectations that were attached to him. But soon, he opted out of opening for Pakistan and focused on his bowling. This proved to be vital for him as well as the team, as he secured a permanent spot in the side and, alongside Ajmal, dominated the game.
Even still, the fans of Pakistani cricket expect him to deliver his onslaught. One hopes for Afridi to stick around for just five overs during his batting, and when he does, everyone knows that they are in for something spectacular.
396 ODIs later, here we are, at the close of another chapter in Pakistani cricket. He may be amongst the few lucky cricketers in Pakistan's history to leave the game with their respect and pride intact. As the dawn of the day comes for Afridi's departure, I can't stop thinking about Eminem song, Real Slim Shady. For Afridi, the lyrics could go like:
"So will the real Afridi please stand up,

And put one of those fingers on each hand up

And be proud, to be out of your mind and out of control

One more time, loud as you can, how does it go?"
Classified as 'aggressive, passionate and immature', he fits the definition of an angst-filled teenager, ready to prove himself out in the world. Whether he has proved himself or not is a different debate, but what he has done is set a precedent for future cricketers who aspire to dream big. All one needs to do is pluck at the strings of the nation's hearts and sing in key. Afridi has done exactly that, many times, and his career has gone nowhere but north.
Afridi has left no prodigy behind. There is no heir to the Afridi throne, because the fact of the matter is, there will never come another like him. Whenever he walks down to bat for the last time or bowls his final delivery, one will automatically think of how much he has contributed for Pakistan and a small part inside all of us would want him to raise his hands in the sky for the last time.
All the best for the remainder of the tournament, Afridi, and may you be as victorious as Imran Khan was upon his retirement.
Amen.