(Not) The Best of Me by Nicholas Sparks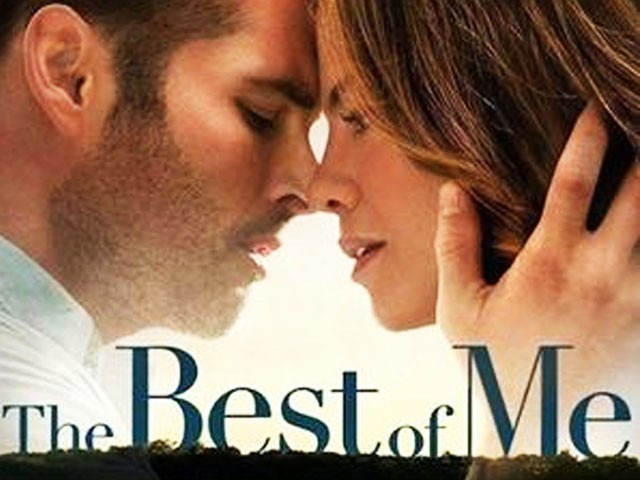 Director cum screenwriter Michael Hoffman, who previously directed The Last Station, Some Girls and A Midsummer Night's Dream, is back after a couple of years' break to entice moviegoers.
This time, he brings a highly romantic as well as tear-jerking drama movie, The Best of Me.
Based on the best-selling novel by Nicholas Sparks, the movie is a perfect illustration of Sparks's literary style with mandatory rudiments such as infidelity, loss, pain and sincerity.
It all begins when ex-lovers Dawson Cole (James Marsden) and Amanda Collie (Michele Monaghan) reunite in Louisiana town after 20 years at the funeral of a mutual friend, Tuck (Gerald McRaney).
This reunion offers them a second chance to embrace their decade-old love and friendship which was previously derailed by misfortune. The two recall and ascertain their passionate affection, which turns into something greater than before and deeply intensifies with each passing day.
The screenplay by Will Fetters and J Mills Goodloe fluctuates between their current lives and their teenage years.  The flashback sheds light on the sad anecdote of two teenage lovebirds, Dawson played by Luke Bracey and Amanda played by Liana Liberato.
Dawson comes from a broken family and his father used to physically abuse him which led him to running away from home. Consequently, he finds a safe haven with an ill-tempered yet benevolent elderly widower, Tuck, who becomes Dawson's second father and lifetime friend.
Later, the romance of Dawson and well-to-do Amanda gets mired by her scornful father who offers money to Dawson to end their affair. As an earnest and young couple, both try to defeat the odds and tackle whatever is thrown towards them, but their deeper and richer relationship was thwarted by an unexpected tragedy which kept both of them apart for two decades.
Present-time Dawson is an oil-rig worker while Amanda, mother of a teenage boy, is stuck in an unhappy marriage. The re-emergence of Dawson in her life provokes thoughts and deep feelings she always strived to suppress.
The two try to confront the current situation, however, both of them soon realise that they still share a passionate love bond, a bond of never ending loyalty that kept them bound to each other for many years. For them, letting go was not the easiest thing. Dawson openly expresses his feelings and in response, Amanda hesitatingly admits her enduring love for him.
"You want me to fall back in love with you. How do I do that when I haven't ever stopped?"
To keep it simple, the plot explains the factors which create devastating pain and confusion during a relationship. Love has several colours and is matchless for every person; it subsists in unique, yet diverse manners.
The real trial for beloveds comes when they are far away from each other. Only time can prove that nothing can tear them apart until and unless they are honest and loyal with each other.
Best of Me has all the important ingredients for a good movie – a poor yet handsome boy falling in love with a rich girl, social barriers, a trustworthy fatherly figure, a painful separation, death, and a rekindled love affair.
The question is, why is not up to mark with hits like The Notebook, also based on a book by Sparks?
The answer is quite easy – the screenplay fluctuates a lot and lacks continuity. As soon as you assume it is the ending, the script suddenly develops an outlandish and new development. Too many flashbacks leave the spectators feeling bored.
Laden with unmanageable melodrama, the pace of Hoffman's film is pretty languorous in a way that it purposely turns into a nonsensical ending during the final act.
Performance wise, Marsden, known for his roles in Hairspray, 27 Dresses and The Butler, is charismatic as ever. His observant eyes and forced smiles express his decisive desire for Amanda. Both Marsden and Monaghan are completely immersed in their characters and display some enchanting chemistry. More importantly, they portray a fine equilibrium between regret and expectation.
Over all, the first 85 minutes of the movie are endurable; the rest is heavily saturated with half-baked melodrama and a hurried ending that leaves the audience unsatisfied.
The main theme of the soundtrack is lovely country music. Melodious songs such as 'I Did With You', 'Falling For You' by Lady Antebellum, 'Hold On' by Gareth Dunlop and SHEL, 'Borrowed Time' by Thompson Square and 'All The Way' by David Nail are all pleasing to the ear.
For people like me who are a big fan of Sparks's novels and movies like The Notebook, Dear John and A Walk To Remember; this dull adaptation of The Best Of Me is absolutely plain, unappealing and a mediocre creation.
Based on Marsden-Monaghan's acting and good music, I would rate it a meagre 2.5 out of 5.