Lahore blast: When will the barbarity end?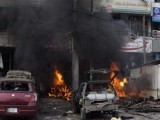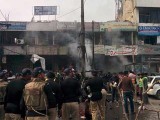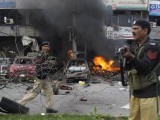 February 17, 2015. Two months and one day after the unimaginable tragedy of the Peshawar Attack, Lahore has been targeted today.
Today, at 1pm, a suicide bomber blew himself up right outside the Police Lines in Lahore. So far, as reports have suggested, there have been about eight causalities but the number is expected to rise. Emergency has been declared in hospitals and other prominent buildings. The city has been struck by terror by once again.
Only yesterday, I came across the video of the attack in the mosque in Hayatabad, Peshawar. The video sent shivers up my spine. Every gunshot made me skip a heartbeat, and when the bombs flew inside the mosque, my jaw simply dropped. The video was just not digestible.
We as a nation have grown so immune to these tragic events that it is almost baffling to see that no one really reacts to it anymore. When the news of this blast went up on social media and TV channels, it was shocking to read comments from people saying that the news wasn't newsworthy and that news agencies were thriving on 'sensationalism' rather than 'journalism'.
How was this not newsworthy and when will this madness come to an end?
I have searched for answers that have only led me to conspiracies as to why this all is happening to my country. Who are these people who want to hurt us and bomb us back to the stone ages? It is certainly not any religious fundamentalist. It just cannot be. You know why? Because if you see that video, where they are mercilessly killing people in a mosque, I can't be led to believe that anyone who is touched by my religion in the slightest of all manners can do this. These people are barbarians. They aren't fit to be called humans. I don't care who these hooligans are and for today I do not want to know.
Let me tell you why so – because it doesn't matter. You and I can't do anything but protest, hold vigils, and be keyboard jihadists. We all don't have it in us to be someone like Jibran Nasir. For if we did, I can assure you of one thing, we would be seeing a lot of things changing around us, there will be no hate speech, there will be no merciless killings and it also might just be a saner place to live in. But alas, there is only one Jibran, and not many of us have it in us to be like him.
Lahore, The City of Gardens, is in flames today. The same city which is soon going to be hosting the much awaited Lahore Literary Festival this coming weekend, featuring some high profile guests on its program schedule. It is the same city that has been known for peace and its historical beauty. As if it doesn't hurt enough to see the terror in Peshawar and Karachi that now Lahore is being targeted.
At 2pm, the Tehreek-e-Taliban Pakistan's (TTP) Faction, Jamaatul Ahrar, claimed the responsibility for the attack. This is the same faction whose spokesperson threatened the civil society in a call that was made viral online to take back its FIR against Abdul Aziz who has been involved in hate speech.
As always, today I am left with a heavy heart. With all the security measures that are being taken, yet there seems to be no end to this prevailing insanity. I end this by sending out my heartfelt condolences to the families who lost their loved ones and pray of the injured. I also achingly hope to know that someday Fazlullah and the likes of him will have met with an end that leaves as a lesson for all mankind.