What I saw at the Pakistan vs India match in Adelaide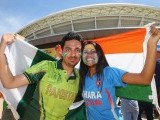 I didn't sleep last Saturday night. Call it excitement, anticipation of victory or simple enthusiasm; words just cannot describe what I felt that night. I had reached Adelaide the day before, after boarding a 12-hour-long flight, and even though the exhaustion was formidable, anyone on Hindley Street on the night of February 14, 2015, will tell you that it was worth it.
Picture the eve before Eid if you are a Muslim, Diwali if you are a Hindu or Christmas if you are a Christian, and multiply the excitement by 10 times – that's the level of exhilaration I felt that night. The zeal in Adelaide amongst cricket fans in general and Pakistani and Indian fans in particular, and the festive mood that night was more than what you could've imagined.
It seemed as if people were dazzled by the anticipation of the match and had completely forgotten whatever else was happening in their lives.
Local residents were amazed by the sudden hustle and bustle. Those who followed cricket knew why their city was flooded with desis: the February 15th match was too crucial for South Asians to miss. All hotels and restaurants were packed with desi people and Adelaide residents seemed like tourists while walking on their own streets.
The night went by and the big day soon arrived. The gates to the stadium were supposed to open at 12:30pm but I, along with some friends, was already there around 10am (4:30am PST). We couldn't wait to start our supposedly happy, jinx-breaking day. And as it turned out, we weren't the only ones who were excited enough to reach there early, despite the hot weather. Adelaide stadium and its surrounding areas were full of men and women in green and blue, all ready with to wave their flags in the South Australian breeze and to chant slogans supporting their countries at the top of their lungs.
The DJ, who was managing the music outside the stadium, was mostly playing Indian songs. This was noticed by many Pakistanis and I thought it was utterly unfair, since Paksitanis too have a wide variety of World Cup songs that could have been played there. The only time he played Pakistani songs was when the Pakistani fans complained to him.
We entered the stadium at 12:30pm, in our Pakistani jerseys and green painted faces. The stadium quickly filled to its capacity. By this time, it had become evident to us that the Indian crowd was going to be much larger in number than the Pakistani crowd. However, even with this, Pakistani fans were able to match the Indians with their zealous chants, their supportive slogans and their "Pakistan Zindabad!" and "Jeetay ga bhai jeetay ga, Pakistan jeetay ga" jingles.
Everyone saw how the match went about – what were the passionate highs and the awful lows. The last 20 overs, in particular, were torturous and I think I died a little towards the end. Anyone who saw the match on television would know why. By the end of the day, I had seen Pakistani women and children crying, disappointed Pakistani fans leaving the stadium before the match was officially over and Indians chanting the slogan "too roo ra ra, Pakistan phir se haara".
But nevertheless, it was all worth it. The experience was one that I shall cherish throughout and I look forward to seeing Pakistan play against West Indies on Saturday.
I believe that despite this major setback, Pakistani fans will keep supporting their team throughout the World Cup and will keep chanting the phrase
"Tum jeeto ya haro, hume tumse pyar hai
Par agar jeeto to zyada pyar hai"
(Whether you lose or win, we will always love you)
(But we will love you more if you win).