Who will help the Christian slum dwellers in Islamabad now?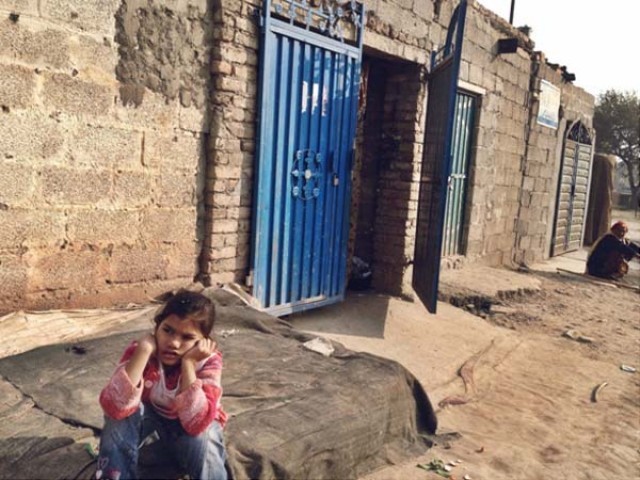 Three-year-old beady eyed Nazia frolics mischievously around the room, trying to coax a response from me. Her mother scolds her, ordering her to go play with her younger brother outside. I, for one, am glad that Nazia is a child as she is oblivious to the constant fear that looms over her family – a fear of being left homeless by the end of this year.
Nazia and her family are one of the 80,000 unfortunate slum inhabitants, living in Maskeen Colony Islamabad, one of the thirty odd slums that have been notified by the Capital Development Authority (CDA) for evacuation on the pretext of being illegal settlements encroaching on public and private land.
The slums came under renewed scrutiny – after an attack on a judicial court in Islamabad in March 2014 – on the official claim that katchi abadis are harbouring both criminals and terrorists.
In reality, these slums are home to a vast population of ordinary Pakistani citizens, mostly poor Christians, who have been residing on the premises since the inception of the capital city in 1960.
Legally, such settlements have to be improved upon their original location. Only in exceptional circumstances can a removal take place, and that too after a resettlement plan has been drafted and approved through consultation with the residents. At least that is what the National Housing Policy 2001 proposes on paper.
Rather than carrying out legal investigations for criminal or terrorist activity, criminalising the urban poor has been the easy way out for the state. Starting in 2002, eviction drives were also carried out against the Afghan Basti located in I-11, but vested interests of the rich living near the slum saved the settlement from being evicted.
Sadly, there is no knight in shining armour for their Christian counterparts.
Nazia's brother, Waheed, informs that initially the demolitions were to begin right away. The sole reason they have postponed the action is due to the mass protest organised in November last year, by slum inhabitants and Christian clergymen with the help of minority rights activist Julius Salik and the Awami Worker's Party (AWP).
Poor, downtrodden and non-Muslim
"It is one thing being poor, but when you are poor and Christian, things are far worse," says 20-year-old slum resident Saleem.
Most of the poor Christians residing in Islamabad's slums migrate from other parts of Punjab, mainly Sialkot, Narowal and Faisalabad, in search for a better life.
"But upon arriving, they find themselves being worse off, acquiring low-paid marginalised jobs like sweeping roads and domestic work," explains a local activist.

"If it is of any consolation, at least the world has its eyes on bigger cities like Islamabad. In small towns, the discrimination is starker."
His words echo memories of the heinous Kot Radha Kishan murder, where Christian bonded brick kiln worker Shahzad and his wife Shama were burnt alive on a blasphemy allegation.
Even if the situation is not life threatening in the cities, it is certainly no better. Article 38 of the Constitution of Pakistan states that promotion of the social and economic wellbeing of the people of Pakistan, irrespective of sex, caste, creed or race, is one of the basic tasks for the government.
Yet Nazia and her family are treated like dirt on a daily basis, having little or no hope of accessing even basic necessities such as food, clean water and sanitation. Conditions for their neighbour Rahima and her family of five are equally deplorable.
Many poor Christians of the slums also find it difficult to procure decent jobs in the city, for the mere reason that they are Christian.
"When I was unemployed, I was selected on the telephone for a job interview. But upon finding that I am Christian in person, the recruiter told me: 'Sorry yaar, hum Esaiyon ko nahi rakhtey' (I'm sorry friend, but we do not employ Christians)," says Waheed.

"Even though many Muslims also reside in the capital's slums, life is far better for them as they often obtain better paid jobs like that of a mechanic or a blacksmith, whilst fellow Christians pick up the socially stigmatised leftover cleaning jobs."
Children of slum-inhabitants also face discrimination at school. Many children drop out of schools permanently. Those who are lucky are transferred to Christian schools. Indeed many dejected parents feel that even if they invest in their children's education, not much would change in terms of their intergenerational mobility – given the faith-based discrimination they face.
Many of the residents conclude:
"Christians tou sirf safai key liyay hain" 

(Christians are only good for cleaning)
Time is running out for Nazia and her family. Waheed worries over how he will be able to provide for his sister and eight other members of his household, should the CDA reinitiate its slum eradication plan and bulldoze their rusty one-bedroom abode.
Upon being asked whether Waheed is hopeful, he gives a broken smile and says,
"There are no equal rights, not for Christians. This is our 17th year here, living in this colony and it just keeps getting worse. They are already knocking down colonies elsewhere, and now, they are threatening to send us off in trucks 'to wherever we have come from'. If only they understood – this is our home too."