Tables turning: Is Ali Enterprise looking for an 'escape route' from the Baldia inferno?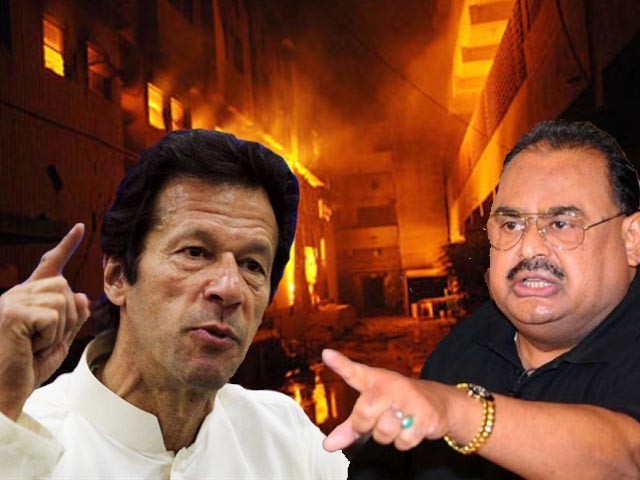 It is great to see a political leader like Imran Khan come out loud and clear against the activities of Muttahida Qaumi Movement (MQM), a party which, without a doubt, runs Karachi.
The allegation of MQM's involvement in targeted killings and extortion is common knowledge. But having said that, it is very important to understand that even if it is accepted that MQM was involved in the Baldia factory arson, the employers, that is Ali Enterprises, cannot (and should not) be absolved of  their responsibility towards the factory workers. Their negligence in providing a fool-proof work environment to the workers, eventually leading to such a huge loss of human life, cannot be overlooked.
In the next few paragraphs I shall explain just how Ali Enterprises is liable under the law of negligence and in breach of their responsibilities as employers. It is unarguable that the standard of care taken by the company fell far below the requisite standard and the harm was reasonably foreseeable, especially in the event of a fire. While the allegations against MQM may or may not be true, the fact of the matter is, that this turn of events does not in any way absolve Ali Enterprise from its involvement in the incident – thus, it must not been given an "escape route" amidst this controversy.
The initial report of the incident revealed that the boiler exploded and flames ignited the chemicals stored in the factory, another account was that a faulty electricity generator flew into the chemicals.
But why were the chemicals present in a garment factory in the first place?
The prime suspect has revealed, as per the JIT report, that when the factory owners refused to pay the extortion amount, one Rehman Bhola and his accomplices set the factory on fire by throwing chemical substances. If we join the dots, it is probable that the suspect's account is true. But even if the fire was caused, as alleged, by MQM workers, the death of so many workers trapped in the basement were caused "but for" the negligence of the factory owners as they died of smoke inhalation and some even "boiling" to death in the water used to extinguish the fire. The trade union representatives had asserted then that Ali Enterprises was never duly registered, that the September 11, 2012 fire was not the first fire to occur in the factory and that the factory fire exits were non-functional. According to a report published in The Herald, the employers had shut down all but one exit.
There is a clear requirement of the factory premises to have several avenues of exit in case of any unforeseen calamity by virtue of section 25 of the Factories Act 1934 – Ali Enterprises being in breach of this provision. The doors are required by law to open outwards and should not be locked or obstructed when work is being carried out. So why then, were there iron bars fitted in the windows? Why were the workers 'jailed' inside the premises?
Similarly, section 25(7) requires that where 10 or more workers are ordinarily employed in a place where explosive or highly inflammable material is used or stored, measures must be taken to ensure that all workers are familiar with the means of escape in case of a fire and should be adequately trained in the routine to be followed in such a case. Similar requirements of work safety can be found in section 51 and 52 of the Sindh Factory Rules 1975, which in particular require an ample supply of water with sufficient pressure to reach all parts of the factory building and all apparatus for extinguishing fires to be kept in good functioning order, examined and tested after every six months. This clearly does not happen to be the case here.
There were concerns raised during site visits and checks conducted by KIK, a German retailer brand, the largest purchaser of products from Ali Enterprises, and deficiencies in fire protection were noted during an inspection in 2007 as well. In fact, three social performance audits were conducted by KIK's agent, UL Responsible Sourcing, from the period of 2007 to 2011, revealing that the working conditions were not safe, open cable end wires and unsecured electrical equipment were found and only two per cent of the workers were trained in fire emergencies, though the law requires every worker be given training on safety.
There were very few fire extinguishers in place, some of which did not have gas in them and the employees were not even aware if they were in place. The working hours exceeded the maximum amount and more than the required number of workers were hired on minimum wages.
In English law, under the concept of strict liability in the tort of nuisance, the Rylands v Fletcher rule lays down the proposition stating that wherever an enterprise is engaged in a hazardous or inherently dangerous activity, or stores an inflammable substance likely to cause harm if it escapes, it shall be liable regardless of any fault on their part. The environment where workers are exposed to inflammable chemicals is without any shadow of doubt of "special, abnormal and dangerous character".
Even if Ali Enterprises succeeds in establishing that they had taken adequate care and reasonable measures to ensure safety of the workers, which does not seem probable at all, if the chemicals were stored by them, according to this law they will be held liable regardless. And if considered under the law of negligence, which requires for there to be a breach of duty of care to take measures, to minimise a risk or damage which is well foreseeable and is just and reasonable to impose liability, with a causal link between the negligence and the resultant loss, Ali Enterprises has been grossly negligent in ensuring its workers' safety.
Therefore, it is pertinent that while we may want to condemn MQM for its activities in Karachi and party workers with involvement in this gruesome incident be given exemplary punishments, Ali Enterprises should not be given a leeway either. I would request all the leaders, especially Imran Khan, members of civil society and everyone involved or concerned with this case to hold Ali Enterprises equally accountable as well.
We must set a precedent; the real justice to the victims' families is not just punishing those who may be proven to have committed criminal arson but also the factory owners who made huge sums of money by exposing their deceased loved ones to conditions that put their lives in jeopardy.
Furthermore, we must be prepared to see the hurdles impeding the way of justice in this high profile case. A very large number of people lost their lives. The hurdles must be countered in all forms. Recently, Shazia Hanjrah, the special prosecutor in the case, resigned from the case stating that the police authorities were creating hindrances and that the number of witnesses had risen from 870 to 950, being a clear manipulative move to obstruct justice.
Another factor to note is that in such high profile cases involving powerful defendants, not only are public prosecutors threatened but in fact many have lost their lives. Our police department, to our disappointment, and as is known by us all, is also a politicised institution. It is good to see the prime minister insisting on an effective investigation and dispensation of justice in this case, but the authorities must take firm action to remove every obstacle in bringing the culprits to justice.
The case will run over a roller coaster of news headings, mostly agenda-based, but nothing should cloud the judgment of the public and even the judges in punishing every individual for whatever role he or she plays in this incident, be it for criminal arson or death by fire caused by the negligence on the part of Ali Enterprises. The witnesses and prosecutors need to be provided with fool-proof protection. The precedent must be set NOW so this incident is never repeated again. The precedent must be set NOW so that factory workers know they have a chance at a better standard of living – one that is rightfully their own because they earned it. The precedent must be set NOW so we can understand the difference between slavery and employment.