Eating is the tried and tested way to lose weight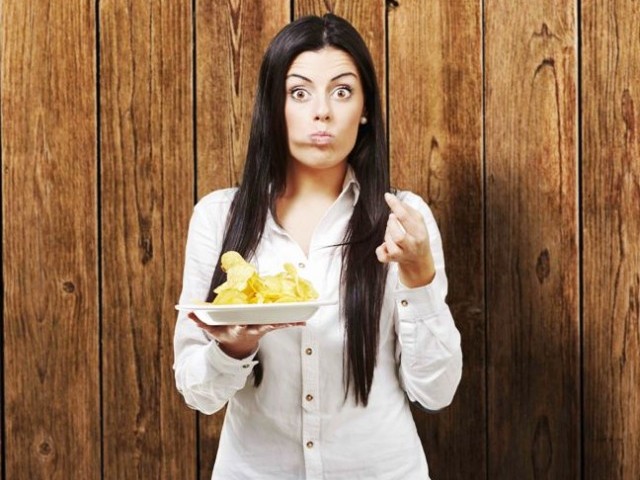 The idea of a perfect body, with the right curves and cuts, not only appeals to the fashion world but also to an increasingly demanding society like ours.
While at one end, culinary crafts and exotic food are taking over the world, the other extreme is witnessing more and more aspiring young minds concentrating on maintaining a healthy, happy, and balanced lifestyle (one which comes sans grease and fat).
Obesity can be the ultimate bane of one's life; trust me, I speak from experience. From 'desi totkas' to promising detox programs, from the virtues of yoga to the death of spin class, it has all been tried and tested. There is a constant battle within, a struggling mind that is always preoccupied with judging every morsel that touches the palette. I can clearly recall the precious seconds I wasted pondering over calories and suspecting and blaming the aroma of the Nutella-packed brownie for adding inches to my waist.
However, some can't seem to get rid of their misery and eventually settle for 'guess we were born this way'. Rampant results over slow, steady, and substantial gains are unfortunately the more popular slogan and have become the sole reason why hardcore diets mostly fail, with dieters experiencing a burn out.
The big question is what actually works?
Starvation diets? Atkins? 42-day challenges? Liquid cleanses? Weight-watchers?
Is there absolutely any ritual people can follow without being terrified of the million side effects?
Well apparently, yes.
According to the Anti-Diet plan, first introduced in the 1990s by American nutritionists, losing weight could have never been a more healthier and appealing notion.
Anti-Diet is emerging as the next big thing; with top notch western nutritionists and bloggers following it vehemently, it is sure to garner global popularity soon. The real reason why it caught my attention was the idea of intuitive eating it encourages amongst its followers. The fight is not to eliminate all food as offered by various traditional programs; rather it is to understand the needs and signals of our body.
Intuitive eating invokes one's mind to make the right choices, build a sense of trust, and not be dictated by food norms by embracing its very basic commandments. One learns how to distinguish between physical and emotional feelings and gain a sense of body wisdom. The most important aspect of it all is to consider your end goal and it does not have to be '20 pounds lighter', rather, it revolves around aiming for a healthier, leaner and peaceful you.
When they say, "comprehend the signals your body is sending over," what they really mean is analyse your hunger and just when level three and four on the hunger scale approach, one should aim to eat; this is known as honouring your hunger and likewise you need to respect your fullness. This mentality trains you to adapt to a fitter eating plan without a military attitude that can serve as a setback or inculcate a desire to over-eat, over-exercise or grieve over both.
Many swear by the diet's fascinating principles, maybe because they are conveyed to us in a rather simplistic, almost religious manner. It comes off as more of a behavioural training program rather than a nutritional program. While food is treated as the privileged matter of concern, an active lifestyle is just as imperative and luckily this diet isn't all about sweating your soul out in the gym.
Regular everyday activities like that extra kilometre walk or switching the elevator ride for the stairs can make an ample amount of difference. Furthermore, it enables us to learn to translate our cravings into the language of our body; therefore, what we eat serves as fuel for our body, which in turn ends up with greater energy and satisfaction for us.
Intuitive eating invites us to believe that our body is not the problem, weight-loss struggle is not the ideal way of taking care of yourself and, most importantly, cutting calories and food obsession is a sure gateway to an eating disorder. It saves you from what can become an emotional struggle for life.
Hence, this program greatly inspires me to follow a lifestyle where nutritional awareness wins over the uncalled anxiety that automatically intertwines into every dieter's system.
I have never personally been to a nutritionist, since within our culture it is almost an elitist formality, but those of you who have consulted local ones usually come back with a rigid week/fortnight/month menu which in simple words is impossibly annoying.
Why waste valuable time and effort when you are very much capable of being your own guru? I suggest give your food diaries a rest, save the expenses, and instead educate yourself further about this new movement that can actually solve the majority's woes.
After all, anything over and above self-loathing and self-deprecating deserves a chance.