Miandad's last-ball six and the Indian team: A statistical analysis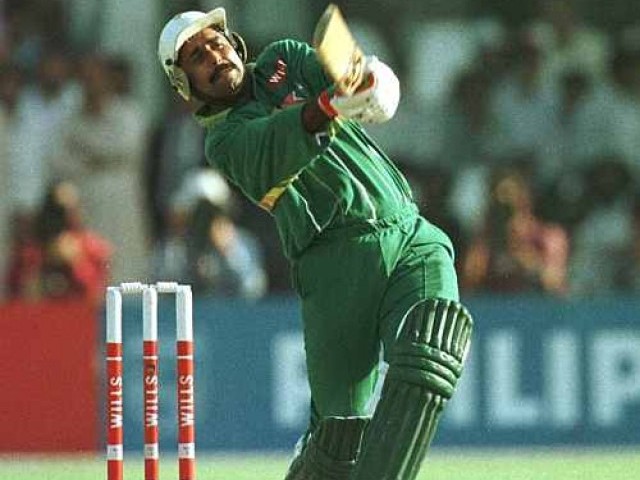 The history of Pakistani cricket is incomplete without discussing the contributions of Javed Miandad, undoubtedly the greatest batsman produced by the country. Similarly, the history of ODI cricket is also unfinished without highlighting the impact of Miandad's last-ball six on the game.
The Wounded Tiger – a masterful book written on Pakistani cricket by Peter Oborne – declared it the most famous shot in cricket history. The six from that Sharjah match not only haunted Chetan Sharma and the Indian cricket team, but also the entire nation for the 10 years that followed.
Before Miandad's wonder in Sharjah, India had an impressive record in ODI matches against Pakistan.
Pakistan versus India before last-ball six: From Oct 01, 1978 to November 17, 1985
Matches played: 16
India won: 8
Pakistan won: 7
No result: 1
But things changed all of a sudden after the last-ball miracle. India, which had a slight edge over Pakistan, remained under immense pressure after that and the statistics are a testimony of that.
Pakistan VS India, after the last-ball six: From April18, 1986 to March 09, 1996
Matches played: 26
Pakistan won: 20
India won: 5
No result: 1
The difference and impact is quite clear. India lost 20 matches out of 26 in the following 10 years and could win only five – and most of them were hard-fought victories.
Chandrakant Pandit, in that particular match, defined the last moments of the game in an interview as follows:
"I remember almost everyone came up to the pitch to discuss who should bowl the last over. We finally decided that Chetan's extra pace and swing would prevent the batsmen from getting the runs. Tauseef Ahmed walked in and I heard Javed telling him: 'Whatever happens, we have to run. Hit or miss… just run.' The entire over was chaotic. Javed kept swinging wildly, and Mohammad Azharuddin missed a simple run-out. On the second-last ball, Javed got an inside edge and Roger Binny pulled off a superb stop down at short fine leg. They needed four to win off the last ball. I still remember how Javed looked up at the sky and prayed to Allah (swt). Chetan's plan was to bowl a yorker but it was a waist-high full-toss. None of us expected Javed to hit it out of the ground. And then we all felt a sort of blackout. It was like a funeral in the dressing room afterwards. Chetan was on the floor. None of us knew what to do for nearly an hour. Nobody looked at anyone; we all just sat with our chins down, thinking about the possibilities. We could hear the celebrations outside but it was extremely depressing inside."
Chetan Sharma, who was the third Indian to claim a wicket in his first over in a debut Test match, the first Indian to grab ten wickets against England in Birmingham, and the first bowler to take a hat-trick in any World Cup match, faced tough times after the match in Sharjah.
After 25 years of the famous match-winning stroke by Miandad, Sharma admitted,
"Yes, it haunts me even now and will haunt me for the rest of my life".
He further recalled,
"Our captain in that match, Kapil Dev, and a few senior players like Ravi Shastri and Sunil Gavaskar came to me before the last delivery and encouraged me, but sadly I could not avoid delivering the full toss to Miandad and history was made".
On the other hand, Miandad has described the whole episode in his autobiography Cutting Edge with a different angle:
"The Indians were together, excitedly talking strategy. The whole contest had been reduced to getting a four from the last ball. I came up with my own strategy. I was certain Sharma was going to attempt a yorker and aim for my legs. So I decided to stand well forward of the batting crease. My plan was to lean back, make room for myself and give it everything I had. It was going to be a slog. I was not out on 110 from 113 deliveries and was seeing the ball extremely well.

I had confidence that if the ball came on to the bat, it would reach the boundary. I surveyed the field again. I knew exactly where every fielder was, but still I took another look around, counting off the fielders one by one. Nothing was going to be left to chance. I took my time, calmed my nerves, settled into my stance, and said a prayer. Poor Chetan Sharma. They say he did try for a yorker, but the ball slipped out of his hand. Or perhaps it was the fact that I was standing well forward of the batting crease that threw him off his length. Whatever the mysterious origins of that last delivery, it ended up being the perfect ball for me and for Pakistan – a full-toss at the right height, slightly towards leg, all I had to do was take a swing and it sailed out of the ground. After that, it was pandemonium. We had won, Pakistan had won, Tauseef had won, I had won."
Seeing the glory that Pakistan has had, it's obviously disheartening to see the team play like the way it is in the current World Cup. While we don't have a Miandad to save us this time, we need to find a way to get that glory back. We need another last-ball miracle for Pakistan to reign on the game once again.