Dear PTI and MQM, abuse and vitriol won't get us anywhere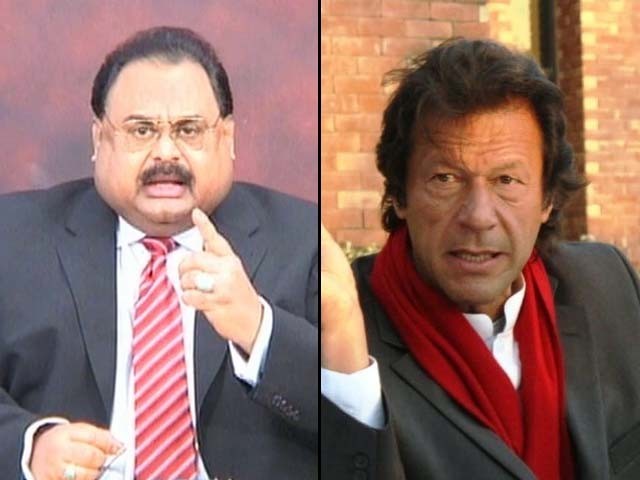 The recent war of words, clichéd personal attacks and mudslinging between Muttahida Qaumi Movement (MQM) and Pakistan Tehreek-e-Insaf (PTI) leadership has once again drawn a wedge between the two major political forces of the country.
Starting from the startling revelations by Sindh rangers regarding the Baldia Town inferno, to a half-cooked joint investigation report by law enforcement agencies (that too so close to senate elections), everything reeks of a dirty political game.
The friction started when top tiered PTI leadership didn't waste a single moment in blaming MQM for the massacre at the factory despite the fact that a Joint Investigation Team (JIT) doesn't pass judgments but gives an investigative summary of findings by law enforcement and intelligence agencies of the country. It is upon the courts to decide who the real culprit is.
Without a judicial judgement, it was quite pre-mature to jump to conclusions and put the entire blame of arson on a major political party which, by the way, happens to enjoy a sizable share in the provincial and national legislative assemblies, and has massive street power in Karachi and Hyderabad.
That blame game went on, in bad taste of course, and hence started an ugly game of character assassinations by both sides. The Badlia Town JIT is to MQM what the PTV invasion JIT was to PTI.
Altaf Hussain is not your ordinary street or college level political leader. He leads a movement that gets strength from millions of followers and holds influence both locally and internationally. He has a struggle of more than two decades behind him, starting off from a low income segment of the society and rising to the top slot as a leader of the movement. This fame, power and authority comes with a baggage and there are certain quarters which do conspire against leaders and institutions in order to pursue their own vested agendas.
His recent remarks against the women in PTI were however quite derogatory and should have been followed by an apology. Such remarks never go in good taste, especially when they are spoken by the supreme boss of the party and are duly applauded by the ladies present at the jalsa.
Imran Khan, however, should have exhibited some patience and reserved his comments instead of going vocal at a live press conference and labelling the leader of a political party as "insane", considering the fact that the remarks by the MQM chief were regarding a certain leader of PTI and not their chairman. He went all out against the epitome of centrality and power within the MQM which obviously initiated another dirty game of personal attacks between top tier leadership of both the parties.
That brief time period where both MQM and PTI were enjoying absolute harmony and a positive working relationship was instantly brought to a halt and gave a fresh start to probably another week of hate-centric fodder to the electronic and print media to feast upon.
Imran has worked his way up to where he is today through hard work and dedication. His local and international stature has been on the rise since the time he went all out against a sitting government and managed to gather massive crowds against corruption and injustice. He not only managed to bring young blood into the electoral process but also gave them hope for a better Pakistan. At this juncture, patience would have been a wiser strategy. Maintaining political decorum and sticking to standard political ethics would've given him some extra mileage, which was unfortunately a chance that he missed after his recent press conference.
If MQM is to be blamed for the unrest in Karachi and their decades old extortion-centric allegations, PTI cannot be exonerated for the fact that they never openly condemned the Tehreek-e-Taliban Pakistan and their terrorist activities, which ultimately resulted in loss of innocent lives. There are skeletons in the closet on both sides and such sweeping statements between the leadership of two major political forces of Pakistan will always bring up facts and figures that neither of these parties would be proud of.
The political Pandora's Box has already fattened up and is ready to burst open any moment. The need of the hour is for both parties to show restraint and a mature approach towards politics. Both will have to leave the past behind and move forward.
Amidst all this turmoil, it is the general public that suffers. Political forces go into coalitions, break up, claim to strengthen the democratic process and label all of this as mere "beauty of the political process". Public service centric politics remains a distant dream in Pakistan, when it should in fact be the first priority.