Is #UreinGe the right way to pay tribute to the Peshawar attack?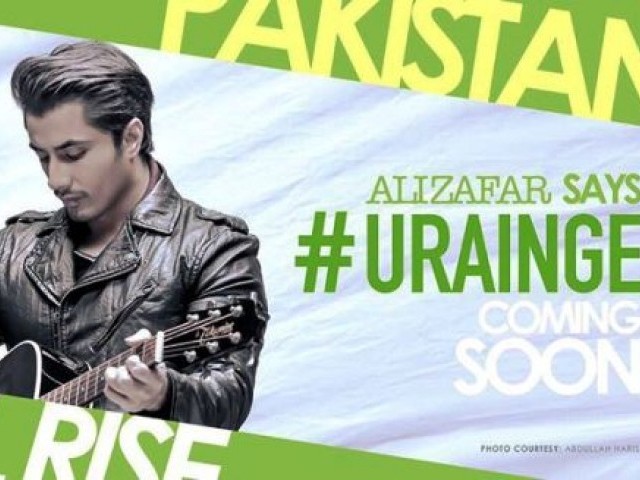 Since the day it was rumoured that Ali Zafar was set out to pay a tribute to the Peshawar victims, there was a murmur on social networking sites on whether this tribute was needed.
I saw people mixing religion into this discussion and saying that it isn't the right way to express our condolences. For some time, I agreed with those comments, praying was after all the only way to help them. While I agree that saying a little prayer for the victims would have been good, the unity and enthusiasm that I witnessed online, a week before the launch of Ali's song, Urein Ge, made me realise that I was wrong. This tribute was much needed.
Since the Peshawar incident took place, many artists have expressed their sadness through songs and words of condolences, and have condemned the attack. The ISPR tribute to the children, in a child's voice, was one that could bring anyone to tears.
And then there was Shehzad Roy's beautiful tribute with him singing Lab Pe Aati Hai Dua with children, reminding us of the value of education through the words of this powerful poem penned by Allama Iqbal.
But what Ali Zafar did was different and on a massive scale. It is amazing how he managed to unite the entire film and television fraternity towards this social cause, almost two months after the attack, just when we were feeling guilty of having forgotten about it so soon.
However, this is not the first time that members of the entertainment industry have come together to try to bring about a change. A campaign was started by our celebrities before the 2013 general elections, urging the public to vote for change and to vote for Pakistan.
This time our celebrities have come together again and the message of unity that they have shown is indeed inspiring.
Someone asked me if listening to a song would bring peace to the minds of those parents who lost their children.
I think the answer to this is yes, it would. These tributes will show those grieving parents that their sacrifices have not been forgotten, that the nation stands beside them, including the celebrities that they have admired over the years through film and TV.
For the general public, not only did the song remind of us what we should not forget, it gave us hope that such tragedies cannot destroy us and that we are stronger than ever.
To be honest, the Peshawar incident made me feel like it was the end of the world. My trust on our law enforcement agencies had shattered and I thought nothing could make me feel safe again. But I think this song has restored some of the lost confidence and patriotism I had.
The expressions that these actors, singers and artists had on their faces in the video of Urein Ge only revealed how hurt they were and that their room for tolerance has now ended. Their evident anger was an open threat to the terrorists, challenging them to do whatever they can but we will form such a land where there shall be only peace and love.
The entire song is portrayed in black and white, and the simplicity with which all the stars presented themselves showed that they are completely dedicated towards the purpose of supporting the children of Pakistan. It was a message to all that only unity and dedication could bring an end to hate.
With this song, Ali makes clear that in the same way that media personalities have united, political parties also need to join hands. Our leaders, while fighting against one another, have let these terrorists become the monsters they are today. There was a continuous expression of contempt towards the terrorists that the actors showed; a reminder for the terrorists to understand that their act was below the belt for humanity.
The best part of the song was that Ali realised the need for the tribute to be decent and simple. Without using heavy instruments, costume, complex rhyme schemes, he managed to amalgamate words that show the parents and the nation that the sacrifice made by our young martyrs has not gone in vain.
Though I agree that the Islamic way of condolence is the recitation of the Holy Quran, but this song is not just a tribute to the little angels, it is a challenge against terrorism and a call to unity. It is the only way ahead for our nation and this song portrayed that way forward beautifully. Not only does this serve as a lesson for us in unity, it is also a way to show the world that we do not support acts of terror.
Making a statement in the news would have been ineffective; Ali's message, through his song, has been appreciated and heard. Through the combination of lyrics, tone and expression, Ali has made Urein Ge an anthem of peace. In my opinion, this was the most effective way of expressing sorrow, solidarity and making your message heard without causing offence to anyone.
Good job, Ali.