Remembering Anwer Sultana with some Baisani roti and Afghani chuttney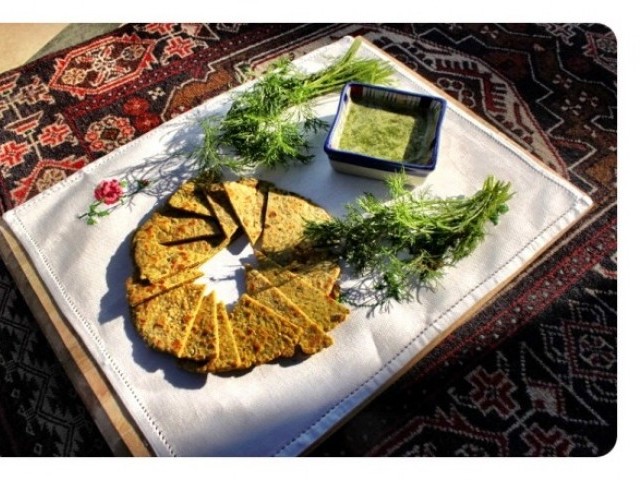 Dill always reminds me of my Nani (maternal grandmother), Anwer Sultana. A couple of decades earlier, during winter vacations, all of us cousins would come down to Rawalpindi to spend winter breaks with our grandparents.
Nani had a huge herb and vegetable garden at the back of the house. The garden always had one particular herb every winter – soy/dill. The shrub always grew taller than me, an eight-year-old back then, making me disappear in the dill patch while trying to catch ladybirds. The ladybirds too loved the perfumed dill as much as I did.
Nani loved getting baisani (gram/chickpea floured) roti made at the tandoor (cylindrical clay oven) situated close by. She would supervise and instruct our cook, named Rasheed aka Sheeda, as to how to make the dough. It always had plenty of fresh dill from her garden. Once the dough was prepared, Sheeda would take it to the nearest wood-fired tandoor and get the baisani roti made. The tandoor guy always knew how Begum Sahiba (my Nani) liked the rotis. We loved having it with home-churned butter while soaking in the winter sun, followed by a kino (orange) eating marathon.
On the death anniversary of my Nani, who now rests at Emanabad, a small city situated 30kilometres from Lahore, I found myself strolling down memory lane, catching ladybirds while buying some dill at a local vegetable shop. I have not known a woman as kind and as beautiful as Anwer Sultana. I do wish she was still alive so we could have the conversations we never had a chance to have! Now they only happen in my head.
To relive the memory of having baisani roti with Afghani chutney, I would like to share this recipe with you.
Ingredients for baisani roti:
Chickpea flour – 1 cup
Whole wheat flour – ½ cup
Butter – 50 grams (melted)
Dill – handful (fresh and chopped)
Coriander – handful (fresh and chopped)
Red chillies – ½ tsp (crushed)
Green chilli – 1 thinly (chopped)
Roasted cumin seeds – 1 tsp (lightly crushed)
Roasted coriander seeds – 1 tsp (crushed)
Water – for kneading
This recipe will need a griddle and food processor.
Method for baisani roti:
1. Add everything, except water, in to the food processor and pulse it for 10 seconds.
2. Now switch on the machine and slowly add the ¼ cup of water till everything comes together and forms a dough.
3. Take the dough out and knead it for two to three minutes. Put it in a bowl with a tablespoon of oil in it. Cover it and let it sit for 30 minutes.
4. Then make small balls of the dough, roll them out and cook them, on both sides, on a hot griddle.
5. Now, remove them from the griddle and cut in triangles. You can serve these hot with salsa or chutney.
Ingredients for Afghani chutney:
Mint – 1 cup
Fresh coriander leaves – 2 cups (chopped)
Garlic – 2 cloves
Tomato – 1 large (try finding a green one)
Fresh green chilies – 4 whole
Lemon juice – of 4 to 5 lemons (medium sized)
White vinegar – ¼ cup
Salt – to taste
Method for Afghani chutney:

Add all the ingredients in a liquidiser and make a smooth paste. In case you feel that more liquid is needed, you can increase the amount of vinegar.
This simple dish can easily replace your Doritos and salsa snack any given afternoon! Enjoy!
This post originally appeared here.