Pakistan versus India: The ultimate World Cup jinx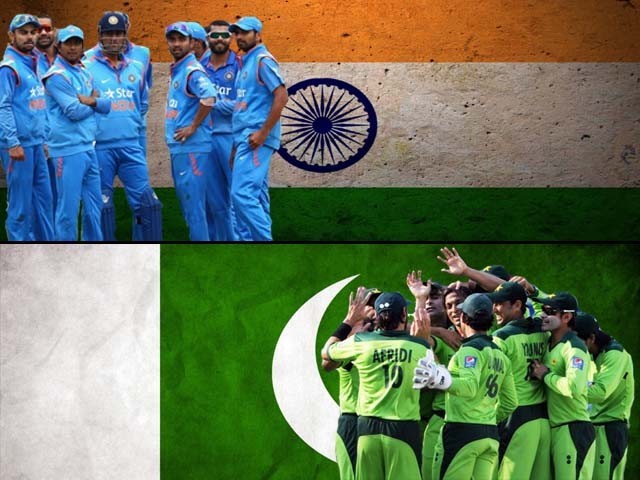 On February 15, 2015, India and Pakistan will lock horns and kick-start their respective World Cup campaigns. India versus Pakistan is not, and never has been, an ordinary cricket match, it is much more than that; it is a matter of metaphoric life and death, a matter of pride. Ask the players involved and they will tell you; the pressure in an India-Pakistan encounter can't be compared to any other.
More than a billion stakeholders are involved in the battle between these two bitter rivals. The last time these two teams played an ODI World Cup match in 2011, more than 150 million viewers saw the match live on television, making it the most viewed television event of the year.
In the 126 ODIs played between these two teams, Pakistan holds the upper hand with 72 victories while India has won 50 matches. However, Pakistan has never managed to beat India in a World Cup face off. Barring 2011, Pakistan has gone into every World Cup match against India as favourites. On paper, at least, Pakistan shouldn't have lost all those battles but each of these matches has seen the team succumb to either pressure or self-inflicted misery.
After the first defeats in '92 and '96, India's presence started psychologically affecting Pakistan. And this block has stayed for a long time; we even saw it in the T20 format when in 2007, Pakistan failed twice to cross the line; once in the group match and once in the final of the inaugural World T20 Cup. Each lost match has a short story that adds up to the overall synopsis of Pakistan's failure to beat India in a World Cup match.
The current team must look back at these events and learn valuable lessons, instead of torturing themselves psychologically by over hyping the occasion as we have often done in the past.
Here is a brief look back at the five World Cup encounters between India and Pakistan highlighting the moments that symbolise the larger story – that is, Pakistan lost its nerve, resulting in its defeat.
1992
The first of the World Cup encounters came in the tournament that crowned Pakistan as world champions. India won this group match comfortably by 43 runs. A young Sachin Tendulkar starred with a good overall performance with both bat and ball; Tendulkar scored 54 of 62 and conceded only 37 runs for one wicket in his 10 overs.
However, the highlight of the match was Javed Miandad's mimicry of the Indian wicket-keeper Kiran More. Miandad had lost his temper after constant banter from More behind the stumps. Miandad's response was hilarious, typical of the man perhaps; however it symbolised the first incident of Pakistan losing their nerve and subsequently losing the match against India in a World Cup.
The video for Miandad's sledging can be seen here.
1996
Four years later, the World Cup was being held jointly by Pakistan, India and Sri Lanka. With conditions in mind, both Pakistan and India were considered favourites; at least a semi-final birth was expected for both. However, that didn't happen because the teams were drawn against each other in the quarter final match. The Chinnaswamy Stadium in Bangalore was to host this event.
Pakistan was defending its world champion crown and India was playing in their backyard, hence the stakes couldn't be higher. Right before the match, Pakistan's captain at the time, Wasim Akram, opted himself out of the match; this meant that Aamir Sohail was in-charge of the defending champions in this crucial match. India won the toss and elected to bat, posting a formidable total of 287. Sidhu anchored the innings with a well compiled 93 but Ajay Jadeja provided the X-factor at the end of the innings – he plundered Waqar Younis to all parts of the Bangalore ground in the closing overs; Younis's last two overs went for 18 and 22 respectively.
Pakistan came out to bat, having to chase the total in 49 overs instead of 50 due to a slow over rate. Saeed Anwar and Aamir Sohail started off the run chase on fire. Srinath was the main victim as the two left-handed openers took a special liking to the Indian pace attack spearhead. Pakistan had amassed over 80 runs in the first 10 overs when Saeed Anwar got out.
Sohail went on his merry way and kept scoring at a blistering rate. He brought up his 50 at more than a-run-a-ball. After bringing up the milestone, he slashed Prasad over the offside field into the extra cover boundary. He told Prasad to "Go, fetch that", pointing in the extra cover direction. Sohail tried the same shot on the next ball, only to see his stump uprooted. Having been comprehensively bowled, Prasad gave him a send-off, pointing towards the dressing room.
The Pakistan stand-in captain lost his temper and the match swung on its head. India managed to strangle Pakistan after that and won by 39 runs. Following on from Miandad losing his nerve in 1992, Sohail became the second player to be affected in such a way in the Pak-India World Cup story. He lost his cool and Pakistan lost its match.
R Mohan wrote in the 1996 Indian Cricket annual,
"Pakistan's stand-in captain Aamir Sohail won his battle against the interfering ways of former captain Javed Miandad, whom he banished to the outfield, but he did not win the battle against his own temper, which he lost when he was right on top of the bowling and was hitting the seamers where he wished. It was a moment of the match when Prasad bowled him. Or was Sohail bowled by his own hot temper?"
1999
Pakistan took on India in the super-six stage. Heading into this encounter, Pakistan had won nine out of the last 10 ODI encounters between the two sides. Pakistan headed into this match as firm favourites. It wasn't a must win match for Pakistan but India had to win to stay alive in the tournament; that hunger and added motivation became obvious as, for the third time in a row, Pakistan lost to India in a World Cup match.
In the end, it was another comfortable victory for India winning by 47 runs at Old Trafford. India scored 227, against perhaps the best bowling attack in the world at the time and then dismissed Pakistan for 180. Prasad was again the scourge of Pakistan, picking up five wickets and ripping through the Pakistani middle order with accurate bowling. Pakistan had again choked against India; this time it wasn't an on-field shenanigan that overshadowed the match but the political pressure surrounding the event at the time.
Tensions were high as armies of the two countries were in a stand-off over Kashmir. A war between the two rival supporters brewed in the stands, three people were arrested and nine were ejected from the ground. Pakistani players just couldn't cope with the pressure and the pre-match political hype which dubbed Old Trafford as Kashmir and the match as a war.
2003
The group match between these bitter enemies was perhaps the most long awaited ODI clash. The fans of both the nations had been deprived of an India-Pakistan match for three years – because of obvious political reasons.
Pakistan batted first and amassed a considerable score of 273, thanks to Saeed Anwar's century. It finally seemed as though Pakistan would end their India World Cup jinx, considering the pace attack of Wasim, Waqar and Shoaib Akhtar at their disposal. India's biggest hope was their star batsman, Tendulkar, who admitted after the match that he hadn't slept properly for 12 nights in anticipation of this encounter.
The little master didn't disappoint, with a little help from Pakistan. Tendulkar started off at 100 miles per hour, smashing Akthar through and over the field at centurion. Pakistan knew that if they could get Tendulkar's wicket in time, the match would be in their hands. But yet again, Pakistan threw this chance away; to be more specific, Abdul Razzaq threw this chance away.
India had lost two quick wickets and with the score at 57 for 2, Abdul Razzaq dropped a dolly catch at mid-on off Wasim's bowling. Wasim is famously quoted to have said,
"Do you know who you've dropped?"
Pakistan lost its nerve again in that important junction of the match and with it, lost their fourth successive world cup match against India.
2011
A World Cup in the subcontinent and Pakistan not amongst the hosts was a bitter pill to swallow for cricket fanatics in Pakistan. Not much was expected of the 2011 team; however Pakistan topped their group and demolished the West Indies in the last eight, to set up a mouth-watering clash with India at Mohali for a place in the final. The fifth World Cup clash between India and Pakistan, and this was perhaps the first occasion when India was considered favourite.
Mohali was booked, tickets were sold out, some were even sold in black, Pakistani fans applied for visas, pulled strings, and Pakistan's prime minister was invited to India to watch the match live. The stakes were high as usual. India batted first and, again, it was Tendulkar who starred with the bat, falling 15 short of his hundred.
At one point, Tendulkar was declared out by the umpire, on Ajmal's bowling; but this was only temporary and he was soon saved by the Decision Review System (DRS). It was quite ironic, seeing how the system that Indians despised the most ended up saving their game. However, the DRS wasn't the only thing that helped Tendulkar make such a huge score.
Pakistani fielders, it seemed, had made it their duty to not catch any of Tendulkar's shots. His ball was dropped by Misbahul Haq on 27, Younus Khan on 45, Kamran Akmal on 70, and Muhammad Hafeez on 81. It was finally Shahid Afridi who caught it. More than jubilation, Tendulkar's wicket brought a sigh of relief. Thanks to Tendulkar, and contributions lower down the order from Suresh Raina and company, India reached 260.
Pakistan started off their run chase in a fine style, only to end up throwing it all away. Pakistan was motoring along at 70 for one with Hafeez in full control, when suddenly Hafeez decided to play a weird paddle shot towards the fine leg region, which wasn't needed at the time. He did manage to get bat on ball but the ball went straight into the gloves of MS Dhoni.
Pakistan eventually lost by 29 runs. 2011's encounter featured 1996's recklessness (of Sohail in Hafeez) and 2003's butterfingers (of Razzaq in the uncountable dropped Tendulkar catches); it basically epitomised everything wrong with Pakistan when taking on India in a World Cup. Yet the losing margin was smaller than previous encounters.
Had Pakistan held its nerve, caught its catches and been a bit more careful with the basics, the India versus Pakistan World Cup story would have been very different. It was more Pakistan shooting themselves in the foot than India's brilliance that has scripted this piece of history.
The 2015 team needs to focus on the positives and follow the basics and not overhype the event too much; treat it just like any other encounter or at least keep that public persona. Every story has to end, every sequence has to break one day; so will 2015 end Pakistan's World Cup jinx?
I hope so.
Loading ...