Not forgotten but forgiven: The prodigy returns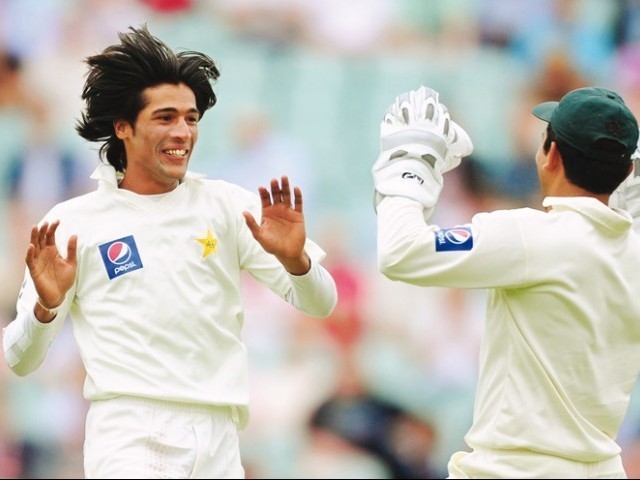 It was on a typically overcast London afternoon that the nation saw its first glimpse of young Muhammad Amir, who had just turned 17 a few months earlier.
It took him all of two balls to win over the thousands of Pakistani supporters at The Oval and the millions at home watching their side take on England in the 2009 World Twenty20. Ravi Bopara's uppish drive was well held by Shoaib Malik at backward point and Amir wheeled away in joy, baring all of his uneven teeth. That was the moment the nation fell in love with the precociously talented left-hander; Pakistan had found its new darling.
Young Amir went on to win the World Cup with Pakistan that year. He then made his Test debut and was just as quick to make an impact, claiming his first Test wicket in his first over. He also took three wickets on his ODI debut. Pakistan could not get enough of this young left-armer — Wasim Akram's heir apparent.
Then came that fateful series in England.
2-0 down, Pakistan played the third match at The Oval knowing they needed a win to stay alive in the four-match series. Just a little over a year ago, it was at this very ground that the nation had first fallen in love with Amir; they were to do so all over again. The left-armer took 5-52 in the second innings to guide Pakistan to a four-wicket win. With every wicket, Amir gave flood-hit Pakistan something to cheer for, something to cling on to.
At just 18, Amir was Pakistan's hero.
The deciding match of the series was at Lords. Amir tore through the England batting line-up, swinging the ball late and both ways. Alastair Cook, Kevin Pietersen, Eoin Morgan all nicked it behind to balls moving away from them. Paul Collingwood got one that came back into him and was caught in front of the stumps. That spell, by an 18-year-old, would go down as one of the finest by a left-arm fast bowler in Test cricket's 137-year history. When he came on to bowl again, he dismissed Matt Prior to claim his second-consecutive five-for and become the youngest ever player to take 50 wickets in Tests; despite having only played against four of cricket's best batting units in Sri Lanka, New Zealand, Australia and England. It seemed that Amir couldn't put a foot wrong, except that he had — twice.
The world of cricket was rocked by the news that Amir, along with skipper Salman Butt and bowling partner Muhammad Asif, had been involved in spot-fixing and had deliberately overstepped twice.
Amir pled guilty and was slapped with a five-year ban from all competitive cricket. And so, in one blink of an eye and two overstretching of the front leg, Pakistan's favourite son fell from grace. And it was a remarkable fall from grace; from making history at the sport's most hallowed of grounds and winning the man-of-the-series award to serving a six-month sentence in a juvenile prison.
But the even more bitter pill to swallow for Amir was that he was exiled from cricket for five years. For five years he watched on longingly from the sides, every sinew of his body aching to run in — cricket ball in hand, wind behind him, hair waving, heart pumping — and bowl one of his famous late swingers. For five years, the kid that had made the best in the world look ordinary waited for his chance to once again do what he loves.
He had seen the highs of winning the T20 World Cup to the lows of being on the wrong end of Michael Hussey's bat in the penultimate over of next year's edition in the semi-final. But all that paled in comparison to him not being allowed to play cricket anymore.
Now, the kid has grown, he is no longer the bright-eyed 17-year-old we fell in love with. What remains in its stead is a weary 22-year-old man, forced to mature before his time. He has no one but himself to blame for that.
The fire still burns in Amir, perhaps fiercer than what it did all those years ago — he needs to make up for lost time. It is no hyperbole to say that he had the talent and skill to go on to become the greatest ever fast bowler in the sport's history. Now he makes his early return from his five-year exodus a pariah and a condemned man.
Still just 22, Amir will most likely don the famous green of Pakistan once again and it is a matter of when, rather than if. There will surely be many who will never forgive him for what he did but he has served his time and his punishment is now over. He may never be the darling of Pakistan ever again but he may yet go onto become a cricketing legend.
There is no condoning what he did, but it would be a pity to deny the sport the chance to welcome back Amir. When he does eventually make his return to international cricket, Pakistan must cheer on its fallen hero.
We may never forget, and Amir's reputation has forever been stained, but we must forgive. The weary man we see today must be relieved of the burden heavy on his shoulders.
This post originally appeared on our Sports page here.