Steven Smith – Much more than just an 'accidental hero'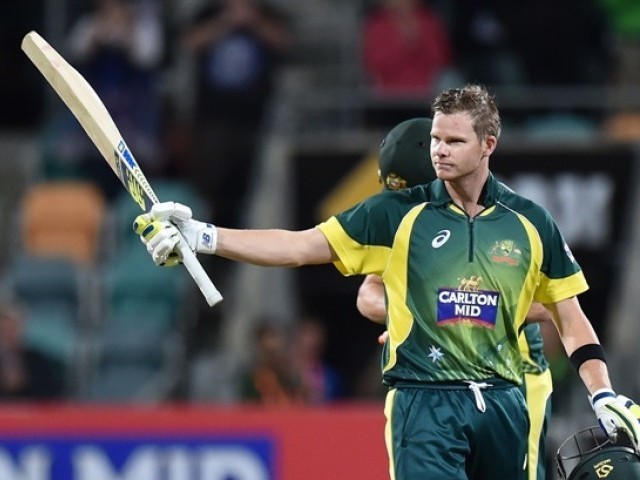 Australia needed someone to take a stand for them, and once again, Steven Smith came to the rescue. There is nothing more to be said to praise this young lad who became the first batsman in cricketing history to score a century on his debut as the Test and ODI captain.
Australia, currently playing against India and England, were set to chase a target of 303 in the fourth match of the Tri-series against England at Hobart. Smith came in at number three – considered to be the most responsible batting positions in cricket – after Aaron Finch departed and led his team to a three-wicket victory with an unbeaten on 102. The occasion was special; it was his first ODI as the captain of the team which adorns the green baggy. His team needed a special innings and he couldn't help himself but deliver.
Earlier, on December 20, 2014, he was burdened with the responsibility of captaining the grief-stricken Australian side in the second Test of the Border-Gavaskar Trophy. The team had just recovered from a shock after the sad demise of Phillip Hughes. He was meant to fill the shoes of Michael Clarke who was ruled out of the rest of the series after pulling a hamstring injury.
Any young player would feel the pressure but he didn't feel any of it. He was oozing with confidence as he had already struck a 162 against India in the first Test. He had to make something special out of his first Test as a captain and he fairly did so. After India scored 408 in the first innings at Brisbane courtesy Murali Vijay's 144, this wonder kid came in and hit a 191-ball 133 to register his name among batsmen who scored a century on their debut as Test captains. It seemed like he was instinctively triggered to play all out when the occasion demanded.
The 25-year-old star, who rose to prominence in 2009-2010 with his four centuries and best bowling figures of 7-64 for New South Wales in the Sheffield Shield, is being hailed as the next Steve Waugh, Ricky Ponting and Michael Clarke for the Australians, and surely he has done enough to prove his mettle. Some might call him an accidental hero who got a chance to enter the limelight due to Clarke's injury but if one follows his cricketing adventure from the very beginning, there is much more to talk about than just his batting splendours.
Players are usually called into the squad because of their cricketing abilities, but this fun chap was once made a part of the team solely because of his skills of cracking a joke. He was called for the third Ashes Test in 2010 at Perth and he commented,
"I've been told that I've got to come into the side and be fun. For me, it's about having energy in the field and making sure I'm having fun and making sure everyone else around is having fun."
A player who boasts eight centuries and 10 half-tons in only 26 Test outings with an average of 52.36 is supposed to be assisted by a divine intervention in his cricketing state of affairs but the hard work shown by this fledgling yet talented all-rounder should not be denied. Add to that the energy that he brings into the dressing room with his light-hearted comedy and an always smiling face and you have the perfect recipe of a potential leader for the Kangaroos.
Australia must be happy to have instilled their confidence in this cricketing prodigy as their impending skipper and the cricket-mad audience from the Down Under will be chanting his name when their team tries to add a fifth World Cup title in their achievements list.