Deliciously healthy spinach soup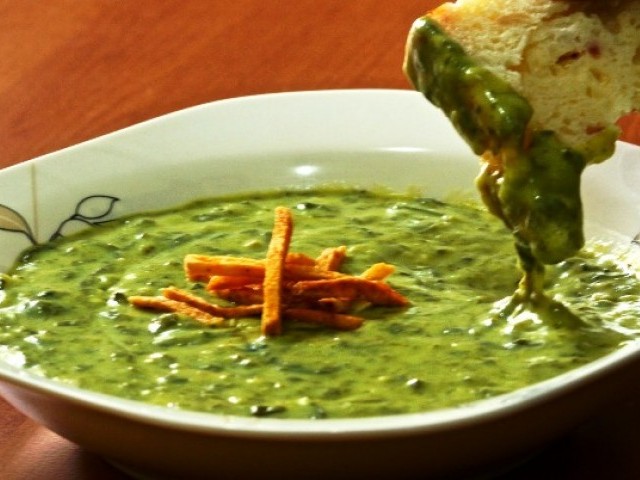 Spinach is considered the world's healthiest food, and I am proud of having some part of my kitchen garden growing fresh spinach for most part of the year.
Spinach is a nutrient-dense vegetable packed with vitamins, antioxidants and minerals. It is a good source of vitamins A, B2, C and K, and also contains magnesium, manganese, folate, iron, calcium and potassium.
The benefits of spinach are endless; it possesses anti-inflammatory properties, helps fight against cancer, lowers blood pressure and cholesterol and helps our immune system and brain functions.
Ingredients: 
Spinach leaves – 350 grams (fresh, chopped, washed stems and removed)
Chicken stock – 1 litre
Potato – 1 large (cubed with skin, boiled and set aside)
Olive oil or butter – 4 tbsp
Onion –1 (chopped, medium sized)
Green onions –  ¼ cup (chopped)
Curry powder – 1 tsp
Maida/white flour – 2 tbsp
Lemon juice – 2 tbsp
Labneh/Double cream –  ½ cup or 100 grams (use tetra pack of cream)
Salt and fresh cracked pepper –  to taste
Method:
1. Boil the potato cubes and set aside.
2. In a big saucepan, pour olive oil and turn on the heat; sauté the onions until tender and fragrant.
3. Add in the boiled, drained potatoes and cook for two minutes.
4. Now add the chopped spinach, curry powder and cook for five minutes until the spinach is wilted. Then turn off the heat.
5. Using a hand blender/smoothie maker, puree the spinach mixture and add lemon juice.
6. Take ¼ cup of chicken stalk, add flour and make a batter like paste.
7. Turn on the fire and slowly add the flour and stock paste in the puree and stir fast so no lumps are formed. Let it simmer for 2-3 minutes.
8. Take out one cup of the soup, add the labneh/cream and stir it until it is very smooth. (Please note, labneh is a soft Greek yogurt and has less calories than thick cream, which is why I always use labneh).
9. Now add it back in to the soup pot, stir and turn off the heat and add salt.
10. Ladle in individual cups, top with parsley, and labneh, croutons and freshly cracked black peppers.
11. Serve with hot rolls or bread slices.
Enjoy this healthy recipe along with all the goodness of spinach!
The post originally appeared here.