A blistering de Villiers delivers again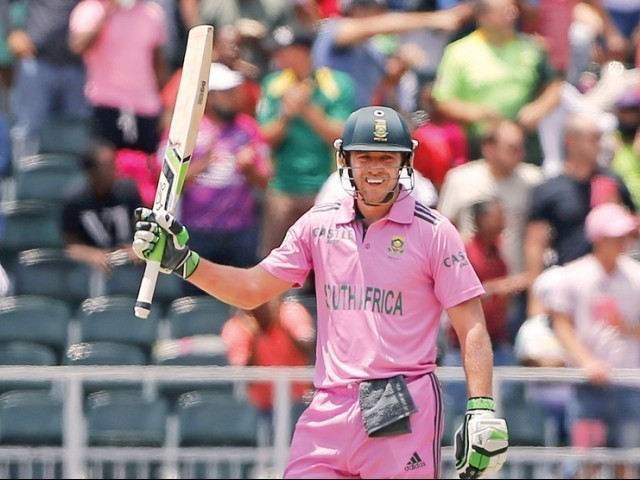 South Africa always had the audacity to produce a batsman who could plunder a bowling attack of its confidence with a sweltering knock. AB de Villiers has very ably registered his name in the list of those batsmen in the last couple of years. He has converted himself into a player, who on his chosen day, could drift into a savagery with the willow striking the cricket ball so hard and perfectly that even the opposition is awestruck of his magnificence.
The 30-year-old prodigy was dearly welcomed by Herschelle Gibbs and Lance Klusener in the club of Proteas' most aggressive batsmen after the 31-ball hundred against West Indies, on January 18th at New Wanderers Stadium, Johannesburg, which shattered the record of the fastest ODI century.
http://www.dailymotion.com/video/x2ezx25_ab-de-villiers-fastest-century-100-off-31-balls-full-highlights-vs-west-indies-18-january-2015_sport
A 16-year-old Shahid Afridi, who appeared in his first international as a batsman in 1996 and scored the then fastest century off 37 balls against Sri Lanka in Nairobi, would not have thought that someday a veteran will break his record with six balls to spare in the record.
It took 17 years for Corey Anderson to surpass Afridi's milestone when he struck West Indies for a 36-ball century, on January 1, 2014, at Queenstown, but it seems like de Villiers was waiting for the right moment.
Only a few weeks before the World Cup, de Villiers came out to bat at number three after Hashim Amla and Rilee Rossouw had given the Proteas a perfect start. Some would have thought that Faf du Plessis and David Miller would have been the better choices, so did de Villiers and he admitted it in an after-match press conference saying,
"I approached Russell Domingo about four or five times saying, 'Are you sure me and not David Miller?' and he said 'Yes, sure,' and then two or three overs later, I went to Russell for a final time and said 'Maybe him now?' and he still said, 'No, you'."
And then as he connected the first ball past mid-on for a four off Jerome Taylor, he knew it was his day. He was then brimming with confidence and he made sure the bowlers felt it. The 40th over went for two maximums, the 41st for one, the 42nd for three, the 43rd   for one, the 44th for two boundaries, the 45th for another maximum, the 46th for three, the 47th for another one and in the 49th over, he struck four sixes.
A total of 16 sixes and nine boundaries – these seem like the batting statistics of intimidating figures like Chris Gayle and Keiron Pollard but no, this was a 5 feet, 10 inches blonde guy born in Pretoria.
He, unlike many great batsmen, did not enjoy stardom as soon as he entered the mainstream international cricketing arena. He scored his first half-century in his 17th ODI against Australia on March 5, 2006, after making his debut against England on February 2, 2005. His first century had to wait almost two years and 37 ODIs. But boy did he make his first century count. He opened the innings against West Indies in the 2007 ICC World Cup in the Super Eights round and scored 146 to lead his team to a total of 356.
And that actually marked the start of the AB de Villiers the world now knows. A match winning century against Zimbabwe on August 26, 2007, in Harare followed by another one against Pakistan at Gaddafi stadium Lahore on October 18, 2007, earmarked his radiance in front of the world.
A drop in form then bugged this great batsman for almost two years but he made sure his comeback was something majestic. A 121-run knock against England at Newlands, Cape Town, on November 27, 2009, brought this man back in the limelight. And just after two innings, he scored a hat-trick of centuries, 114 and 102 against India on February 24 and 27, 2010, and 102 against West Indies on May 22, 2010. If these weren't enough, just five ODIs later, he scored another duo of centuries; 101 and 109 against Zimbabwe on October 17 and 22, 2010.
Just 10 ODIs later, he was again in the mood to pile up tons, this time against West Indies and the Netherlands on February 24 and March 3, 2011. Another seven ODIs later, he hits prime form to score 125 and 106 against Sri Lanka and New Zealand on January 22 and February 25, 2012.
Five more centuries then followed: 128 and 115 against Pakistan on March 17 and November 11, 2013, 109 against India on December 11, 2013, 108 against Sri Lanka on July 12, 2014, 136 against Australia on August 27. And after some near-century knocks of 89, 80, 91 and 81 in 11 ODIs, he played the most memorable innings of his cricketing career, a 149 runs off 44 balls against the Windies.
There is no doubt that he has earned the respect of a senior batsman in the South African batting line-up, and with the peak of the form he has hit so late in his career, there is no doubt that all eyes will be set on this sensational willow-wielder during the World Cup.