The media didn't fail on January 8, you did, Pakistan!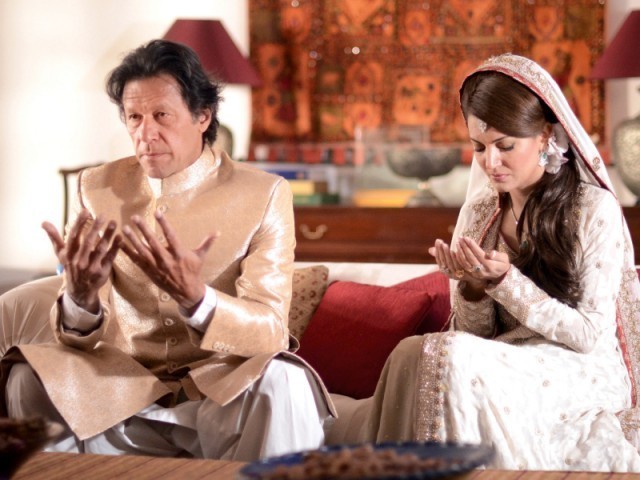 Chaos, screams, gunshots, children running from one end of the camera to another, mothers wailing in the background, mortifying reports, death tolls, debates, condemnations, shock, horror and terror – this was Pakistani media on December 16, 2014. Our minds couldn't fathom, let alone comprehend what we all heard and saw that day. Our very souls quivered with absolute fear, remorse and anger. That was the day a small army of terrorists entered the Army Public School in Peshawar, opened fire on innocent students and teachers, forever scarring our 'pure' land with blood.
Pause.
No, not 'forever'. Pakistan doesn't remember anything 'forever'.
Fast forward.
No wait, not that fast.
Not that forward.
No not a year away. Rewind.
No, not even a month away.
Rewind a little more.
Stop.
Yes, January 8, 2015; 24 days later.
Bollywood music, dancing, wedding bells, sly remarks, hearts flying around the TV screen, wedding photos, fashion advice, Jemima Goldsmith, Reham Khan, PTI fans, Zoya Ali, Imran Khan, anger, congratulatory messages, tears, happiness, debates, gossip and scandal. That was the day Imran Khan tied the knot for the second time; also known as the day our media exposed its absolute shamelessness.
On December 16, 2014, we were all one. We lit candle vigils, said prayers and, like 180 million souls with one heart, condemned the Tehreek-e-Taliban Pakistan (TTP). It was the first time in a long time that every Pakistani citizen stood in unity, accepted one ideology and promised never to forget the gruesome attack of December 16, 2014.
Grief brought us together on such levels that we didn't fear standing next to Mohammad Jibran Nasir protesting against Abdul Aziz in front of Lal Masjid. We didn't give fear a second chance when TTP spokesperson, Ehsanullah Ehsan, threatened Mr Nasir to take back the FIR that was lodged in Islamabad against Aziz.
And then, on January 8, 2015, Imran got married. Being the leader of the party governing Khyber-Pakhtunkhwa (K-P), I would have to voice my disappointment at the timing chosen by Mr Khan. But then again, it was a private decision, of a very personal nature and should not have had any impact on our lives. But it did. Because we covered this small event. And we covered it shamelessly. Had the event been a celebration, we would have had more purpose, but this event was as low key as it could get. Yet we managed to, once again, blur the lines between ethical journalism and sheer lunacy. Like a child who is shown candy, our media went ballistic. Hungry for ratings, our news channels started blasting breaking news everywhere.
"Kya yehi who lamha tha jab Imran Khan Reham Khan par dil har baithey??"

(Was this the moment that Imran Khan's lost his heart to Reham Khan??)
Besides these 'most-appropriate' bulletins, astrologers were called in to predict the future of the marriage. And of course, how could we forget Jemima changing her surname back to Goldsmith? That most-definitely was gossip worthy if not news worthy; of course we are going to splash it all over our TV screen.
The irony is that whoever I spoke to about the pertaining issue said,
"Well, we need to move on…"
This obviously had to come when, just three days ago, a video of Fazalullah threatening to attack more schools was released; three of seven or eight of his men were caught near Burki Road in Lahore; a road that hosts many schools. But why worry? We have sweets to distribute for Imran's wedding.
Then a blast took place at an Imambargah in Rawalpindi. We ran the news. With a five-minute report on the incident. Five whole minutes. We took a five-minute breather from the newly married couples wedding pictures. Of course we did; we aren't completely shameless! And then we went back to the wedding updates, because we hadn't covered all angles of Reham's dress yet, so why would the loss of seven lives matter?
And just yesterday, Dr Asim was murdered in cold blood in Hayatabad, Peshawar, but why would we have covered that? Things like that happen every day – Imran's marriage, second marriage might I add, only comes once.
Unfortunately, it is not just the media in Pakistan to be blamed for forgetting that over 140 children were murdered in Peshawar less than a month ago. Imran may have arranged a very small, humble event to commemorate his marriage to Reham, Pakistan however, decided to celebrate the event for him. All over Pakistan, celebrations ensued; from fireworks to dancing on the streets to food being distributed in little tents that had mushroomed all across the country. We outdid ourselves. And once again, we forgot.
But today, today I refuse to just lay the blame solely on our media.
Today I refuse to let our Pakistani citizens wiggle their way out of accepting what they have done wrong.
Today I am calling you out, Pakistan.
You let over 140 children die.
You let Peshawar burn.
You let the terrorists win, you know why?
Because you forgot. Again.
Just like you did when the Shahzad and Shama were burnt, just like you did when the Peshawar Church attack took place, just like you did when Salman Taseer was murdered and just like you will when the next attack takes place. You, Pakistan, are to be blamed for the shameless coverage of Imran's wedding. It is the fault of the average Pakistani, the one whose insatiable appetite for gossip and scandal overpowered their ability to see the fault in the charade that the media indulged in on January 8, 2015.  It is because of you that the world will also forget the smiling faces of our children in heaven.
On January 8, 2015, hypocrisy was at its peak, not only amongst the media, but amongst those whose hungry, greedy eyes that couldn't get enough of Imran's wedding. On January 8, 2015, Pakistan did what it is best at doing – forgetting. The fault, dear Pakistanis, does not lie solely with the media; it lies with you and your short-term memory. I hope this realisation does not let you sleep at night.