Presenting the top 10 Bollywood films from 2014 that made our hearts flutter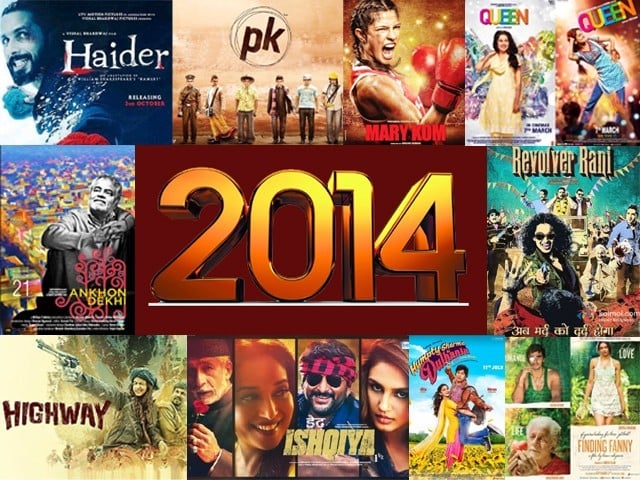 2014 was a year of experimentation for Bollywood. Actors rediscovered themselves in terms of performances and directors went the extra mile to showcase movies and tales which provided sheer amusement to audiences.
This roundup is about the 10 best Bollywood movies of 2014 and the only movies which, in my opinion, gave us the whole package – great performances, great songs, applaud-worthy scripts, fantastic storylines and capturing dialogues. To clarify, I am not talking about the highest grossers here, just quality entertainers.
So here is my take on the top 10 Indian movies of 2014:
10. Finding Fanny – 
Finding Fanny is a treat to watch, with out-of-this-world performances delivered by Pankaj Kapur, Naseeruddin Shah and Dimple Kapadia. Finding Fanny is not an everyday production showcased in cinemas; it has great content, a beautiful message and simple direction. Kudos to director Homy Adajania for a job well done!
9. Humpty Sharma Ki Dulhania – 
In terms of satiating that craving for a classic Bollywood masti, masala and old school love story film, Humpty Sharma Ki Dulhania hits the spot perfectly. Apart from being witty, romantic and a DDLJ tribute, all in one, it also features some amazing performances given by Asutosh Rana, Alia Bhatt and Varun Dhawan. For this film to be a fun ride, leave your head at home and take your heart along! In other words, Humpty Sharma Ki Dulhania is a complete "paisa vasool" (money's worth) production.
8. Revolver Rani – 
This was another one of the most complicated roles of the year and Kangana Ranaut performed it with absolute perfection. Revolver Rani is about a female political leader who falls in love with a struggling Bollywood actor. What happens next is a treat to watch. Piyush Mishra is excellent, as always, and Vir Das shows some great improvement in his acting skills too. Filled with dark humour, Sai Kabir did a remarkable job.
7. Mary Kom – 
The blood, sweat and tears that must have gone into doing justice to Mary Kom's character is evident with Priyanka Chopra's performance throughout the film. It is, by far, her most gripping performance. The movie is based on the life of Mary Kom, an Indian female boxer, who achieves her ultimate goal with sheer tenacity. Omung Kumar deserves a round of applause for the brilliant way in which this film came through.
6. Highway – 
Highway is a beautiful journey through the story of a carefree girl who is mistakenly kidnapped. In this film we travel vicariously through her relationship with her kidnapper and the life lessons they learn together. This is Alia Bhatt's longest leap of faith as an actress and Randeep Hooda is, as usual, a scene stealer. Imtiaz Ali proved, yet again, that he has the ability to extract the most meaningful storylines from the simplest of tales.
5. Dedh Ishqiya – 
The second instalment of Babban, Khalu Jan and Mushtaq Bhai had a lot of expectations because this time around, Begum Para was an additional jewel in the crown. Hats off to Vishal Bhardwaj and Abhishek Chaubey for recreating the magic of Ishqiya with Dedh Ishqiya so successfully. A great watch indeed!
4. Queen – 
Queen is a peek into the life of a woman who embarks upon a journey, her own honeymoon to be precise, in an attempt to find herself when her wedding is cancelled at the last minute. This film played just the right chords emotionally with the audience rooting for her independence towards the end. This was, by far, one of Kangana Ranaut's truest and finest performances. Vikas Bahl directed the movie with superb class – I don't think I would change a thing about it.
3. Ankhon Dekhi – 
Rajat Kapoor is genius and has all the ingredients required to display a common man's life on celluloid. Ankhon Dekhi features Sanjay Mishra, Seema Pahwa and Kapoor in pivotal roles. The movie revolves around the male protagonist who decides to only believe in things he sees with his eyes. It's about family values, love and the journey of a common man.
2. PK – 
Being the most anticipated movie of the year, this movie had some very very high expectations to meet. And meet it did. Not only did this masterpiece, by Vidhu Vinod Chopra and Raj Kumar Hirani, surpass expectations, it raised the bar for all serious filmmakers in Bollywood. PK is, by far, Amir Khan's most prominent work. Just his performance, expressions and his eyes in this film could win accolades.
1. Haider – 
But the movie to win our hearts and minds in the year 2014 was none other than Vishal Bhardwaj's masterstroke, Haider. It is by far the best Indian adaptation of Shakespeare's legendary tale, Hamlet, set on the backdrop of Kashmir and militancy. The quality and excellence with which Shahid Kapoor performed his role has slingshot him into the league of top actors worldwide. Not only did his performance leave us starry-eyed, even Tabu, Irrfan Khan and Kay Kay Menon made some powerful appearances.
With masterpieces like these setting the bar very high, it will be quite interesting to see what 2015 has in store for us. Let's hope 2015 brings us even better quality cinema and more enticing storylines!
Happy New Year! (not the movie)