A Pakistani Christmas with a Kashmiri leg of lamb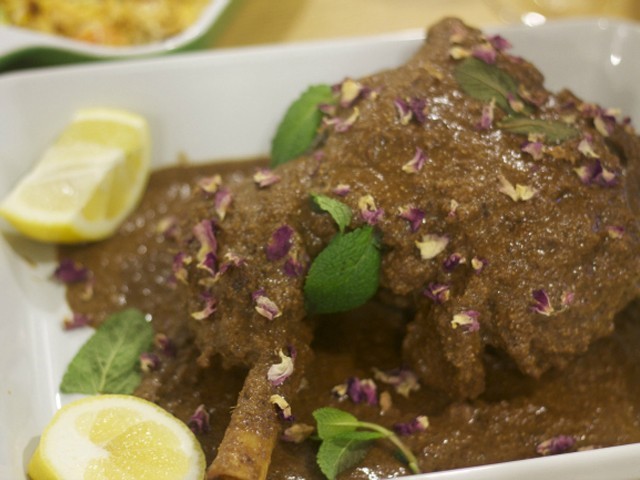 A Pakistani Christmas is so different. With a large local Christian population and the concepts of Christmas firmly entrenched in our culture from the colonial times, it is no wonder that we, in Pakistan, celebrate this festive day with much excitement yet in such different ways – menus, traditions and styles.
The fact that December 25th also marks the birthday of the founder of Pakistan, Quaid-e-Azam Muhammad Ali Jinnah, the public holiday is definitely welcome, not only for our Christian population (which would be given a day off regardless), but also for us to enjoy this wonderful time of year.
I remember well, always being excited with the prospects of buying my, rather fake, plastic Christmas tree from Bohri bazaar, my green and red tinsel and my very basic bobbles which would be enough excitement for a 10-year-old; I don't think I ever grew out of it. Christmas in Pakistan wouldn't mean presents like it does everywhere else so much as it would mean a day at home with my parents, a wonderful lavish meal of turkey and the trimmings with pudding in all its glory at the Sindh Club. But more than that, it would mean my grandmother's rich aromatic lamb roast at dinner.
My lovely Nani, always the first to find a reason to cook a leg of lamb, would make this Kashmiri style pot roast, which incorporates the haunting, rich and regal flavours of Kashmir with some personal Pakistani and Punjabi twists. December 25th would be a day not only to relax with my family but to rejoice a man who had given us this free nation of Pakistan as well as celebrate the birth of Christ, in our own way – with thankfulness, togetherness and family.
Serves: Seven to ten people buffet style, as a main.
Prep and cooking time: 30 minutes prep and 1 ½ – 2 hours cooking.
Ingredients:
Leg of lamb – 1 to 2 kilogram (skinned)
Garlic paste – 1½ tsp
Ginger paste – 1½ tsp
Salt – to taste
Natural yoghurt – 150 grams
Lemon juice – 1 lemon
Vegetable oil – 2 tbsp
Desiccated (dried) coconut – 2 tbsp
Ground almonds – 2 tbsp
Raisins – 1 tbsp
Poppy seeds – 1 tsp
Red onions – 1 to 2
Water – 3 to 4 cups
Masala and spices:
Cinnamon quill – 1
Cloves – 10 to 12
Green cardamoms – 10
Black cardamom – 1 large
Cumin seeds – 1 tsp
Coriander seeds – 1½ tsp
Peppercorn – 1 tsp
Mace – 1 small piece
Aniseed – 1 tsp
Dried red chillies – 1 to 2
A handful of rose petals
Method:
1. Place all the dry ingredients (dried coconut, ground almonds, raisins, and poppy seeds) and onions in a blender and make into a paste.
2. In a grinder, mix all the masalas and spices, and grind into a powder. Mix into yoghurt with ginger paste and garlic paste.
3. Rub the lemon juice and salt all over the leg of lamb.
4. Slit the leg of lamb all over and marinate (cover) the lamb with yoghurt mixture. Marinate for one to two hours overnight, making sure it's covered.
5. Heat oil in a large saucepan and turn the heat to medium high. Once hot, add the leg of lamb and make sure to seal the lamb on all sides – i.e. the surface should be brown all over, will take about three to four minutes on each side.
6. Turn the heat to medium low and cook the lamb for up to an hour and a half for a well done leg of lamb. Keep checking if the pan is not dry. If it gets dry, add a few splashes of water and turn down the heat. Depending on the size of your leg of lamb, it may cook a little faster. To check, pierce the middle of the leg with a knife, if juices run clear, the meat is cooked completely. If you prefer medium-cooked (pink inside), cook for about 45 minutes to an hour on low heat. Check the lamb with the knife again, the juices should be slightly bloody.
7. Once ready, take the remaining gravy out into a bowl and let the leg of lamb rest for about 15 to 20 minutes. Garnish with rose petals, mint leaves and lemon.
8. Carve the meat out and serve with the remaining gravy.
Enjoy with sheermal, naan or rice, a crisp cucumber salad and a spicy raita.
Have a merry Christmas, everyone!
This post originally appeared here.