There is no difference between Christmas and Eid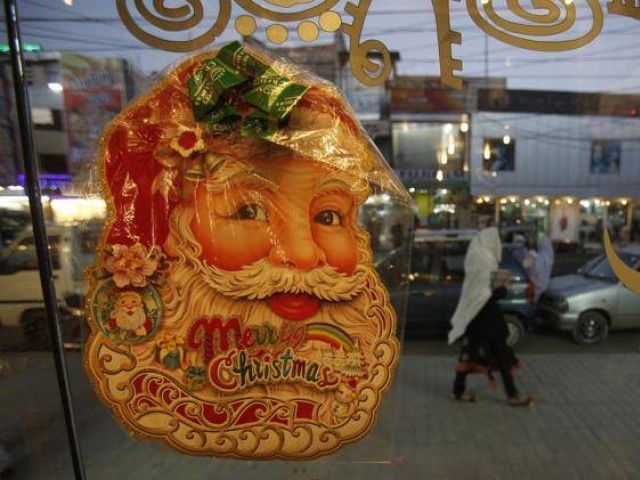 Tis' the season to be jolly!
December always comes with great tidings; winter chills, hot chocolate, numerous holidays and an opportunity to make new resolutions. And along all this, it also brings the joyful day of Christmas.
This day is an embodiment of religious beliefs, which celebrates a miraculous event and a time of togetherness. Two billion Christians all over the world celebrate this day with great spirit and felicity.
As a child, the idea of Christmas for me was all about decorating Christmas trees, receiving presents and Santa stuffing himself down a chimney. I used to be most excited about meeting Santa and receiving a present from him. However, as I grew up, I realised that it goes way beyond that. Christmas is to Christians what Eid is to Muslims. Just as Eidul Fitr is a lot more than just giving and receiving money, Christmas is much more than just presents under a Christmas tree.
Just as Eidul Fitr and Eidul Azha teach us about the importance of patience and sacrifice, Christmas teaches us about sharing and giving. These are not codified religious morals, they are universal morals; therefore, we should seek to learn from others – not only as individuals, but also as a community.
I remember once how our domestic help came to our house with a Christmas cake as a present, to celebrate it with us even though he was on leave. I found that extremely touching, considering he could have utilised that money elsewhere for his celebration. Yet, he chose to celebrate it with us. This gesture made me realise how very similar Christmas is to Eid, or any other religious festival.
Pakistan is home to three million Christians, making them the second largest minority group in the country, after Hindus. But they aren't the only ones who celebrate Christmas. Every year, in this Muslim-majority nation, we witness Christmas being popularly celebrated amongst non-Christian households as well. Private dinners and lunches as well as carnivals are hosted to celebrate Christmas on the 25th every year.
Organisations such as the British Women's Association (BWA), which is a group of women working towards philanthropic causes, have successfully been hosting a Christmas bazaar in Karachi for over 15 years now. The Christmas bazaar has a variety of stalls for books, clothes, fun activities for children, food and much more. The proceeds of the Christmas bazaar go on to charity. The charm about these Christmas bazaars is that people of different faiths and strata attend it. Along with the spirit of Christmas, an essence of equality and solidarity is also noticeable at the bazaar.
These celebrations also go beyond social events. Restaurants introduce special Christmas menus, bakeries have specialised baked items, Christmas sales are organised at malls and most television channels air Christmas specials.
These happenings may come as a surprise to most, given the increase in cases pertaining to blasphemy laws, fatwas and extremist ideologies. Many Pakistani Muslims believe that wishing "Merry Christmas" to fellow Christians or being part of their celebrations would mean going against Islamic principles. This is not true. Partaking in another religions festival does not make one an unbeliever, neither does one automatically convert by enjoying a different religions event.
It goes beyond these misconceptions. By recognising various religious festivities, we grant our minorities their constitutional rights. Instead of making Christmas all about one religion, we should focus on it more like a societal event, leading to awareness about other religions and an increased sense of tolerance.
My brothers and I used to happily help out at various stalls in different carnivals, and sell tickets and raffles every year. However, as time progressed and we became busy with other commitments, we weren't able to continue our little ritual consistently. But this year, when we volunteered to help again, and it was then, again, that I had the realisation of how wonderful it feels to participate like this. It gave me a renewed sense of community, selflessness and responsibility. It made me feel like an active member of my society.
I would suggest all who read this blog to take part in such activities – it'll only help you grow stronger as an individual and as a member of society.