Bhand-e-Pather, a fading art in Kashmir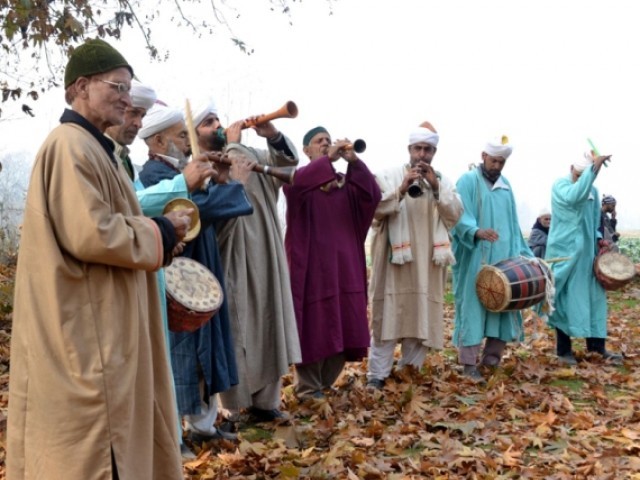 Bhand e Pather, part of Kashmiri folk theatre, is a satirical and realistic drama, one which incorporates mythological legends and contemporary social satire; a traditional mixture of art. Mostly performed in the countryside, it is used to entertain the public, especially on different ceremonies. The artists have a separate dress code, in accordance with the theme, for the various plays performed.
These plays are always performed in an open ground. The characters in the Bhand e Pather are well versed, and because the performances are based on social issues, they are seen criticising the rulers and stressing upon the betterment of society.
In its early days, when Bhand e Pather was introduced, it was performed in Sufi shrines here in Kashmir; 72 theatres have been established across the Kashmir valley since. Wathoora, in central Kashmir's Budgam district, owns 10 theatres that are famous all over India. While this century-old folk art has been on a steady decline in Kashmir, artists are now calling out for the revival of this dying folk. In fact, whilst throwing light on the history of Kashmir's folk theatre, the Chief Secretary of the Bhand e Pather amalgamation, Ghulam Mohiuddin Aajiz Balapora, himself called for a revival of the theatre.
The Ladishah is a literary type of traditional folk genre in Kashmir. It is the art of satire embedded in a song revolving around Kashmiri ethos, and is written and sung by the same person. Usually addressing all social, political and cultural issues, the performer is seen wearing a pheran, a white trouser and white turban, all the while using his, or her, fingertips to play the beads on an iron rod. Here the artists ridicule kings and politicians, by exposing their corruption, and address several other social ills.
Traditionally, the orchestra used in Bhand e Pather includes dhol (drum), sawarnai (an instrument that has a strong metallic sound with the impact of open air), nagara (an accompaniment to the dhol) and thalij (metal cymbal). The plays of the Bhands are called Pather and the artists use different masks for the plays.
There are many children, from all over the valley, seen watching the plays in an effort to understand and study the skilful in acting, music and dance displayed in the performance.  The actors who perform the Bhand e Pather are not age bound; this traditional folk art, in fact, has been passed on from generation to generation, father to son; the age of the performers range from anywhere between 11-year-old's to 70-year-olds.
Unfortunately, due to the steady decline of this form of art in Kashmir, artists have been driven to other professions, such as weaving wicker baskets for kangris (firepots used in chilling winter), woollen sweaters, and carpets. Their part time jobs are mostly to work as masons, carpenters, and shopkeepers.