What would you do "For One More Day" with a loved one?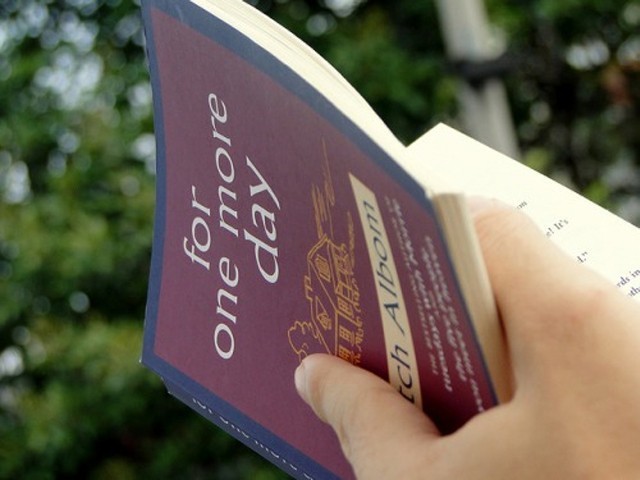 During one of my jaunts to a local bookstore, I spotted bestselling author, Mitch Albom's philosophical novel "For One More Day" and wondered how I had missed it before. Having read two of his previous novels "Tuesdays with Morrie" and "The Five People You Meet in Heaven", I had become a fan of his mortality themed writing.
This novel is written in a similar fashion as "The Five People You Meet in Heaven" except that the main focus of the book is on the protagonist's mother. It is a griping tale of family secrets and hidden truths that are carefully veiled beneath a prudently constructed surface. It subtly highlights the struggles of a divorced mother at a time when such women were not looked upon kindly.
In his mid-50s, Charley Benetto is an ex-baseball player who feels like a failed man and has fallen prey to the clutches of alcoholism. His family, including his beloved daughter Maria, has more or less cut ties with him. It is Maria's wedding that acts as a last straw at his bid for sanity. Instead of an invitation, he receives two wedding pictures in the mail without a return address. The most important person in his life didn't want him to be present on the most important day of her life or any other day, for that matter. He decides to end his life but before doing so, he heads 'home' to Peppervile Beach, where he grew up.
In a fascinating twist of events, he finds his dead mother, Posey Benetto beside him and realises too late that it was her unconditional love that kept him going all those years. He is weighed down with regret for not standing up for his mother countless times. Through this unexpected visit from the mother he buried years ago, he unravels her numerous selfless sacrifices and painful secrets, and finally discovers the reason for his parents' broken marriage.
On the whole, this novel should definitely not be passed over. It is a must read for anyone who has experienced loss and realised too late the value of what was lost. Quite often we take the presence of our loved ones for granted. Whilst reading this novel, it brought back memories of my late grandfather whose unconditional love and support was never fully fathomed or appreciated until he was no more. There have been numerous occasions when I wish I could've told him what a wonderful grandfather he was.
However, the only downside to this novel is that while people want to hear both sides of a story, this one, at times, becomes too one sided. Perhaps it would've been a good idea to include Charles's father's version of the tale or maybe the sequence of events that led Maria to ostracise her own father.
Albom has based this novel not on a strong plot but on very strong emotions, and sometimes that is all that is needed to make a good read. The author has fittingly dedicated this novel to his mother which makes one wonder which of the tales told belonged to him and his mother, Rhoda Albom. The novel was awarded The New York Times Best Seller and went on to be adapted as a movie under the same title, produced and promoted by Oprah Winfrey's Harpo Productions.