Is Kohli better than Tendulkar?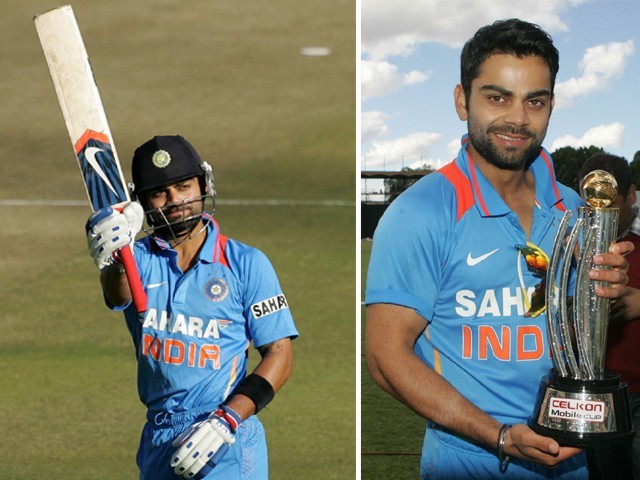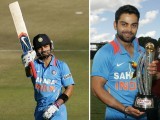 The past week has been a sad one for the cricketing community with the untimely demise of a young Phillip Hughes, falling during a first-class match in Australia. If anything, this incident reminds us that life is short and very unpredictable, and should be celebrated for every moment of joy that it may bring. While we mourn Hughes's death, I would like to focus on another young cricketer who brings joy to millions who follow him.
Virat Kohli has been one of the best ODI batsmen of the last few years. Statistics may not always do justice to a person as is an oft repeated phrase but in his case, mere statistics are enough to blow you away. At the age of 26, he has already scored 21 ODI hundreds at an average of over 52 in 149 matches. He recently became the fastest player to 6,000 ODI runs and has led India to victory in countless matches in many different situations. His Test credentials may not be exceptional, but are decent with 6 hundreds to his name already. He has time on his side, though, to improve them and be known as one of the best batsmen of his era.
Many have already started asking if he will be better than Sachin Tendulkar or not?
A phenomenal stroke-maker all around the wicket, Kohli is also a nightmare for any bowler once in flow. He is capable of decimating the best attacks in the world on any given day and is not just a flat track bully as his performances outside the subcontinent have shown.
He often comes across as a brash individual and rubs people up the wrong way with his attitude but he has been maturing with time. He still wears his heart on his sleeve whenever he plays for India, and that aspect might have to change a little if he has ambitions to be an Indian captain in the long run – a likely successor to MS Dhoni. He has been earmarked for captaincy from a very young age; he showed his potential to lead when he became the second Indian captain to win the U-19 World Cup, leading from the front with the bat and returning with victories in the ODIs. Some of his teammates find him friendlier than Dhoni given that he is of the same age-group as many of them. He is soon to debut as a Test captain in Australia, and only time will tell whether the same aggressive style of captaincy that he has displayed in the past during the ODIs will work.
During their last visit to Australia, India went down in a 4-0 Test series whitewash, but the only bright aspect of that tour was Kholi's performance. He scored a Test hundred, the only century by an Indian, and seemed more than capable of handling the pressure.
Fans wonder if he will be able to bat as freely as he likes to with the captaincy burden on his shoulders. But let there be no doubt that in Dhoni's absence in the current squad, there is no one more capable or deserving to be an Indian captain than the talented batsman. Any team in the world would readily give an arm and a leg to have someone like him in their folds. Let's see if he can lead his side to victory in the Adelaide Test match starting December 9, 2014, while giving his expected performance.
Loading ...