The 'missing' person in Balochistan – A Chief Minister who is willing to step up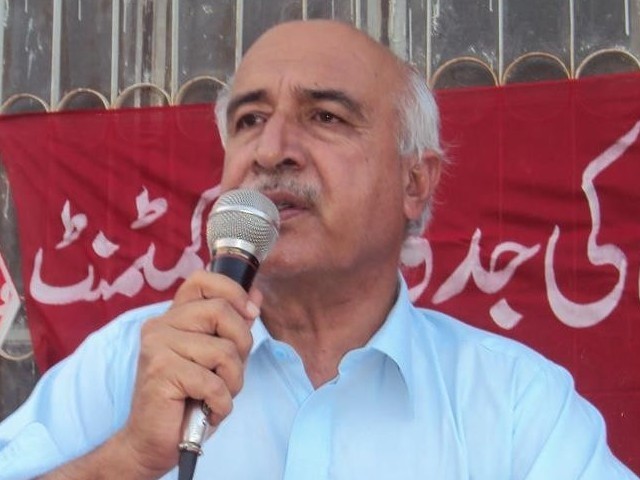 After the general elections of May 2013, there were high expectations from Balochistan's first middle-income group chief minister, Dr Abdul Malik Baloch. It was perceived that he would take serious and effective steps to address the frustration and deprivation felt by the Baloch people in their insurgency-marred province.
But nothing has been done so far.
The climate of enforced disappearances and discoveries of bullet-riddled bodies still continue with a great deal of impunity. The Voice for Baloch Missing Persons (VBMP), a human rights group seeking the recovery of missing persons in Balochistan, reports that the number of missing persons is higher than 18,000 in the province.
Earlier this year, families of the missing persons travelled for more than 3,000 kilometres to Islamabad, the nation's capital. However, their pillar to post travel to get their loved ones recovered went unnoticed. In response to their long march, which was probably one of the most peaceful struggles in South Asia, these relatives received nothing but news that a mass grave with decomposed bodies had been discovered in Tootak area of Khuzdar district of the province. Later, it was reported that these graves were those of the missing persons.
In its report, the Asian Human Rights Commission put the number of these bodies around 170. What happened to the rest is still not known. As families go through hell every day, it seems like there is no one who can help them find their loved ones.
I know the pain the Baloch people feel, because I have seen it firsthand. I got to know Haider Kb when I first became his student at Specific English Language Centre Turbat Kech in 2007. Haider Kb was kidnapped on November 27, 2013. Mr Kb was heading back home from the same language centre when he was approached by some plain-clothed men in broad daylight, in the presence of several eye-witnesses. To date, I haven't seen him.
His forceful abduction was witnessed in the Chahsir area of Turbat – the same area where Dr Malik Baloch's house is located. According to his older brother, Kb was not involved in any wrongdoings. Kb was a member of the Kech Bar Association, and he was also a part of the HRCP Special Task Force.
"It has been a year and we haven't heard any news about him or his whereabouts. If he has done anything wrong, he should be given access to a legal council," said Kb's elder brother.
Kb's story is one of thousands and the only thing we, their family, friends and acquaintances, can do now is hope that they somehow manage to find their way back home safe and sound.
Ever since Dr Malik Baloch has taken over the government, there has been a dramatic increase in forceful disappearances and extrajudicial executions of Baloch political activists. Earlier this month, some reports emerged that several Baloch women and children were abduct from the Dera Bugti area of Balochistan. According to one media report, a schoolteacher from Dera Bugti, Zarina Mari Baloch, was whisked away and is still missing. Such incidents in Balochistan haven't received any official notice. If these reports are true, then these forceful abductions of Baloch women and children can be viewed as glaring examples of continued violence in the restive province.
Dr Malik Baloch himself has a strong background in Balochistan's nationalist struggle. One would expect that he'd understand the dynamics of the current Baloch armed resistance. It should have been his top priority to facilitate the safe recovery of the missing persons and find a comprehensive plan to pacify the militant nationalists. However, this hasn't happened yet and it is unlikely that he will come up with a serious or determined plan to sort out these issues.
In his first interview after elections, Dr Malik Baloch insisted that any solution would be temporary if democratic means are not used. This meant that involvement of multiple forces, of state and non-state actors alike, was needed in order to help resolve this matter. And that is where the main chord of contention occurred, as non-state actors do not trust Dr Malik Baloch.
Dr Malik Baloch is the right person to facilitate the resolution of the Balochistan issue, yes. But it doesn't seem that he has taken any serious steps so far in this regard. The fact is that Baloch separatist groups have a long history of disagreement with Dr Malik Baloch on several key issues – regardless of his non-tribal background. Dr Allah Nazar Baloch, the head of the Baloch Liberation Front (BLF), subjected Dr Malik Baloch to scathing criticism in an interview shortly after the elections. He said that the chief minister was trying to treat the symptoms without diagnosing the illness. He argued that Dr Malik Baloch declared an education emergency in Balochistan while turning a blind eye to the disappearances and mutilated dead bodies.
Dr Nazar Baloch is right in his criticism of the chief minister. While education is a vital issue worth focusing on, law and order situation and incidents of enforced disappearances are still a bigger problem. Each time Dr Malik Baloch claims that law and order has improved in Balochistan, four to five bullet-riddled bodies of missing persons appear in various parts of the volatile province.
One must wonder how narrow his objective-to-win election was. The long march earlier this year wouldn't have been necessary had the chief minister done his job properly.
Even after being in power for more than a year and a half, why is his government nowhere close to solving the Baloch issue?
Is he incapable to doing his job?
Do we need another Baloch leader who can help keep a balance between state and non-state actors, and work towards a viable solution?
If Dr Malik Baloch really wants to support the peace process in Balochistan, he should use the six points of Sardar Akhtar Mengal as a stepping-stone to resolve the problem of war-torn Balochistan. The six points of Akhtar Mengal are still valid, since they are constitutionally recognised and would be highly supported. He needs to step up to save his position because the people of Balochistan have already lost a lot and replacing a chief minister will not be seen as much of a problem.