Will Ashraf Ghani be able to restore ties between Afghanistan and Pakistan?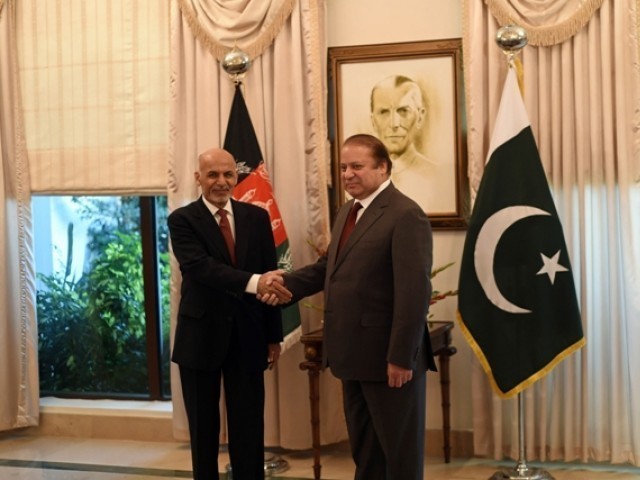 There is no denying that foreign policies in the subcontinent region are rapidly transforming from what they were a few years back. One major factor for this are the new heads of states, especially in Pakistan, India and Afghanistan, who have been elected over the past two years. What these new heads do will decide the fate of, not only this region but, all those who are connected with these countries.
Undoubtedly, there is a lot of bad blood between Pakistan and Afghanistan; the two countries share a long history of mistrust and perpetual animosity, caused by a myriad of factors, including but not limited to,
1) Security issues,
2) Militancy concerns,
3) Cross-border shelling,
4) Spate of militant attacks,
5) Durand Line impasse,
6) Pakistan's concern on New Delhi's involvement in Kabul and,
7) Afghanistan's concern about Pakistan's connections with the Afghan Taliban.
And under such tense circumstances, an official visit of Afghanistan's bigwig – the newly elected president, Mr Ashraf Ghani – is of immense significance; this will definitely facilitate both Islamabad and Kabul in reframing their foreign strategies.
Pakistan with Hamid Karzai
Pakistan has had a hard time dealing with Afghanistan's former president, Mr Hamid Karzai, who never lost an opportunity to spew venom against Pakistan in his speeches, whether in Kabul during his tenure and at the time of his farewell speech, or in Delhi during Narendra Modi's swearing-in ceremony.
In Pakistan, Karzai is considered a US puppet, whose strings are pulled by the White House. However, during the last couple of years of his tenure, he did opt to go against US's plans, especially when he exhibited his reluctance to sign the Bilateral Security Agreement (BSA). On the other hand, analysts and opinion-makers in Pakistan have often dubbed him 'Delhi's agent' in Kabul working on some Indian agenda against Pakistan. I am sure this shows just what Karzai's reputation in Pakistan has been like.
Pakistan and Ashraf Ghani
In contrast to him, Ghani has shown much more promise so far and might be exactly what the region needs to sustain healthy neighbouring ties right now.
A PhD in anthropology from Columbia University (USA), Ghani came into the limelight when he started running the Loya jirga after the Taliban government fell in 2001. He has had the privilege to work for the World Bank and has remained a fervent critic of the way international aid has been misused in Afghanistan. In 2007, while speaking to BBC, he explained:
"When we build a school by Afghans, the maximum cost is about $50,000. But when it is built by our international partners the cost can be as high as $250,000".
The difference arose because foreign contractors worked with commissions, which made it more expensive. For this, he asked,
"It is totally legal, but is it not corrupt?"
In my opinion, this in itself shows his high understanding of international economic matters.
Ghani versus Karzai
According to the international media, Pakistan's military establishment and security agencies have lauded the Afghan Taliban, since the withdrawal of the Soviet Union forces after they were punched back by them. When the US and NATO invaded Afghanistan in 2001, many Taliban leaders found refuge in various parts of Pakistan near the border, which includes Waziristan and other tribal areas.
Here again, the difference between Ghani and Karzai is visible. While Karzai has repeatedly accused Pakistan of using the Taliban and militant to carry on its own agenda in Afghanistan, Ghani, on his visit to Beijing asked the Taliban to "join an inter-Afghan peace dialogue," saying "peace is our highest priority". Unless there remains extremism, it will be hard for Afghanistan to fetch foreign investment to revive its paralysed economy and infrastructures. He has stated that good relations with Islamabad are the need of the hour.
Unlike Karzai, Ghani seems to be highly sagacious in assessing the ongoing situation in the region and, being a technocrat, he ingeniously predicted that there is a dire need to revitalise the distorted relations with his foremost neighbour, Pakistan, after visiting Saudi Arabia and China.
Islamabad-Kabul collaboration
For Pakistan, Ghani's election comes as good news. This could be a new beginning for the two countries which is why several Pakistani officials in recent weeks have visited Kabul, including our National Security and Foreign Affairs Adviser Sartaj Aziz, Army Chief of Staff General Raheel Sharif and the new head of the Inter-Services Intelligence Agency (ISI) Lieutenant General Rizwan Akhtar. This demonstrates that there is an earnest desire in Islamabad to recalibrate the bond and maintain an effective connection with Kabul, the lack of which has caused strident ramifications for the region for a long time.
Now is the time for Pakistan to table its concerns and voice its list of requisitions to Afghan officials on several key issues, including:
Cross-border shelling from Afghan security forces into Pakistan territory, which has caused many deaths including civilian and security forces personnel.
Handing over militants who have found sanctuary in Afghanistan since the start of Operation Zarb-e-Azb, as well as sharing intelligence to help curb the extremism.
Trade agreements and cooperation to boost Afghanistan's bleak economy.
Most importantly, discussions to minimise the influence of New Delhi on Kabul, which peaked during Karzai's regime needs to be stemmed. It will never be acceptable to Pakistan to see evidence of foreign intrusion in Balochistan and funding of the Balochistan Liberation Army (BLA) by Indian intelligence agency from Afghan soil.
Afghan refugees based in Pakistan and their settlement back to Afghanistan.
Ghani seems keen to accept Pakistan as an ally and he might be willing to talk about these pressing issues. Alongside this, his lack of interest in visiting Delhi will most-definitely be seen as another plus point for Pakistan. Currently, Pakistan's army and civil leadership are on the same page with Afghanistan in terms of foreign policy and this is positive sign.
Ghani's interaction and meetings with military officials will certainly rehabilitate Afghanistan's confidence in sharing intelligence information about militants who reside at the Pak-Afghan border areas. Furthermore, the Pakistan army has also offered its willingness to train and provide capacity-building trainings to the Afghan National Army and security forces.
A new partnership between Pakistan and Afghanistan will be in the interest of both countries. In fact, as per media sources, there are plans of arranging a friendly cricket match between the two nations as well. Let's hope it's a win-win situation for both.