The king of comebacks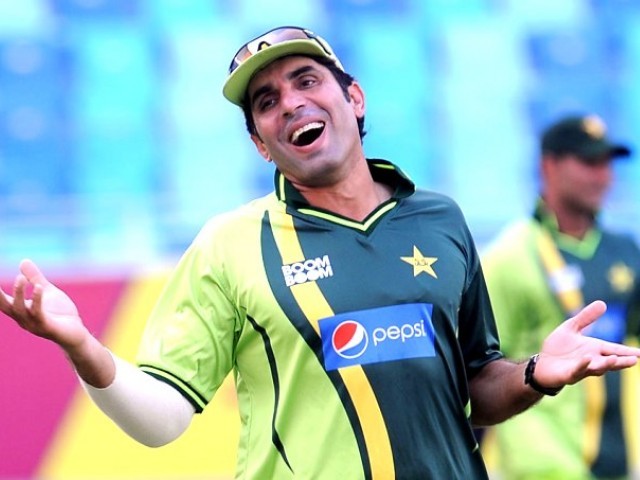 Cricket is a love story, a baffling relationship, one that tugs at your heart, crushes and then serenades you all over again. The love you try relentlessly to give up on, the one you know you're always going to run back to. Pakistan cricket has shattered us and then put us back together more times than I can remember. Misbahul Haq is our messiah, a patient captain, a world class player who took over the team when our hearts were irreparably broken from the spot fixing scandal and nurtured us back to health. And every few months, he finds himself reeling all over again, and leads Pakistan to yet another comeback.
On the November 13, 2014, Pakistan beat New Zealand in a Test match and Misbah officially became the most successful Test captain Pakistan has ever fleshed. He has the third highest win/loss ratio of any captain since 2010. He doesn't hold the adulation of Mahender Singh Dhoni, he hasn't garnered the obsession of Imran Khan and yet, his statistics surpass both. It is hard to imagine what it must be to captain a side that is overwrought with politics.
To have entered UAE, the home of Saeed Ajmal domination without the man himself and shoulder the responsibility of throwing debutants in the deep end. In the last month, we have seen the mother of all turn around as the Pakistan cricket team went from losing from two runs in the last over in an ODI against Australia to decimating them on the very same pitches in the Test series that followed. Pakistan, then, in typical fashion went on to break a 20-year streak, finally beating Australia with their highest ever win margin, because all things cricket must be done dramatically and Pakistanis in particular love a good soap opera.
In perhaps what is thought to be irony at its best, the Pakistan skipper went on to score the fastest 50 in the history of Test cricket and equalled the record for the fastest century. Memories of his 2007 scoop have slowly dissipated the haunting of 2011, perhaps even less hallowed. Conspiracies of World Cup captaincy, brutal losses and brilliant comebacks, nothing seems to faze the forever stoic Misbah, if anything, his entire career and captaincy has been a series of comebacks.
In 2007, during the ICC T20 World Cup, many only remember Misbah as the man who made us lose against India in the final with that heart-breaking shot, but only a few will remember that it was his four sixes that even gave us that fighting chance. He was dropped after the 2010 ICC T20 World Cup and brought back as a captain to stabilise a team fighting to stay relevant after the chaos.
During his four years as captain, Pakistan have won series against the top four Test playing nations, India, South Africa, Australia and England. In 2012, Pakistan whitewashed England, then the number one Test team in the world. Misbah led his side to victory in the 2012 Asia Cup, being the second captain to have done so after Moin Khan. In 2012/2013, Pakistan beat world champions India in an ODI series. Misbah was also one of the highest run scorers in 2013. It was under his captaincy that in November 2013, Pakistan won its first ever bilateral ODI series against South Africa and became the only Asian team to have done so in South Africa.
What a seemingly ordinary player, what extraordinary achievements.
Between his personal records and that of the collective team, this 40-year-old defensive leader of a homeless team has spoken volumes with his bat, little to the media and simply goes about adding feathers to his cap. For now, fans can revel in glory, records can be shattered and cricket celebrated; for now, the love story continues.