Shut up and listen to the music by Talal and Zoi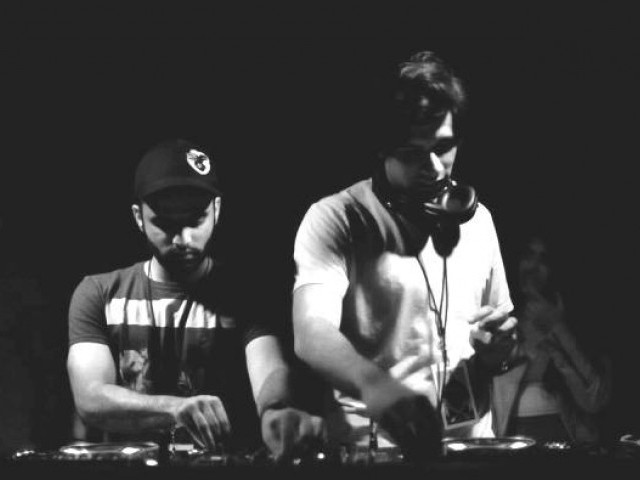 Drones, poverty and fundamentalism – these are often the things we hear on the news about Pakistan. But over the last two years, Pakistanis have brought home an Oscar, an Emmy, the Nobel Peace Prize, won second place in the Laugh Factory Funniest Person in the World competition and secured four places in the BBC 100 Women 2014 list.
On a smaller scale, Pakistani contribution to local art, literature, fashion and music is everywhere. You just have to look.
In Canada, Talal Chaudhry and Zohaib Bakhtyar are one of Toronto's most talented duos on the electronic music scene. They are gaining international attention with their deep, melodic and often experimental sound. Better known as 'Talal & Zoi' and sometimes referred to as "T&Z", the pair can be found spinning at some of Toronto's most popular nightclubs and summer parties.
They have been signed by notable labels like Dirtybird Records, Thoughtless Music, Rawthentic and Dantze. Most recently, T&Z was signed to Traum, a German record label who has signed artists such as Max Cooper and Maetrik.
As I entered, T&Z's recording space in the heart of Toronto's Cabbagetown district, the first thing I noticed was a huge portrait of Quaid-e-Azam on the wall – a reminder of their roots and a symbol of Pakistani pride.
Tell us about your early years – where did you grow up?
Zoi: I grew up in Karachi and Lahore. I attended boarding school in Chandbagh which was about an hour or so away from Lahore.
Talal: I grew up in Lahore. We both finished high school in Pakistan and came to Canada for university studies in 2006.
When did you guys get into music?
Talal: We used to hang out as kids and listen to a lot of music. I always played music when I was a kid in Pakistan – jamming, shows, gigs, and singing, played the guitar and the likes. I always loved it. I always wanted to do it. I went to some shows around the age of 11 and I remember thinking,
"Wow, these guys are awesome!"
We also had a piano at home which my sisters used to play. All my sisters got music lessons growing up, I didn't have formal lessons but I ended up being the only one in my family who pursued music as a career.
Zoi: I've been into music since I was very young. I was known to have the biggest music collection in school. From cassettes to CDs. I had everything – all genres. Moving to Canada was when I realised the electronic music scene was huge here. The shows were awesome and that definitely played a big role in driving me into DJ'ing and, eventually, production. Talal picked up turntables and we both started practicing pretty much every weekend.
Did you come to Canada to study music?
[They both laugh]
Zoi: No, No. I came to study finance at the University of Western Ontario.
Talal: And I was studying biochemistry at the University of Toronto. I started studying it because I wanted to be a doctor eventually but that didn't work out and soon it was 'bye bye' biochemistry. I dropped out and decided to pursue music full time.
What caused the leap from music being a hobby to music being a career?
Talal: When we came to Canada we realised we could actually study music. It became more of a legitimate career option in that way. We got into the electronic scene here and loved it.
Zoi: I would come to Toronto from London (Ontario) every weekend. I was studying finance at the time. I would take a two hour bus just to attend small shows with around 15 to 20 people. Eventually I dropped out of Western because I realised I didn't want to do that. Talal went to a sound program and I too decided to pursue that to further deepen my knowledge about audio and music. We are now both certified sound engineers. We started doing our events after that and started building a small following. It just all went uphill from there.
When did you start doing music together?
Talal: It started off with just us jamming; we would hang out in a lounge and just play music – it was 2007 or 2008.
Zoi: It wasn't serious or anything; it was just for fun.
Why electronic music?
Talal: There are no boundaries with electronic music – you can have Hindi, French, and even Spanish elements in a song, quite seamlessly. And if you have Spanish in a song, it doesn't make it a Spanish song. It's still an electronic song that every person in the world can connect to.
Zoi: As Talal said, electronic music now has no specific language; it's at this stage where you can take it anywhere. Right now is a great time for electronic music. It's amazing. There is immense creative freedom.
Talal: A hundred percent.
Zoi: [mocking Talal] A thousand percent. A million percent!
Where did you start playing initially?
Zoi: I found this little venue called Harmony, just through a random posting online. It was some lounge that was going out of business so I called the guy about it. His name was 'Ranko' – he was a really cool guy. We told him we'd bring our own equipment and our friends. We just needed a venue and we had around 40 or 50 people to show up. Then we started playing at another small venue called Toi Bar a few doors down from Harmony. That happened because one day these two girls walked in and told us,
"You guys are really cool, you guys should play here regularly!"
So that turned into more of a regular gig. This was 2008.
Talal: So it went from us jamming to us getting gigs here and there. We literally started to play at places that were on the brink of closing down. Because of Toi Bar, we got recognition. Previously, we were contacting people, but now, people were also contacting us. We started getting more shows. At that time, I was starting to finish my sound engineering course so I had started producing music and that obviously helped. When you can create your own music and you're getting signed to labels and stuff – that really helps, especially in addition to what we do.
Zoi: It's all a package, DJ'ing and producing music go hand in hand.
https://soundcloud.com/talalandzoi/t-z-misunderstood
How many shows are you doing per month?
Talal: We get to play pretty often. Some weeks we have just one show and other weeks we have four. I'd say it averages to once a week for most of the year but definitely more in the summer time.
What's the best gig you've played?
Zoi: There are quite a few but the most recent was actually at a 'secret society' beach party in the summer. There were about a 1000 people in attendance. Definitely played our hearts out!
Talal: I remember taking my turntables back to Pakistan and throwing a party in my room. This was, by far, the best party I've thrown. Things were breaking, people were having a blast. My wife, Amal, made a painting about me and Zoi called Shut up and Listen to the Music which inspired us to have a gig named after the painting – that had a really good turnout, I'd say over a 1000 people showed up to the warehouse to enjoy it.
Are your parents supportive of your music career?
Talal: My parents were actually anti-music the whole time but I sort of forced it upon them. I used to play the drums in bands. I would tell them I am going to a friend's birthday and actually go do a gig in front of like a thousand people. And even when I wanted to ditch bio-chem, they weren't okay with that. But things changed as time went on and now they are fine with it – they are actually very supportive.
Zoi: [he laughs] My parents weren't, at first, but now they are fully on board. I dropped out of a business program to do sound engineering – so I guess I can't really say they were never fully supportive but they were always hesitant. It's all good now though. In fact, I've seen my parents listening to our Soundcloud page on their iPads sometimes… it's amazing! Even their friends back home and their kids are sometimes blasting our music in their cars!
Do you feel like you have a presence in Pakistan?
Zoi: Yes! Our mothers will be coming back from lunches and whatnot and people will stop them to ask about us.
Talal: Definitely. We feel very much supported. There was once a rumour in Pakistan that we opened for Madonna [laughs] – which is good I guess because it shows they are proud of us.
What is the most gratifying thing about being a musician?
Talal: You know, it's really nice to get messages when people are telling you you've inspired them. That's amazing. Music, for me though, will always be first. We are so sure this will be our career and it will get better and better.
Zoi: Yeah, it's great when people connect to our music. I remember getting a message from some guy who really felt our music – it resonated with him. Things like that are always nice. But it's also gratifying to do what you love. If you don't love what you do, there is no reason to do it. We genuinely believe we will be able to sustain ourselves as musicians – if we didn't believe in ourselves, this whole thing would be a waste of time. I think artists have to have that mentality to push through the tougher times.
Do you think there is a bigger following for electronic music in Karachi or Lahore?
Zoi: Both, I think.
Talal: It's hard to say, they have different vibes.
Do you think the youth in Pakistan need more options in terms of being able to pursue art and music as a career?
Zoi: 189% yes!
Talal: Definitely. As you know, I didn't even consider it an option till I came to Canada.
So what can we expect from T&Z in the future?
Talal: We are focused on our music right now but we very much want to play music and sounds for movies in the near future for the entertainment industry in Pakistan. Because we have extensively studied sound, we want to be able to do films, radio, TV shows, sounds effects, voice recording – basically everything.
In Pakistan, there is a huge shortage of certified sound engineers; so we feel we can really help. We also want to create our own record label and help Pakistani electronic artists get their music out there. There is so much talent but people are not getting signed, they aren't gaining exposure.
We also want to start touring. We love Toronto but we want to explore more places. Think about it, if you play at the same venue and for the same crowd week after week then you'll have to change your art quite often – whereas if you play in London, Belgium or New York, then it's not like you have a prepared set but you can present your core sound to each city. And there is a different rush that comes with playing in a new city where people are hearing your music for the first time.
Zoi: If it has to do with sound, we want to do it. Bilal Brohi actually just started a specialised sound program, I was looking at the pictures, and there are like 20 students who have enrolled – which is amazing. There are not many channels in Pakistan. Let's take electronic music – it's hard for people in Pakistan to know where to even share it. That needs to change. We want to be a part of that change. Toronto is our base but we want to be on the road. We want to share our music with more people in different places.
Pakistan has a rich musical history and, yet, very few avenues for ordinary musicians to obtain a formal training to be able to pursue music a career. One obstacle to becoming a musician is partially rooted in the lack of access to music education, especially for women. The other impediment comes down to genetics; musicians typically come from musical families. Most children in Pakistan will never know if they have an interest in pursuing music because it is rarely incorporated in the school curriculums. As more and more Pakistani artists, like Talal and Zoi, gain international recognition, there is hope that these musicians will use their clout to actively shape and influence the musical opportunities available in Pakistan.