Privatise this, privatise that – just make me rich!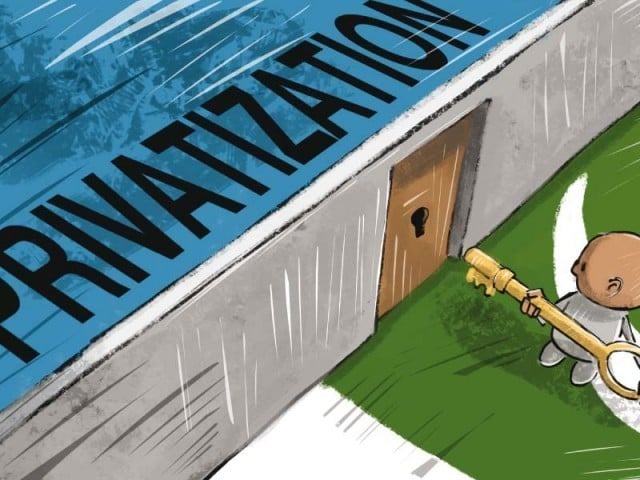 I look around my house searching for items I can sell and make a quick buck. I come across some furniture that needs fresh coats of polish before I can even present it for sale. This requires too much effort! Why don't I just sell that antique painting that has been hanging in the drawing room for years? This is effortless and is guaranteed to bring me a truck load of cash. As it is, I just have five hours to make money!
If I think like this, then it should not be a surprise that our Privatisation Commission (PC) operates in a similar manner. Since its inception in 2013, the commission has 'successfully' organised the sale of government stakes in UBL and is presently finalising the sale of OGDC for millions of dollars. The next target is ABL, another profitable entity which has already undergone one round of privatisation in the past.
If we retrace our steps to last year, the primary purpose for the formation of the PC was to assist financially-strapped state entities with private equity injections. PIA and PSM were the biggest holes in the national exchequer that the government pledged to plug. By privatising these organisations and handing over management control to private investors, the government hoped to curtail the billions of rupees that were spent to keep these entities afloat.
Or so we were led to believe!
It has been over a year since the formation of the Privatisation Commission and there has been no productive groundwork to the "strategic" sale of these loss-making entities. However, we have witnessed the sale of our 'antique paintings', UBL for $387 million and an anticipated revenue of $670 million from OGDC.
Although the government approved Rs18.5 billion as a bailout for PSM earlier this year, the plant operated at a two percent capacity during October, largely remaining shut due to technical issues. Salaries have been accruing for several months for PSM employees.
My question, what is the PC doing about this?
How are they planning to sell PSM when it can barely operate above the two percent of its capacity?
PIA is regularly losing out on international routes due to non-payment of airport facilities. Recently, PSO sent a notice to cut off fuel supply to PIA due to non-payment of oil bills. The airline's present losses stand at a staggering Rs207 billion. Every month we hear that the government is bringing in advisors for financial restructuring and the eventual sale of PIA.
My question, where are these advisors?
Who is even willing to buy an airline which has losses amounting to billions of dollars?
Where is the money from our successful privatisation procedures going?
Why can't this revenue be used for the revival of PIA and PSM?
The government has duped us into believing that privatisation is essential for our economic revival. The loss-making entities will magically turn into revenue contributors once their control lands with private investors. And while we wait for these 'angel' investors to cut cheques for our economic prosperity, the government silently uses 'privatisation' to earn a quick buck on the side!
Give me five hours to clean out my backyard and I will still be planning a strategy on how to go about it. I might even call in some neighbours and friends to help me brainstorm. Bottom line: if there's nothing in it for me, why should I even bother?
Give me five hours for a garage sale and I will sell all the valuables in my house, just to make money. All I need to do is put up a sign outside saying,
"Privatisation this way!"