Injustice prevails at Aitchison College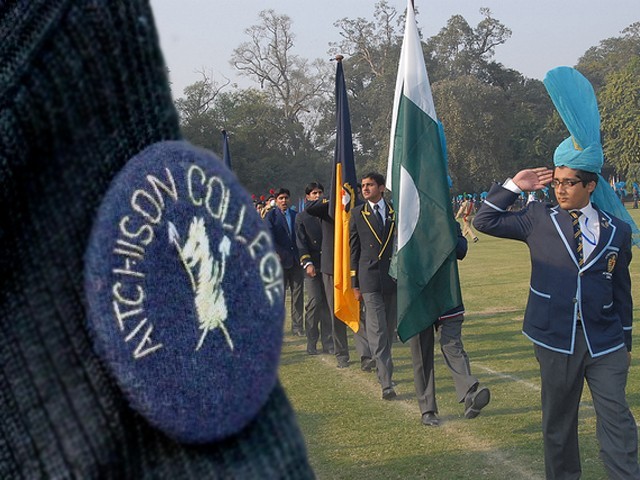 The headmaster of Senior School, Mr Peter Giddens, a tall man from New Zealand, joined Aitchison College in September 2013. During his first assembly, he said, excitedly,
"I do not like the number one thousand and seventy, so I'll make every effort to bring that number down to only a thousand."
His intentions were clear.
Everyone in Senior School eventually became acquainted with his arrogance. He would never accommodate a friendly complaint and would often greet it with comments like "get out", "I'm busy", "am I here to solve this?" and sometimes he would not comment at all.
Soon after, Mr Giddens, for unknown reasons, started humiliating his host nation during the morning assembly. Intentional or not is another debate, but he was oblivious to the fact that his remarks were offending his students. On one such occasion he insulted the Pakistan cricket team leaving the confused students to stare in amazement at what the headmaster had said.
The morning assembly of September 18th was to be another one of his controversial assemblies. Wearing a white shirt and black pants like as always, Mr Giddens commenced the morning assembly. He started with his usual announcement, but what came out of his mouth after, left us all baffled.
"I want to make the prefects like the police force of this school. Not like the Lahore police," he continued with a slight grin on his face. "You could just bribe them off. I will make them like the New Zealand police, whose officers are big and strong, and not ugly and fat like the ones you have over here."
This was not the first time that Mr Giddens had used New Zealand as an example, not that we had a problem with that. What bothered me, and a large majority of other students, were his demeaning remarks against Pakistan. For me, this was the last straw. I had endured enough and repeatedly thought of questioning him but the thought of the consequences prevented me from doing so. And it was then that the idea of writing a petition struck me.
With the help of friends, seniors and juniors, we drafted a petition which, in its essence, was requesting the headmaster to apologise for the derogatory remarks he had made. Signatures were collected, the petition was broadcasted through social media, and finally, submitted to the Senior School office.
It was not the intention of us, the students, or the petition, to in any way offend the headmaster. The petition was merely our way of projecting to the headmaster how it was the students, in fact, who were offended by his statement. The petitioners just wanted a voice stating to make the headmaster aware of the fact that his remarks had hurt the sentiments of the students, so that he would abstain from making such remarks in the future. All we hoped from this was that Mr Giddens would realise his mistake and apologise. Unfortunately, we could have been proven more wrong.
While at the quarterfinals of the inter-house parliamentary debating competition, the headmaster spotted me and asked me to follow him to his office. Once there, he claimed, to my utter astonishment, that he knew nothing about the police of Pakistan and that he never made any comments against them, indirectly calling approximately 70 petitioners liars. Harshly, he then stated, in a loud voice, that I was lying and that he demanded an apology before noon. He asked me to include in the written apology that I was lying in order to frame the headmaster, or else he would have me withdrawn.
After agreeing to do so, I drafted the apology letter and presented it to him. But the apology that I presented was considered to be "unacceptable".
When I went to school the next day, Mr Giddens handed me a withdrawal letter and asked me to leave the school premises. The withdrawal letter questioned the two days of my medical leave and stated that I had written and submitted an "inappropriate letter/petition".
It has been nearly two months since this devastating incident. My life has altered significantly since then and I have knocked on every door possible to get justice, but all my efforts have been in vain. Appeals to the principal and the governor of Punjab have gone unheard. With no option left but to challenge the decision of our respected headmaster in court, all I hope is that injustice at Aitchison College Lahore does not prevail.