Drones, Pakistan's worst kept secret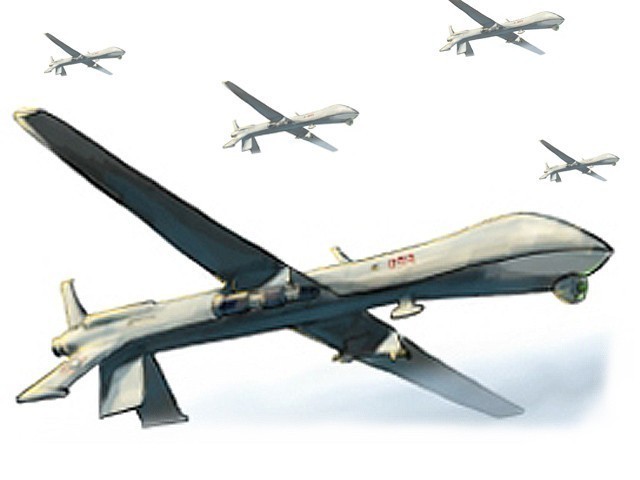 The current surge in drone strikes in FATA has reignited the infamous 'drone debate' and 'Pakistan's tacit agreement' on intelligence sharing with the United States.
Only a few months ago, Peter Bergen, a US expert on drones, had revealed that the CIA drone campaign in Pakistan may have finally come to an end. Not only Bergen, but even the current Nawaz-led PML-N government boasted of lobbying against drones and convincing the Obama administration to cease the strikes.
Till June this year, one could believe these reports and revelations as there was a long hiatus in predator strikes. However, it was on June 11 when, negating such reports, a predator drone targeted the Islamic Movement of Uzbekistan (IMU) and the Tehreek-e-Taliban Pakistan (TTP) in Dargah Mandi, North Waziristan, raising speculations of a joint US-Pak strike to avenge the IMU for their role in the Karachi Airport attack.
And it was then that a new wave of drone strikes kick started in FATA.
A total of 16 drone strikes, since June this year, have allegedly killed close to 110 people – all of whom were tagged as militants by the media. According to Washington-based New America Foundation, the CIA has conducted a total of 384 drone strikes since 2004, killing more than 3500 people – most of whom were reported to be militants. These strikes have also been lethal in taking out more than fifty high profile al Qaeda, Taliban and Haqqani leaders. But even with their 'apparent' success and effectiveness, drones still remain a contentious issue in Pakistan, raising a number of legal debates both nationally and globally.
Pakistan, along with international human rights organisations, has called these strikes illegal and illegitimate – with the foreign office in Islamabad making ceremonial protests after each strike. The United States, on the other hand, has time and again categorically denied such claims.
Harold Koh, the US State Department's legal advisor, during his speech at the American Society of the International Law annual meeting, justified the drone strikes and called them in compliance with all forms of laws, including the laws of war. Furthermore, officials from the US State Department have also denied the claims that the US is violating any international law while conducting its drone strikes. The US narrative was backed by memos and documents obtained from Pakistan and CIA, according to which more than 60 attacks between 2007 and 2011 were carried out with mutual consent of Pakistan.
With Pakistan's apparent silence over the previous nine drone strikes in the wake of operation Zarb-e-Azb in FATA, one could conclude that the government may not only have a tacit drone agreement with the US but may also be sharing active intel on militant targets. This rumoured cooperation comes on the back of a decade long protest by policy makers and politicians in Pakistan, accusing the US and CIA of adding fuel to the raging spiral of militancy through its drone strikes.
According to a report published in The Express Tribune in August, 2014, regarding a project by the Bureau of Investigative Journalism called 'Naming the Dead' it said that only 12% drone victims in Pakistan have been identified as militants. In essence, it means that of the 2,379 people who have been killed during drone strikes only 704 have been identified of which 322 are reportedly civilians (99 children), and 295 are alleged militants.
The ISPR termed operation Zarb-e-Azb, which started in June, 2014, as being a success and stating that the military now has a firm hold on the undertaking. As per ISPR figures, more than 1000 suspected terrorists, many of which include second tier leaders of the TTP, have been killed in the operation. On the other hand, the army has also been successful in keeping a low casualty rate of its own personnel – mostly because of the use of sophisticated technology such as fighter jets.
What now needs to be seen is how the TTP leaders, allegedly fleeing to neighbouring Afghanistan, will regroup, recruit and reorganise against the Pakistani military. It is yet to be seen whether TTP's silence is momentary or permanent. And with six top TTP leaders pleading allegiance to ISIS and al Baghdadi, it may also suggest that TTP, and other local militant splinters, may be looking to move to newer and greener pastures in the Middle East.
But more importantly, will this latest string of drone strikes dictate a new path for the Pakistani military establishment and the intelligence agencies in their dealings with the drone issue on a socio-political level? Can drones become the best-used counter terror tool rather than a worst kept secret?
Only time will tell.