Hockey haul: Ditch European techniques, Pakistan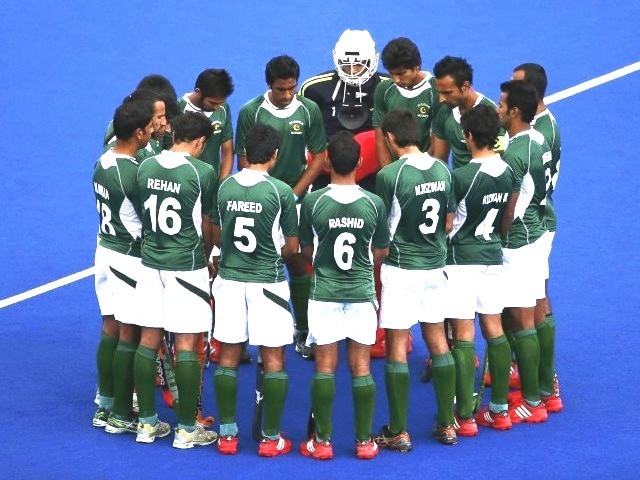 The 2014 Incheon Asian Games concluded with India beating Pakistan with 4-2 on penalties in the finals. With this victory, India directly qualifies for the 2016 Rio Olympics while Pakistan has to go through a qualifying tournament, which will determine if they qualify for the Olympics or not.
I don't want to lament or cry over what went wrong with our team and their performance as you can rely on our media to publicise that. But one thing I am sure of is that the fault lies with our persistence in using obsolete methods to manage our hockey affairs, and our failure to keep up with changing techniques. Therefore, considering our recent loss, I would like to suggest some improvements, which can help us bring home the gold.
First of all, during the past 20 years, there have been many changes in hockey rules which favour the hit-and-run-style of the Europeans and has put the classic Asian style at disadvantage. The introduction of no-offside rule, rolling substitution and allowing the 'turning' has ruined the trademark beauty of Asian style hockey. During this period, we did not have any strong personality representing Pakistan in the International Hockey Federation (FIH), someone like the hockey legend, Brigadier M H Atif, who could have opposed this trend. Taking advantage of the opportunity, the FIH is continuously introducing new rules which completely favour the Europeans.
Pakistan Hockey Federation (PHF) needs to bring forward an able and strong personality who can represent Pakistan to ensure that IHF does not keep implementing rules which end up rescinding the Asian style suited to Pakistan. At the same time, PHF has to convince IHF to increase the number of teams from Asia to play in major international events like the World Cup and Olympics. Currently, only one team from Asia is allowed to participate in these tournaments and the rest of the Asian teams have to go through qualifying rounds. All the meanwhile, more teams from Europe and Australia can easily directly qualify for these tournaments, without any need of qualifying rounds. This is highly unfair and discriminatory for the Asian teams.
Now, all the blame game cannot be pointed on the federation alone as our team also needs to work on their performance and its coaching.
One of the main reasons for our team's demise is the lack of local tournaments. Instead of hosting local tournaments, the management chooses to focus on conducting prolonged training camps. These camps end up exhausting the players, physically and mentally. And as a result, the players end up giving a poor performance during important international tournaments. On the other hand, successful teams hardly organise such exhaustive camps and reserve players' energy for big tournaments so that their team peaks at the right moment in the tournament. The management should look into this matter as the problem lies in our team's energy and speed, and not our skills.
I would also like to emphasise on the fact that the traditional Asian play techniques, including stick work, body dodges, speed and short passes will always be our players' strong points, which will help us beat the Europeans and take us to victory. Unfortunately, the team was previously under the supervision of coaches who seem to be overwhelmed by the European supremacy and try to follow their style of play. The coaching emphasis should be on defensive hockey, especially through the right-side attack technique and developing the scoring ability of our five forwards.
That being said and considering our weak defence, there are a few European techniques which can help make our defence strong, such as their defence and goalkeeping strategies as well as their penalty corner conversion technique. Our coaching staff should carefully analyse the match footage or reading material of successful teams and try to work on aforementioned weaknesses. I would also suggest the PHF to encourage local players to get exposure in the Australian league instead of European as the former's play style is similar to ours, and has lately been more successful than the European's.
Finally, I would like to say that Olympian and coach of Pakistan hockey team, Shahnaz Sheikh is a legend and one hopes that under his supervision, our team can improve its international standing. I, however, would like to request PHF to recruit two other great legends and hockey geniuses, Manzoor Hussain Junior and Hasan Sardar in some capacity. Their experience and understanding of modern hockey will be of immense wealth to our team.
Working on our weaknesses and perfecting our techniques was the way we used to win during our wonder years, and if we can do it before, we can surely do it again and bring home the much-awaited gold we have been striving to acquire.