Flattery over flatbread: Hogging on Hoagies, the revolutionised sub!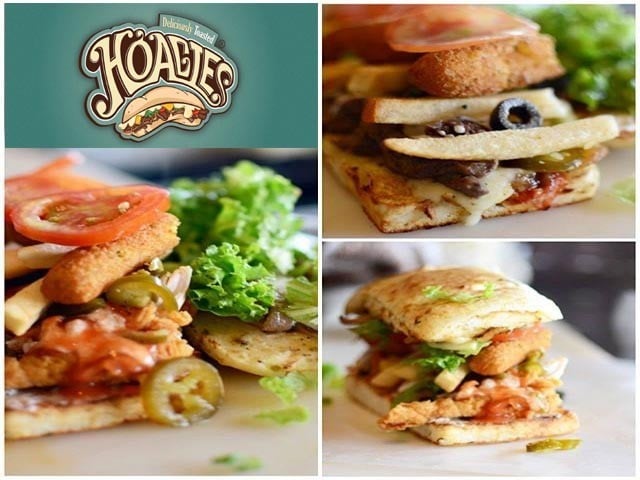 Bread! Sounds doughy, sounds boring and definitely sounds like a typical consumption option around K-town; but a revolution is here! Oh yes, it's Hoagies that has entered the food market of Karachi, like a thunderbolt to strike the agendas of all possible foodies of the city!
Hoagies drew a lot of popularity over social media and the food scene of Karachi within a short span of time with a promising new concept of deliciously toasted 'hero sandwiches' and stirred the right amount of hype to challenge the traditional ideology of subs, wraps and sandwiches. The hype did wonders and drove 'foodies' like me to Hoagies, situated at Saba Avenue, in the posh locality of DHA, Karachi.
The place was well lit with wooden booths to accommodate all hunger struck victims and illustrated just the right image of what the eatery aims to do; be a saviour in case of hunger and the urge of a good sandwich. The display menu was elaborative with appetising food photography and catchy names like 'Hellafat', 'Hollywood', 'Homie' etcetera. The offered Hoagie sandwiches were even better! The staff was courteous and the transparent preparatory counter itself portrayed the honesty and hygiene of what one is about to gulp down.
I opted for the 'Original Hooligan'! (Notice the alphabet 'H' playing the lead in their signature sandwiches, maybe the aura of a cheery hurrah or a heroic element). The name 'flattery over flatbread' was born as soon as I received my heroic dose of Hoagies. The bread is an ideal in-house baked treat with a secret dough recipe, which has sworn to stand firm against the sloppiness of sauces and the cheesiness of the mozzarella and cheddar conspiracies.
Over this eight-inch white doughy awesomeness, juicy tender and well-seasoned beef strips were laid to rest with a generous blanket of slit open mushrooms and onions. On top of it was a dancing layer of Hoagies' signature dirty sauce, topped with thick tomato rings and fresh lettuce leaves. After the final ecstatic drizzle of shredded mozzarella cheese, this flattery was caged down with the final white hoagie roll.
Hoagies won me over in terms of taste, value for money and its distinctively unique concept of bringing about something new to offer in terms of fast food. The brand is competing wholeheartedly with internationally known competitors but has won a distinguished ranking in my opinion. They have managed to draw attention with their colourful branding and language with which to address all Hoagies' fans in its own special way! A must visit for all those who are on the hunt for something new – Hoagies is definitely worth it!
This place is not just a hero in terms of its sandwiches, but adheres to social responsibility as well! The place is wheelchair friendly, and they cut the Hoagie sandwich into half, as if they really know what a customer may seek. Happy eating!