The artistic and extraordinary, freshly baked bread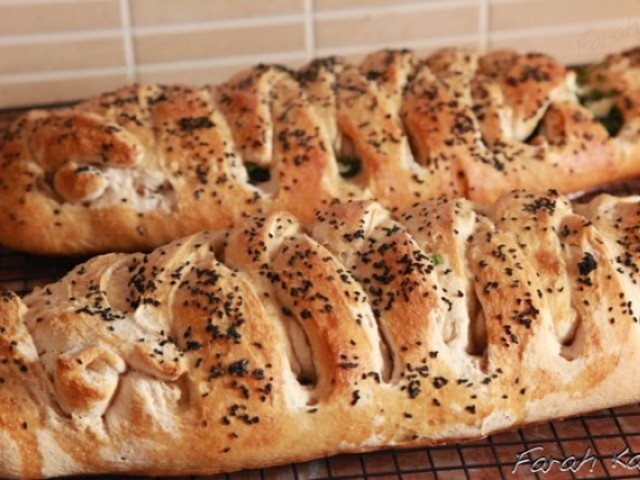 Bread making is both science and art. It's science in the sense that it involves a lot of chemistry, including fermentation, temperature control and enzymatic activity. It's an art because crafting and baking artisanal handmade breads ensure quality, taste and satisfaction.
So, here is an artistic and extraordinarily versatile recipe for a very popular bread loaf.  I regularly bake this for home consumption as well as for my friends and family.
I bake these using either pre-fermented dough which requires a portion of the bread to be fermented for 16 to 20 hours. The method I am sharing here is for straight dough which requires hardly three to four hours for you to fill your house with that aroma of freshly baked bread and present a professional looking and tasting braided loaf filled with all kinds of amazing fillings.
Ingredients for the dough
Plain white flour – 250 grams
Whole wheat – 250 grams
Bread improver – 2 tsp (optional)
Instant dry yeast – 1 tbsp
Water – 2 oz/65 ml (lukewarm)
Milk – 2 oz/65 ml (lukewarm)
Castor sugar – 2 oz/55 grams
Salt – ½ tsp
Eggs – 2 (one for the dough and one for glazing)
Unsalted butter 2 oz/55 grams (room temperature)
Optional ingredients
Kelonji/nigella seeds – 2 tsp (for topping)
Sesame seeds or poppy seeds – 2 tsp (for topping)
Method for making the dough
1. Add all the dry ingredients and sift them together
2. Mix the beaten egg and butter. Then add water and milk.
3. Mix all the ingredients, with yours hands, into a loose, shaggy mass. Leave it for 20 to 30 minutes for the yeast action.
4. Now knead it for six to eight minutes to a make it a supple and elastic dough. Leave it to prove in a warm place for one and a half hours until it gets double in size.
5. Punch down the dough for degassing and knead it lightly
6. Roll it out on a floured surface, into a 15×10 rectangle. Now transfer on a baking sheet and spread one of the fillings on it.
7. Then with a pizza wheel or a knife, cut out 10 to 12 strips at angle on either side of the filling, cutting just up to the filling.
8. Now make the bread, folding the ends neatly on each other in a criss-cross manner until all the stripes are folded.
9. Cover the bread with plastic and leave it to prove for 40 to 60 minutes or until its double in size
10. Then brush the top with a beaten egg. Add nigella seeds/kelonji if the bread is savoury or sesame/poppy seeds if it is sweet.
10. Now bake it in a pre-heated oven at a 375F/200C gas mark.
Ingredients for the vegetable filling
Baby spinach – 450 grams (roughly chopped)
Bell pepper/shimla mirch – 1 large chopped
Spring onion – 100 grams (chopped)
Garlic chives – ¼ cup
Fresh green coriander– ¼ cup (chopped)
Green chillies – 2 to 3 (chopped finely)
Cloves garlic chopped – 6 to 8
Olive oil – 1 tbsp
Cubed cottage cheese – 100 grams
Red chilli flakes – 1 tsp
Salt – 1 tsp
Method

1. Slightly heat the oil and sauté the garlic in it.
2. When fragrant, add all the other vegetables and spices, excluding coriander and chives.
3. Sauté the vegetable just for few minutes until they're wilted. Then turn off the stove and leave them uncovered.
4. Add in the chives, coriander and cottage cheese while filling the dough with it.
Ingredients for the chicken mince filling
Minced chicken – 250 grams
Spring onion – 100 grams (chopped)
Garlic chives – ¼ cup
Fresh green coriander – ¼ cup (chopped)
Green chillies – 2 to 3 (finely chopped)
Cloves garlic – 6 to 8 (chopped)
Ginger paste – 1 tsp
Garam masala – ½ tsp
Roast cumin powder – ½ tsp
Vegetable oil – 1 tbsp
Method

1. Sauté the ginger and garlic in heated oil.
2. When fragrant, add in mince, salt and the spices, chillies and cumin. Fry all these for five minutes on medium fire.
3. Now add a cup of water and leave it covered for cooking.
4. When the water dries, add garam masala and the fresh spring onions, herbs chives and coriander.
6. Sauté these lightly for two to three minutes. Now turn off the fire and leave it covered.
Ingredients for the sweet nuts and fruits filling
Dried apricot – 250 grams
Currant – 50 grams
Almonds – 100 grams (chopped)
Walnuts – 50 grams (chopped)
Candied orange peels – 50 grams
Grated nutmeg (jaifal) – ¼ tsp
Lemon zest – 2 tsp (about 1 big lemon)
Any herbal or light brewed tea – 1 cup (use 1 tea bag and make tea without milk or sugar)
Castor sugar – 2 tsp
Melted unsalted butter – 1.5 oz/45 grams
Method

1. Soak the dried apricots in warm tea and leave it for 20 minutes.
2. Drain and chop the walnuts.
3. Add in it all the nuts and fruits and then add sugar, lemon zest and butter.
4. Mix this into a thick mass with a wooden spoon.
5. Your filling is ready to be added in the dough now.
There are multiple other ways in which the filling of this bread can be made. Try this at home and impress everyone with this aromatic, tasteful and exquisite homemade bread.
This post originally appeared here.