Gone Girl: David Fincher makes our jaw drop yet again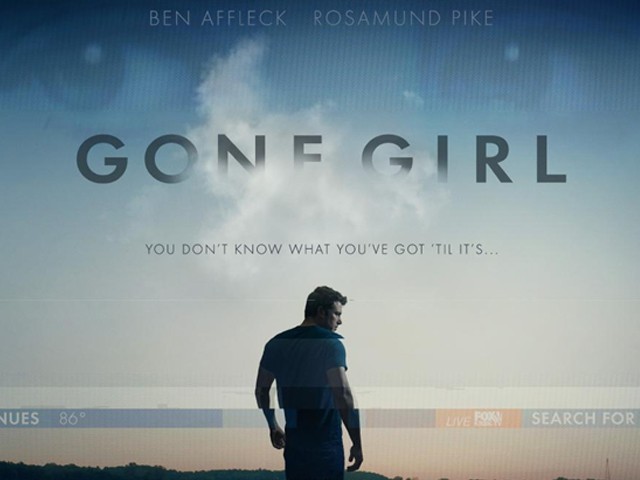 As I sat munching on popcorn and taking an occasional sip from my coke glass, I had a flashback; a flashback of all the Fincher movies that have wowed me over the years.
With the amazing end of Se7en and an even more ultra-dramatic finish of Fight Club, David Fincher has made my jaw drop on a number of occasions. So, to say that I had high expectations from Gone Girl would be an understatement. My thoughts were taking their toll while the screen in front of me displayed the initial trailers – the Fincher sensation had begun.
As expected, to no one's surprise, Gone Girl truly delivered. If you're familiar with any of Fincher's films, you'll know his movies are meticulously crafted and brilliantly visual. So when the opening credits started to show, I already felt the dark and shadowy tone of the movie that told me something wasn't right. As the movie played on, my jaw dropped on numerous occasions as the film twisted, turned and moved forward with great pace. And by the time the end credits were rolling, I was just awestruck; Fincher had, yet again, pulled a spectacular one on us.
The plot of the movie revolves around Nick Dunne (Ben Affleck) and his missing wife Amy (Rosamund Pike). As her disappearance becomes the centre of a media circus, suspicions start to point towards Nick, who was previously thought to be innocent. One might think that this is just another movie about a missing woman, when in actuality, it is much more twisted and mindboggling than that.
The movie has other commendable factors as well, including the acting. Affleck was on top of his game from the get go. He seemed mysterious and guarded. On numerous occasions, he stole the scenes with his eloquently expressed emotions.
But the real surprise came from Rosamund Pike.
Where was she all these years? The only thing I knew about Pikes prior to this movie was that once upon a time she was a Bond girl. But boy does she pack a punch in this one. My predictions: Pikes will definitely be nominated, if not win, for the Oscars this year. If she's not nominated, my little attachment with the Oscars will be diminished forever, until they hand Leo his rightful award.
The supporting actors performed exceptionally as well. Neil Patrick Harris was creepy and that's a good thing because that means he did a good job.
Although the musical score was amazing, at certain points, specifically during the first few minutes, the audio could not be easily heard. It got better as the movie progressed though. But at this point, I'm just nit-picking and trying to find faults in a nearly flawless film.
The movie is two and a half hours long but you know a movie is amazing when you don't feel the duration. Since I haven't read the book, I heard that the ending was quite different from it. But in my opinion, the ending was perfect and gelled well with the rest of the film.
As the end credits started rolling, I looked at my friend who was watching his first ever Fincher creation, and he looked at me dumbfounded as I looked at him the same way. We walked out of the theatre without saying a word to each other and it was minutes before we spoke. His first words were,
"What just happened?"
To which, I replied,
"That's Fincher for you."
I would rate it 8.5 on a scale of 10.