PMDC's 50:50 quota – Playing with our lives and our future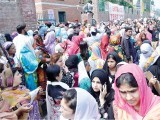 Two hours ago, I was sitting with my family watching TV and enjoying the show. Now, two hours later, I am typing this while my eyes are red and swollen.
Why? Because two hours ago, I picked up my cellphone and came across an email that had a scanned copy of a letter from the Pakistan Medical and Dental Council (PMDC) saying that there should be a 50:50 quota for men and women in all medical colleges. And now everything is uncertain.
There is no notification on the website of PMDC as I search frantically for any piece of news that I can get my hands on while trying to make sense of it all.
This new policy affects me greatly as I am a repeater. I applied to National University of Sciences and Technology (NUST) last year and fell short of around 0.3%. And as I didn't apply to University of Health Sciences (UHS), I had to repeat a year. This year, I gave the entrance exam again in April and scored well. I calculated my aggregate and compared it with the minimum required last year and figured out that I had high chances of getting in. Since I didn't want to go elsewhere, I didn't care much about the UHS test but decided to give it anyway.
Now, when the admission process is about to end, especially for UHS, a letter has been issued to all public and private medical colleges saying that the quota system is to be implemented from this year onwards. As a result, the merit for women doctors will increase in the public and private sector medical colleges of Punjab. Had I known about this restored policy earlier, I would have planned things differently and so would have thousands of other women. I would have prepared differently, just like female applicants next year, who will already know about this change in policy.
Now admissions to other universities are closed and the future of many is uncertain.
Personally, I think that the 50:50 ratio policy is a good thing, considering the fact that we are facing a crisis in Pakistan with regards to the number of doctors in general, and male doctors in particular. A lot of women now go to medical schools, finish their degrees but end up leaving the profession due to their personal preferences and men who have just a little less than the required aggregate marks, end up suffering. However, implementing the policy right in the middle of the admission process is downright unfair and farcical.
This decision was taken in February but the colleges were informed in September. It is unacceptable of the PMDC to not inform the students beforehand. If they have to implement the quota system, they should do so from the next academic year so that the students know in advance and can make better decisions.
I request the concerned authorities to take notice as the future of many students hangs in the balance, and it is unjustified to play with our lives like this.