Business grad in Pakistan? Start looking for a job!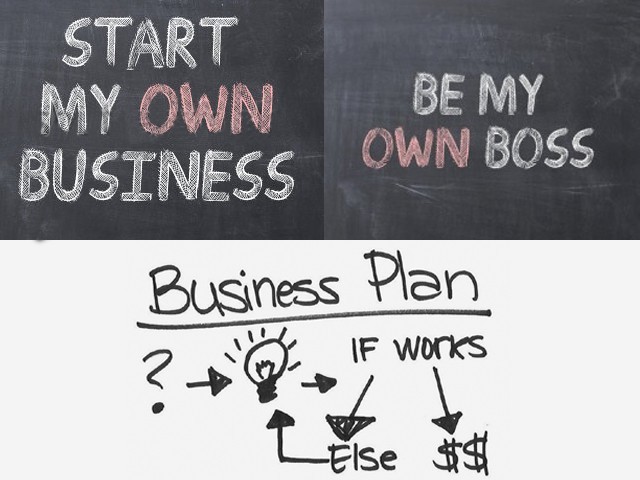 Pakistan encompasses a number of business schools and universities. Thus, it is enriched with heaps of talent in the shape of thousands of business graduates receiving their degrees every year. But unfortunately, this talent has fallen prey to an archaic mentality.
Your degree is proof that you are a bachelors or a masters degree-holder in business administration. But, ironically, while such a degree-holder can join any business as an employee, he/she cannot start their own venture. The problem these graduates face is not a financial one, no; it is more of a socio-psychological one. They are embroiled in a conservative mind-set where being employed at an organisation is considered more respectful than starting your own establishment.
Due to this, if someone is a degree-holder from a reputable institute, then it is considered to be an imprudent decision for that person to start-up a business of their own.
You may have heard many parents in Pakistan saying,
"Jab karobar hi sambhalna hai to itna parhne ki zaroorat kya hai?" 

(What is the need of getting a higher education when you have to look after a business?)
People believe that running a business and being well-educated are mutually exclusive aspects. And sadly, this thought is shared by educated people as well. My question is why can't a business owner be well-educated as well? In fact, won't having a good degree help the entrepreneur in managing their business in a better way?
Having a masters degree in business administration, I have always wondered what the reason behind such scarcity of entrepreneurs in Pakistan is, despite having so many business graduates here. But now my observation has led me towards some solid reasons behind this enigma.
And today, I will be sharing some of those reasons.
1. Lack of moral support 
This is one of the main hurdles that our young entrepreneurs are succumbed to. As I said earlier, people do not consider running a business a proper profession; they do not give it the same respect as that of an office job.
This lack of moral support and conservative thinking of society becomes an impetus for prospective young entrepreneurs to change their mind and stop running after a job.
2. Lack of physical resources 
This is another problem that young entrepreneurs face in Pakistan. There are many youngsters who have brilliant and innovative ideas that can add value to the intellectual capital of our country but they lack substantial resources required for transforming their ideas into products or services. Yes, entrepreneurship supporting institutions do exist in Pakistan but they are not developed enough to drive the entrepreneurial coaster at the required speed.
3. Economic conditions of the country 
These too are not favourable for building up a sound entrepreneurial culture. An increasing inflation rate is a point of concern, even for already established businesses. How can a new entrant overcome this problem? The prices of various types of goods are increasing almost on a daily basis. The increasing interest rate is also a major point of concern for those entrepreneurs who are financing their businesses through interest-based loans.
Now, think of a young entrepreneur who has to pay a high interest for the loan they have taken for financing their business, alongside the daily hike in price of goods; how can these problems be solved simultaneously? Again, the consequence will be the same; putting a lid on the idea of starting up a venture of your own and looking for a tension-free job where loss is not directly linked to you.
4. Political instability in the country 
The on-going situation is creating a huge disturbance in the routine life of people and hence, businesses are also being adversely affected. Strikes, protests against government policies and apprehensions about martial law are some of the reasons that create a feeling of insecurity amongst the masses. In an insecure environment, people find it much riskier to start-up a business, considering the fact that it already bears a substantial amount of risk, than working in an already-established organisation as an employee.
5. Lack of proper training 
This is perhaps the most prominent problem that accounts for failure of businesses in Pakistan. Many young entrepreneurs with all the required resources and moral support fail to run their business in the long run.
I have witnessed an incident of a youngster having a strong financial background and an influential father. He started-up his business with great hopes of success. But within a year, he had to wind it up due to lack of proper education and training. He was neither academically educated nor professionally trained in the field.
The lack of proper training facilities and eventual failure of businesses is a source of disappointment and makes the younger generation reluctant to enter the business field.
Considering all the aforementioned reasons, business graduates in Pakistan are chasing an ambiguous dream. They want to utilise their education and degrees according to which they are capable of business administration. But they mostly desire to administer someone else's business instead of their own. I am not saying that all business graduates should become entrepreneurs and start their own businesses. But most of them should at least aspire to start their businesses.
Even though the above mentioned problems do create hurdles for emerging entrepreneurs, there are many business owners in our country who have succeeded in starting their ventures and have achieved commendable success. For instance, Maliha Nasir of Daaman, Salma Raheem of Zardozi Bridal Wear, Mohammad Adnan Butt of Mvergence Media, and Gulraiz Khan of Samovar Tea and Coffee House are few of the young entrepreneurs who have emerged in Pakistan after continuous hard work and perseverance.
The youth of our country is enriched with many exciting ideas that are worthy of consideration. All we need to do is create awareness and not let the old-fashioned stream of thought come in our way.