Pakistan's fear of a local security check-post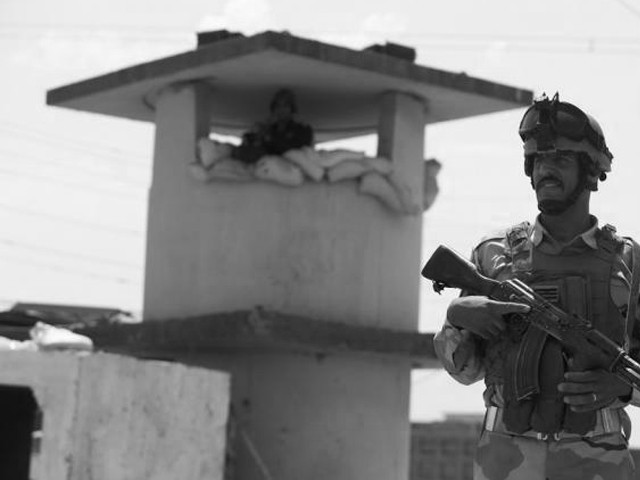 Last month, Sajid, an engineering student from the University of Engineering and Technology, was shot in the head by a Frontier Constabulary (FC) constable. Different sources obviously claim different versions of the story. The security officials, however, have stated that Sajid refused to stop at the security check post after being flagged down repeatedly. The real story will only be revealed when an impartial investigation into the incident is conducted.
Putting the validity of the versions aside, what concerns me today is the important 'issue', a daily ritual might I add, of passing through security check posts in the country. What is baffling is the fact that after more than a decade of fighting militancy and insurgencies, and the subsequent law and order situation, we are still unable to devise a proper modus operandi and protocols for security check posts.
Considering where we live, and the circumstances under which our security personnel operate, it is ignorance and a blatant disregard of law that are demonstrated by those who do not stop when required. Security check posts are placed for public-safety purposes and in this day and age, behaviour that is even remotely out of the ordinary is seen as a threat and potential danger. Fleeing from a security check-post is imbecilic and pointlessly raises suspicions. If the person fleeing somehow manages to succeed in kidnapping a victim, it is these security officials who will be blamed for being incompetent. And if they obey orders to shoot when they see a potential threat, it is the same security officials to be blamed for being inconsiderate. A clear case of damned if you do, damned if you don't.
On the other hand, it is grossly unfair for a citizen of this country to fear death in case he or she fails to stop at a security post. Saying that the officials are only doing their duty would be extremely understated. To say that is to say, 'Oh he broke the traffic signal, shoot him!', only to realise that the driver had in fact accidentally overlooked the timeframe at the traffic light. As a citizen of an independent country, it is unfair to warrant death for small deviances such as these.
Being a country embroiled in war, security breaches are expected, but with this breach there is also an equal reaction expected. In my opinion, this time calls for a certain level of maturity from both our security personnel, who seem to be trigger happy, and our citizens, who love playing the role of Evil Knievel. The law is there to govern both sides, but if both sides choose to blatantly disregard its importance, then its effect also gets cancelled out; you broke the law and I broke the law to prevent you from breaking the law.
As complex a dilemma as it may seem, the rest of the world seems to have cracked the code a long time ago and have come up with a relatively efficient, your-life-is-spared, kind of system to cope with such situations. What is disappointing, however, is that Pakistan is still struggling with traffic signals; security checks are another league altogether.
Small things like obeying traffic rules, giving the indicator before switching lanes, not blowing the horn like an imbecile, not stopping in the middle of a crowded road, being considerate of the people around you and cooperating with security officials are just small steps we, as citizens, can start taking. It is highly upsetting and discouraging for a person to come across a news story everyday stating another member of our youth has been killed by our very own security forces for something as stupid as not stopping at a check post! It makes our forces seem demonic and our citizens delinquent. The trust deficit between the average person and a security official is enormous, and in need of immediate attention.
For security officials, there are many ways to grab the attention of a person driving a vehicle. Shooting in the air as a first warning and then, perhaps, shooting at the wheel of the vehicle to slow the person down should be seen as first options rather than shooting the driver directly in the head! Another way in which I believe this conundrum can be tackled by our officials is to place many check posts within a particular vicinity and coordinate with one another when someone flees the first.
It is a complex conundrum and a dilemma of sorts without any doubt. There is a delicate balance between the ground realities in which Pakistan finds itself and the value of innocent human lives. But then one asks – isn't it the government's responsibility to brainstorm and devise certain mechanisms to avoid such collateral damages as much as they can?
Initial steps such as bringing uniformity in the security rules across the country and cognising citizens about them via various communication tools would be a good welcoming start. The citizens cannot be left clueless and confused about a plethora of security standards that they have to follow in these various situations – which until that day they were not even aware existed! Our forces need to take the added responsibility of taking the citizens into confidence and gaining their trust – treating everyone like a terrorist is not an option. Stop those who seem unaware and explain the rules, explain why you are standing where you are standing, why you are performing this check. Help them help you, make them feel safe enough to stop without thinking it is just another bribe-hungry official waiting to tear into their wallets!
Only when mutual respect and maturity is established on both sides, only when uniform laws and policies are used will the 'fear of a security check-post' subside. Lives are not available for a dime a dozen – these are real people and each loss of an innocent life is a loss of the country. Until we learn to value and respect human lives, ours and theirs, we will not be able to coexist peacefully. And if there is yet a loss of lives, then we are to be blamed – you, me and them!