Afghanistan: A new dawn but old challenges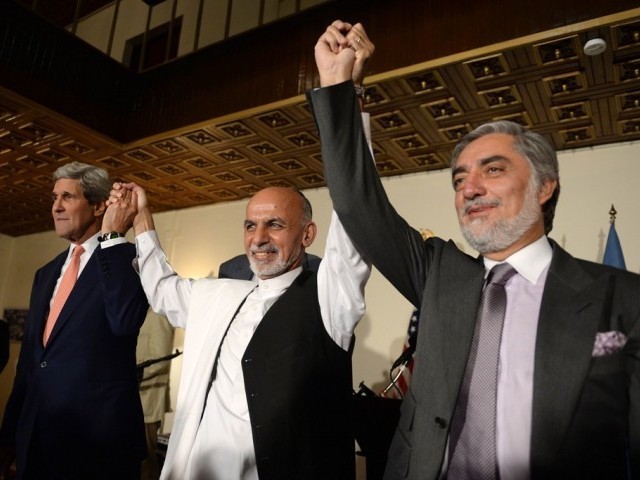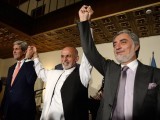 For over 30 years, Afghanistan has had to contend with political upheavals, foreign invaders, economic disruption and a ruthless insurgency. On April 5, 2014, Afghans went to the polls to choose a new president, in an election that was seen as crucial to the country's future. Divided along ethnic fault-lines, instead of an inclusive and legitimate leadership who acts as a reflection of the mosaic nature of the Afghan society, what these elections produced in return was chaos and instability.
For more than six months, the two rivals for the Afghan presidency, Ashraf Ghani and Abdullah Abdullah had accused the other of fraud following. Their voters remained disenchanted and disillusioned. And the warlords backing each of them had announced starting a parallel government – a potential recipe for civil war. But finally, after eight months of wrangling, the two rounds of voting, and an international audit costing $145 million, the two have preferred peaceful settlement over chaos by agreeing to power sharing – in which Ghani will be Afghanistan's president and Abduallah the chief executive with power as that of prime minister.
On one hand, the deal is a cause of fresh optimism for the Afghans and international community. But it also represents considerable scepticism about whether Ghani and Abdullah, who had been bitter rivals and retain divergent views on big issues that confront Afghanistan, would be able to jointly lead their country.
How both will get along is yet to be seen. But here are the three challenges that continue to hold stability in Afghanistan and how president-elect and his chief executive officer's approach towards each of these will define the future of their country.
Post-2014 international presence
The outgoing President Karzai had long resisted signing the Bilateral Security Agreement (BSA) that allows residual forces, consisted of US and NATO troops, to remain in Afghanistan beyond 2014. The BSA pact is important for various reasons. First and foremost, US had attached the future of military and development aid to Afghanistan with BSA. That means, the economic and military assistance that Afghanistan would need from the US and the Europeans in coming years, would be at risk. Secondly, although more than 90% of all operations in Afghanistan are being led by the Afghan forces, they are relatively inexperienced in counter-terrorism and counter-insurgency operations. The Afghan defence forces also lack the logistical and air support to deal with the fragile security in Afghanistan.
In fact, all the 10 presidential candidates have declared their support for the BSA pact because they recognise that without continued international military and economic support, Afghanistan risks falling back into civil war. But Ghani and Abdullah as representing the new Afghan leadership provides an opportunity for Afghanistan to open a new chapter of active engagement with international community as both of them enjoy enormous support among the Western capitals.
Peace process with the Afghan Taliban
The hopes of full military victory over the Taliban have long been abandoned by the US and the preceding Karzai-led government. In fact, in Washington, during President Barack Obama's second term of presidency, there has been a greater understanding that without Taliban any prospects for peace in Afghanistan would appear bleak. In the past, there have been many attempts at conceding the Taliban moderate leverage in order to bring them in the political process through talks, such as opening the Taliban's office in Qatar, the US rallying to reverse the United Nations Security Council's resolution 1267 that culminated in separating Taliban from the al-Qaeda and removing various Taliban names from the UN sanction list and release of various Taliban leaders lingering in detention in Kabul.
As the US troops prepare to leave Afghanistan, the new regime in Kabul will face a daunting pressure to renew and revive the peace process with the Afghan Taliban. However, the challenge will be how Ghani and Abdullah reconcile their divergent views regarding talking to Taliban. As the former is open to talks with them, the latter is known for his hard line approach against the Afghan Taliban.
Crisis of governance
Since the US invasion, Afghanistan's economy has been inflated with foreign aid and the temporary jobs created by the presence of foreign troops. The corruption is an endemic and the country lacks proper infrastructure for agriculture, education, health and the likes. The most serious challenge for Ghani and Abdullah is to revive the economy that gives some hope and confidence to the Afghan people.
In fact, there is no one better than Ghani to do this task. He has spent most of his time serving in the World Bank and advising fragile economies of Africa on how to recover from conflict. Abdullah, on the other hand, enjoy strong diplomatic credentials and could capitalise on geo-strategic location and cultural affinities to promote better relations with all the Afghan neighbours.
Thus, both Ghani and Abdullah represent what Afghanistan needs foremost today – internal governance and external neighbours that cooperate for peace and not use Afghanistan as a proxy to fight their own wars.
Together, all these factors constitute a towering challenge for the new government. Whether it can govern Afghanistan better than its predecessor is yet to be seen.
Loading ...